Bestop Jeep Seats - B3945115
Replace an aging or damaged factory seat or simply upgrade to the best with a TrailMax II Pro seat. High back seat features a recliner lever, adjustable headrest, enhanced bolsters and lumbar support for the most comfortable Jeep ride possible.
Features:
Replacement for factory Jeep front driver bucket seat
Recliner seat lever
4-way adjustable headrest
Side performance bolsters on bottom and back
Sculpted lumbar support
Elastic mesh map pockets on seat back
Premium, mildew- and UV-resistant vinyl fabric
Sturdy, corrosion-resistant seat frame
Variable rate of resistance springs respond to added pressure with added support
Waterproof, closed-cell, high-density foam provides comfort, maintains seat shape
Specs:
Includes 1 Jeep driver's side seat
Bolt-on installation to original Jeep seat riser
Fits all Jeep CJ-5, CJ-7 and Wrangler models 1976-2006

Requires installation of Bestop Seat Adapter Bracket (B51256) for models 1997-2002
Requires installation of Bestop Seat Slider with Adapter (B5124501) for models 2003-2006

1-Year limited warranty
Ride in style with a Bestop TrailMax II Pro Vinyl Driver Seat. The Pro is a high back, front bucket seat that includes a host of features to make your Jeep ride a comfortable one, whether on the trail or during your daily commute.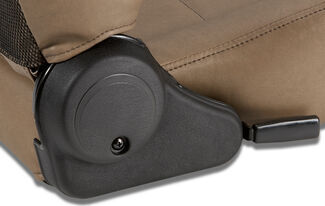 The Pro includes a reclining seat lever with 20 position adjustments to ensure both a safe and comfortable driving experience.
An adjustable headrest (above, left) adds another dimension of comfort with four-way capability. The headrest telescopes up and down to find the perfect height and pivots forward and backward for optimum neck support. Each seat also includes map pockets (above, right) mounted on the back for convenience. The map pockets are elastic mesh, creating a capacity that exceeds just maps.
Atlas Frame - Seat frame is electrostatically painted to resist corrosion and hand welded for added strength, ensuring that your seat maintains its shape.
Variable Rate of Resistance Springs - Seat springs respond to increasing pressure with increasing support, making trips down the road - and the trail - a smooth experience.
Ultimate Foam - The closed-cell, high-density seat foam provides a firm, comfortable ride. The foam is designed to maintain the original shape of the seat for years and treated with waterproof "skin" to prevent waterlogging.
Seat Cover - TrailMax II seat coverings are constructed from premium vinyl fabric that maintains its shape in any temperature. The fabric is designed to resist damage from the elements - mildew and UV rays - and regular wear and tear, such as abrasions.
The TrailMax Pro fits all Jeep CJ-5, CJ-7 and Wrangler models from 1976-2006, though 1997-2002 models require the installation of a Bestop Seat Adapter Bracket (B51256) and models 2003-2006 require installation of a Bestop Seat Slider with Adapter (B5124501). The Pro installs on your factory seat riser, is DOT approved and backed by a 1-year limited warranty.
This seat comes in Black Denim (above, left); also available in Black (above, right).
39451-15 Bestop TrailMax II Pro Vinyl Driver Seat - Black Denim
Installation Details

This Product Fits The Following Vehicles
1976 - 1986 Jeep CJ-7
1997 - 2006 Jeep TJ
1987 - 2003 Jeep Wrangler
1987 - 1995 Jeep YJ
2004 - 2006 Jeep Wrangler excluding Unlimited
2004 - 2006 Jeep Wrangler Unlimited