Proper Lubrication of Sidewinder Products
Select your vehicle to confirm the Fifth Wheel fit
Technical Bulletin
Subject:Lubrication of Sidewinder products and use of lube plates.
Problem:Do not use a lube plate when the wedge is installed and the Sidewinder function is in use.
SOLUTION: Proper lubrication of the wedge and the back of the kingpin will help the hookup process. Please see illustration, below, for instructions regarding proper lubrication.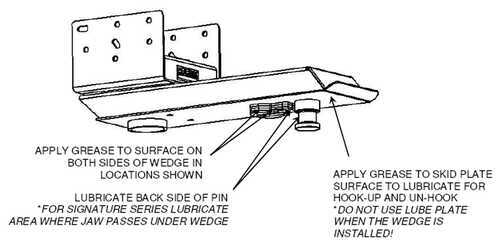 Product Number:
Manufacturer:Draw-Tite, Hidden Hitch and Reese
Bulletin Date:9/10/2008
Bulletin Number:08-0106