Blue Ox Weight Distribution - BXW1003
Shank fits 2" hitches and offers up to an 8" rise and a 2" drop. Clamp-on system uses optimal points of tension to help prevent sway while it balances your trailer's load for a more level ride. Works with underslung couplers.
Features:
Evenly distributes weight over axles of tow vehicle and trailer for stability and control

Creates a level ride for both tow vehicle and trailer

Built-in sway control helps to prevent trailer sway

Constant tension in trunnions helps force trailer in line
Rotating lift brackets ensure that chains are tight and secure to keep spring bars from moving

Trunnion spring bars flex for a controlled, even ride

Automatically lock in place and easily remove
Interchangeable with other Blue Ox spring bars (sold separately) to raise or lower the weight capacity

No pins or clips needed - self-locking devices function throughout system

Easy-to-operate bracket locks automatically secure rotating brackets in place and release with push of lock pin

2 Grease zerks inside head assembly make maintenance simple and clean
Unique, rotating-latch lift brackets connect spring bars to trailer

Quick and simple to use - insert lift chain into slot and rotate bracket with wrench
Clamp-on design - no drilling needed

Required tilt is built into head assembly - no adjustment needed
Powder coated steel construction
System includes head assembly, adjustable shank, spring bars, lift chains, rotating lift brackets with handles, reducer bushing for ball shank, pin and clip, and all necessary hardware

Hitch ball sold separately - requires 1" or 1-1/4" diameter shank

Made in the USA
Specs:
Tongue weight: 750 lbs - 1,000 lbs
Gross towing weight: 10,000 lbs
Application:

2" x 2" Trailer hitch receivers rated for use with weight distribution systems
Trailers with frame height between 3" and 6"

Designed for use on trailers with bottom-mounted couplers
Lift-bracket positioning: mount about 29" back from hitch ball
Shank length:

9" From center of hitch pin hole to center of adjustment holes
10" From center of hitch pin hole to front of shank
8" From center of hitch pin hole to back of shank
13" Overall

Total height adjustment along shank: 8-3/4"

Maximum rise: 8"
Maximum drop: 2"
Overall height: 10"
Holes are spaced 1-1/4" apart on center

Limited lifetime warranty
Included w/ BXW1003
Required - Sold Separately
Optional Add-Ons

Adjustable Shank
System Head
Lift Brackets
Spring Bars

Hitch Ball w/ 1" or 1-1/4" Diameter Shank

n/a
Create a stable ride for your tow vehicle and trailer with a weight distribution hitch. Adding spring bars to your towing system applies leverage, which transfers the load that is pushing down on the rear of your vehicle to all the axles on both your tow vehicle and your trailer, resulting in an even distribution of weight throughout. The result is a smooth, level ride, as well as the ability to tow the maximum capacity of your hitch.
Selecting a Weight Distribution System
The tongue weight rating is the most important factor in determining which size weight distribution system you should use. If the bars of the system you choose are rated too high for your setup, they will create a rigid ride, which can result in a bouncing trailer. If, on the other hand, the bars are not rated high enough, the system will be unable to properly distribute the weight, rendering it virtually useless.
To determine the proper weight rating for a weight distribution system, you must first determine your trailer's tongue weight. Then add to that the weight of the cargo behind the rear axle of your tow vehicle. These two measurements make up the tongue weight rating for a weight distribution system.
Unique Features of Blue Ox SwayPro
Unlike other weight distribution systems, the SwayPro has automatically locking brackets throughout. Both spring bars insert, slotted side up, into the head assembly and then lock securely in place. Removal is just as easy - simply lift the locking pins on the trunnions and slide the bars out. Blue Ox spring bars are interchangeable with each other. If you buy a new trailer or tow vehicle and you need to increase or decrease your capacity, you can simply buy new spring bars instead of purchasing a whole new system.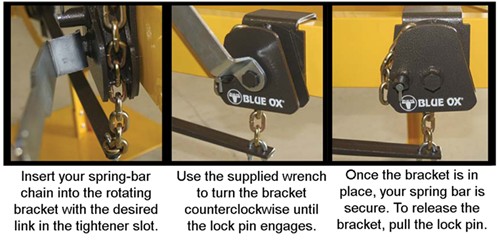 Other systems have lift brackets that require you to apply a good amount of leverage to get them to snap up, which can be difficult and frustrating. With the SwayPro, all you have to do is insert the lift chain into the bracket slot and rotate the bracket with the included wrench until the lock pin engages.
Another feature of the SwayPro is the easy-to-use head. The required pitch is already built into the head, so the only adjustment that may be needed is the placement of the head on the shank. Move the head up or down along the weight distribution shank to achieve the proper height. No additional, fine-tune adjustment is needed, which means no hard-to-access washers or difficult-to-use thumbscrew.
Built-In Tension Stops Sway
The SwayPro offers four points of built-in sway control. Within the head assembly, the trunnions are designed to hold the spring bars securely in position, placing just enough tension on them to cause them to constantly force your trailer in line. At the other end of this weight distribution system, the rotating brackets ensure that the lift chains are pulled as taut as possible. In addition, the basic design of the brackets keeps much of the length of the lift chains wrapped up inside of the brackets. Typically, only a couple of links hang down from each bracket. So each chain is held more stable than in traditional weight distribution systems, where more than twice as many links are exposed. This tight, stable design limits the movement of the spring bars so that they can exert more force on your trailer to effectively keep it from shifting side to side. Furthermore, unlike many friction-style sway controls, the SwayPro allows you to back up your trailer without having to remove or disengage the system.
BXW1003 Blue Ox Sway Pro Weight Distribution Hitch for Underslung Couplers - Clamp On Brackets - 10,000 lbs
Installation Details