etrailer Camper Jack - RVLG-8000
Specially designed to level and stabilize your trailer or RV, each of these jacks provide simple, effective leveling. Manual crank (RVLG-HDL) and motor (M1230) sold separately.
Features:
Perfect for 5th-wheel trailers and RVs
Dual jacks raise and lower for easy leveling

Connecting rod allows you to operate both at the same time

Footplates offer stability and prevent sinking
Durable, black powder coated outer tubes and zinc-finished inner tubes provide excellent corrosion resistance
Manual hand crank (RVLG-HDL) sold separately

12V DC motor (M1230 - sold separately) is available
Specs:
Overall leg height: 29-1/2"

Drive leg including gear box: 33-1/2"

Travel: 21-1/8"
Combined weight capacity: 8,000 lbs
Gear ratio: 3:1
Footplate dimensions: 8" long x 6-1/8" wide
Note: Landing gear is designed to stabilize a portion of your trailer's weight, not to support the full GVWR of your trailer. Do not use landing gear to lift your trailer or RV during tire changes or service work because doing so will exceed the capacity of the landing legs.
RVLG-8000 Ram Landing Gear Set - 21-1/8" Travel - 8,000 lbs
Customer Reviews
Landing Gear Set - 21-1/8" Travel - 8,000 lbs - RVLG-8000
Average Customer Rating: 4.7 out of 5 stars (10 Customer Reviews)
Specially designed to level and stabilize your trailer or RV, each of these jacks provide simple, effective leveling. Manual crank (RVLG-HDL) and motor (M1230) sold separately.
- RVLG-8000
by: Lee01/16/2017
Excellent fit,fastest delivery ever. The Rv repair shop wanted $140 an hr plus $405 for their landing gear ... oh plus tow because I couldn't get it hooked to truck.... So I saved over $600 easily, these legs are better quality and less expensive. I had them installed in2 hrs 333066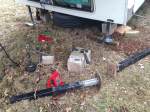 Click to Enlarge
- RVLG-8000
by: jaime01/11/2017
these are some heavy duty landing gear, replacing my light duty from forrest river toy hauler,i could not find any parts to repair my lead leg gears, although i will have to do some welding on the legs, the tabs on the outer tube are on the opposite side, they are worth the money and time invested 331753
- RVLG-8000
by: Art Suazo07/09/2016
I thought it would be hard to put on but it was so easy !!! And the customer service was great when I ordered through Internet not long after I got a call from etrailer I would recommend to everyone . Thank you guys for everything 270020
- RVLG-8000
by: Pat T11/22/2016
Everything worked great. I love it. No more cranking!!!! Thank you for the fast shipment and a great product. I will be checking your site before buying anything from now on. Again, thanks 318749
- RVLG-8000
by: David H12/24/2016
The landing gear jacks I ordered came on time. I only replaced one of them at this time and it is working great. I will replace the other one in the near future. 327745
- RVLG-8000
by: Dan T.04/08/2017
Replaced landing gear on my 2007 Cougar. Fit perfectly without ANY modifications. This is built much better than original. Took about 1 hour to do. 364673
- RVLG-8000
by: Buckeye JD02/17/2017
The landing gear looks great and the Gear box looks heavy duty as well but only time will tell. I did get a much better price from etrailer. 342813
- RVLG-8000
by: Jeff05/07/2016
Some instructions would have been nice. Looks well built. Could have been nice if there were good demsions before purchased. 249073
- RVLG-8000
by: John D03/31/2017
Good product. easy to replace it was exactly as the old one thank you 360866
- RVLG-8000
by: Bill Doss02/18/2017
Was delivered 2-17-17 liked the price compared to others Thanks 343107
10
10
Why etrailer.com?
At etrailer.com we guarantee:
Highest quality camper jack for the best price.
Real product know-how.
We make sure that the products we sell are what we say they are, and that they work the way they are supposed to work. This helps you get the right product the first time.
Every day our teams test, review, assemble and install our products. Our modern installation facilities allow our expert installers and customer service representatives to actually install and use the items we sell, so you can get real advice, from a real person who has the knowledge and expertise needed to solve your problem.
Most detailed, accurate camper jack information available.
Because we take providing accurate product information seriously, we take our own detailed product photos, demo videos and installation videos, as well as verify measurements, instructions, and vehicle fit information.
Information for this part was:
Installations, made easy.
We love helping people.
We have the most highly trained customer service, hands-on experience, step by step videos and installation instructions. We are prepared to answer any question, give advice, or troubleshoot any problem you come across.
Fast shipping.
Personalized service for life.
We provide one-on-one, personalized service from the ordering process through the life of your product.
Trusted since 1946.
We've been serving customers since our parts store first opened in 1946 and continue to be recognized by our customers, our vendors and third parties for exceptional service.