2011 Toyota Tundra - Access TonnoSport Soft, Roll-Up Tonneau Cover
TonnoSport is the most affordable Access roll-up tonneau, and it has tons of great features: EZ-Dials for cover tension adjustment, a trigger latch to secure the cover, and a quick clip storage strap to tie it down. Sits 1/2" above the bed.
Features:
Custom-fit, ultra-low-profile tonneau cover protects your Toyota Tundra's bed and your gear

Sits only 1/2" above truck box when closed

Aerodynamic cover reduces wind drag, improving gas mileage by up to 10 percent
Soft tonneau rolls up in seconds to allow full use of your bed

No need to remove for hauling
Nylon strap and super-strong buckle secure rolled-up cover

Truck bed is secure when cover is down and tailgate is closed and locked

Trigger latch automatically engages when cover is closed
Slide locks along the sides push to activate and pull to release
Locked tailgate ensures that no one can get in to undo the cover, leaving truck bed secure

Truck tailgate remains operational, even when cover is closed
Compatible with most under-the-rail bed liners, rails, and caps
Velcro system keeps cover firmly engaged yet simple to pull open and roll back
Durable polyester mesh cover retains its shape and won't fade

EZ Dial tension controls adjust the fit with the turn of a dial - no tools required
Black fabric is UV protected to help withstand sun exposure

Sturdy, rustproof aluminum rails and bows
Clamp-on installation is quick and easy

6 Aircraft-grade aluminum clamps secure cover to truck bed side rails

Made in the USA
2-Year limited warranty
The TonnoSport Difference
| Access TonnoSport | Other Access Covers |
| --- | --- |
| Straight, unpainted aluminum rails and support bows | Contoured, black powder coated aluminum rails |
| A single nylon securing strap | 2 Nylon securing straps |
| EZ Dial barrel-style tension adjustment | XT Dial easy-grip tension controls |
| Weather seal that runs along the truck bed sides | Full-length weather seal that runs along truck bed sides and continues along the cab side of the box |
| 2-Year limited warranty | 3- or 5-Year limited warranty |
| Affordable, entry-level alternative | Feature-rich covers with prices to match |
Complete, Simple Access to Truck Bed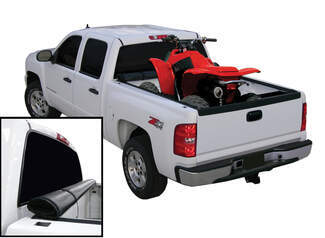 With this affordable roll-up cover from Access, you'll never have to remove your tonneau to haul oversize items. Simply roll the durable fabric top toward the cab of your truck and secure it with the strap-and-buckle system. Now you can have complete access to your truck bed, and a safely secured cover is ready and waiting for you to unroll it again.
Quick and Easy Installation
In addition to being compatible with a variety of truck bed accessories - drop-in, under-the-rail and spray-on liners (or spray-in liners); bed rails; bed caps; tailgate protectors - the TonnoSport is super easy to install. Durable, aircraft-grade aluminum clamps secure the attachment rails to your pickup truck bed rails. The uniquely designed Tight Bite clamps feature specially cut teeth that seize integrated ridges in the rails, ensuring firm, superior gripping action. Once the rails are installed, the fabric cover simply rolls down, and either side attaches to the rails via secure, easy-to-use Velcro.
Secure, Convenient Design
When the cover is completely unrolled, the trigger latch is engaged, securing the tonneau in place automatically. You can also lock the cover with the 2 slide locks for added security. Because the slide locks are along the sides of the tonneau, you can still open and close your tailgate without having to disengage the cover. To release the cover, simply tug on the trigger latch for easy, one-hand operation.
22050219 Agri-Cover Inc. (ACI) Tonneau Sport Rollup Truck Bed Cover
Installation Details