2001 Ford Explorer Sport Trac - Access Original Soft, Roll-Up Tonneau Cover
An original Access roll-up tonneau cover balances deluxe features with a reasonable price. Get an XT-Dial easy-grip tension adjuster, AutoLatch II, Element weather seal, and the famous Slantback design. Cover sits 1-1/2" above Ford Explorer Sport Trac's bed.
Features:
Custom-fit tonneau cover protects your Ford Explorer Sport Trac's bed and your gear

Sits 1-1/2" above truck box when closed

Aerodynamic cover reduces wind drag, improving gas mileage by up to 10 percent
Soft tonneau rolls up in seconds to allow full use of your bed

Peels back off the Velcro seal on sides of truck box
Stores neatly behind your cab with premium straps and clips

Slantback design gives your truck a stylish look
Truck bed is secure when cover is down and tailgate is locked

Deluxe AutoLatch II automatically engages 2 locks when the cover is closed
One-hand release makes opening the cover quick and easy

Durable polyester mesh cover retains its shape and won't fade

Easy-to-grip XT-Dial lets you adjust tension and fit with the turn of a dial - no tools required
Black fabric is UV protected to help withstand sun exposure

Element weather seal behind the cab and reinforced vinyl flap at the tailgate help to block rain, snow, and dirt
Black powder coated aluminum rails and bows resist rust
Truck tailgate remains operational even when cover is closed
6 Aircraft-grade aluminum clamps secure tonneau rails to the insides of your truck bed rails

Leaves side rails free for stake pocket and bed rail accessories

Made in the USA
5-Year limited warranty
The original Access tonneau has premium features at an economical price. This truck bed cover rolls up so that you can haul bulky items and rolls down to shield and secure your Ford Explorer Sport Trac's bed and cargo. The custom-fit tonneau sits 1-1/2" above your truck bed and keeps air from getting caught by the tailgate, thus reducing drag. That can improve your gas mileage by up to 10 percent. And the exclusive Access Slantback fit angles toward your tailgate to give your truck a stylish, streamlined look.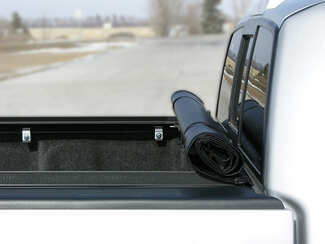 Velcro closures on the sides help seal the cover to your truck box and allow you to peel it back quickly for easy access. The tonneau stores neatly behind your cab, secured by premium storage straps that are designed to keep the cover from rubbing against the cab.
The cover fabric is reinforced polyester mesh coated with UV-blocking vinyl, so it won't fade in the hot sun. The material stays flexible down to -40 F and won't shrink, regardless of the temperature. Black powder coated aluminum bows line the underside of the tonneau and act as ribbing that supports the cover and makes it easy to roll up.
Customize the cover tension by turning the XT-Dial easy-grip tension adjuster at the front of the cover, near your cab. The Element weather seal at the cab end and a reinforced vinyl flap at the tailgate help to keep out dirt, rain, snow, and ice.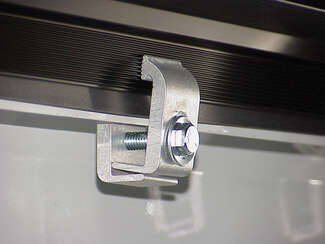 The contoured, black powder coated aluminum tonneau rails resist rust. They sit inside your truck bed side rails so that you can still use stake-pocket-mounted accessories, such as a ladder rack or tie-down anchors. Easily install the rails on a truck with an under-the-rail, drop-in bed liner. Over-the-rail liners can be cut to allow room for the installation clamps. The tonneau's rails attach easily to your truck bed side rails using Tight Bite clamps. The specially designed teeth on these clamps seize the integrated ridges in the rails, ensuring a firm grip.
Once the tonneau cover is unrolled and in place, the AutoLatch II dual locking system automatically engages 2 locks - 1 on each side - to hold the tonneau closed. And locking the cover won't interfere with your tailgate - open and close it as usual or add a tailgate lock (sold separately) to get secure storage for your cargo. To unlatch the cover, simply pull the cord for easy, one-hand operation. Cover your assets with this tonneau from Access.
11129 Agri-Cover Inc. (ACI) Original Rollup Truck Bed Cover
Installation Details