2014 Chevrolet Silverado - Access Toolbox Edition Soft, Roll-Up Tonneau Cover
Designed to fit behind your truck bed toolbox, this tonneau features the XT-Dial, AutoLatch, Element weather seal, and Access Slantback design - plus a tight seal between the toolbox and cover. Tonneau sits 1-1/2" above your Chevrolet Silverado's bed.
Features:
Custom-fit tonneau cover installs behind your toolbox to protect your Chevrolet Silverado's bed and your gear

Fits behind most 19" - 21" wide, crossover-style toolboxes
Sits 1-1/2" above truck box when closed

Aerodynamic cover reduces wind drag, improving gas mileage by up to 10 percent
Soft tonneau rolls up in seconds to allow full use of your bed

Peels back off the Velcro seal on sides of truck box
Stores neatly behind your toolbox with premium straps and clips

Slantback design gives your truck a stylish look
Truck bed is secure when cover is down and tailgate is locked (tailgate lock sold separately)

Deluxe AutoLatch II automatically engages 2 locks when the cover is closed
One-hand release makes opening the cover quick and easy

Durable polyester mesh cover retains its shape and won't fade

Easy-to-grip XT-Dial lets you adjust tension and fit with the turn of a dial - no tools required
Black fabric is UV protected to help withstand sun exposure

Front header bar, Element weather seal behind the toolbox, and a reinforced vinyl flap at the tailgate

Help to block rain, snow, and dirt from getting into your truck bed

Black powder coated aluminum rails and bows resist rust
Truck tailgate and toolbox remain operational whether cover is opened or closed
8 Aircraft-grade aluminum clamps secure tonneau rails to the insides of your truck bed rails

Leaves side rails free for stake pocket and bed rail accessories

Made in the USA
5-Year limited warranty
The Toolbox tonneau cover from Access is specially designed to fit a truck bed with a toolbox mounted at the cab. The tonneau works with most over-the-rail, crossover-style toolboxes that are 19" to 21" wide, and the cover won't interfere with the use of your toolbox. Whether the cover is open or closed, you will still have full access to your tools. This truck bed cover rolls up so that you can haul bulky items or rolls down to shield and secure your Chevrolet Silverado's bed and cargo. The custom-fit cover sits 1-1/2" above your truck bed and keeps air from getting caught by the tailgate, thus reducing drag. That can improve your gas mileage by up to 10 percent. And the exclusive Access Slantback fit angles toward your tailgate to give your truck a stylish, streamlined look.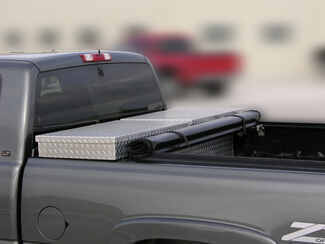 Velcro closures on the sides help seal the cover to your truck box and allow you to peel it back quickly for easy access. The tonneau stores neatly behind your toolbox, secured by premium storage straps that are designed to keep the cover from rubbing against the toolbox.
The cover fabric is reinforced polyester mesh coated with UV-blocking vinyl, so it won't fade in the hot sun. The material stays flexible down to -40 F and won't shrink, regardless of the temperature. Black powder coated aluminum bows line the underside of the tonneau and act as ribbing that supports the cover and makes it easy to roll up.
Customize the cover tension by turning the XT-Dial easy-grip tension adjuster at the front of the cover, near your toolbox. The special header bar forms a tight barrier between the cover and your toolbox to keep out dirt, rain, snow, and ice. The Element weather seal at the toolbox and a reinforced vinyl flap at the tailgate also help to keep out the elements.
The contoured, black powder coated aluminum tonneau rails resist rust. They sit inside your truck bed side rails so that you can still use stake-pocket-mounted accessories, such as a ladder rack or tie-down anchors. Easily install the rails on a truck with an under-the-rail, drop-in bed liner. Over-the-rail liners can be cut to allow room for the installation clamps. The tonneau's rails attach easily to your truck bed side rails using Tight Bite clamps. The specially designed teeth on these clamps seize the integrated ridges in the rails, ensuring a firm grip.
Once the tonneau cover is unrolled and in place, the AutoLatch II dual locking system automatically engages 2 locks - 1 on each side - to hold the tonneau closed. And locking the cover won't interfere with your tailgate - open and close it as usual or add a tailgate lock (sold separately) to get secure storage for your cargo. To unlatch the cover, simply pull the cord for easy, one-hand operation. Cover your assets with this tonneau from Access.
62329 Agri-Cover Inc. (ACI) Tool Box Rollup Truck Bed Cover - Crossover-Style Toolboxes
Installation Details

Alternate Instructions

Customer Reviews
Access Toolbox Edition Soft, Roll-Up Tonneau Cover - A62329
Average Customer Rating: 4.5 out of 5 stars (2 Customer Reviews)
Designed to fit behind your truck bed toolbox, this tonneau features the XT-Dial, AutoLatch, Element weather seal, and Access Slantback design - plus a tight seal between the toolbox and cover. Tonneau sits 1-1/2" above your vehicle's bed.
- 834532004782
by: Matt W.07/06/2013
Review from a similar Access Toolbox Edition in Tonneau Covers
Installed on a 2013 F150 with 6-1/2' foot bed. I had already installed a toolbox across the bed rails and then decided to add an Access cover since I knew I could get this tool box compatible version. I had an Access cover on a previous truck and knew I wanted the same brand again. Plan on buying additional bulb weather stripping as the cap between the tool box and the front of the bed is wide depending on tool box width. My gap was wider than what came with the installation kit. You have to put the toolbox exactly where it needs to meet the bed cover header. Installation was easy for the cover as the struggle was getting the toolbox weather stripping installed. I put the bulb seal in the kit on the front of the toolbox and then added my larger bulb weather stripping onto the front of the truck bed so that both mated up once the toolbox was put back into place per the instructions. Any local parts store should carry the seal material. I do like how you need to open the tailgate to operate the latching system. If you lock your tailgate, it cannot be accessed. My previous Access cover had a push button you could use to unlatch the cover with the tailgate closed. Not great if you want to keep other out of your truck bed. 87917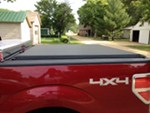 Click to Enlarge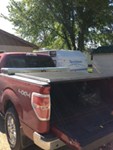 Click to Enlarge
Comments
I have a 12 inch tool box installed on my 2013 ford F150 sxt can I grt a cover to fit this truck.
comment by: John B - 07/24/2013
1802
The Access Toolbox edition covers will only work with tool boxes that are 20-21 inches wide. With a 12 inch wide box there will be a large gap and the tonneau will not work as designed.
Patrick B - 7/24/2013
Comments
Is this option able to work with a back rack toolbox combo?
comment by: Nathan D - 12/20/2013
2435
The objects in front of the tonneau, between the tonneau and the cab, would have to total 20-21 inches. Measure from the inside edge of the truck bed up at the cab, and back. If your tool box does not end in the 20-21 inch windown, the tonneau will not properly fit.
Patrick B - 12/27/2013
- 834532004782
by: James09/05/2015
Review from a similar Access Toolbox Edition in Tonneau Covers
easy to install, looks great like hard cover rather than a soft one. Thanks e trailer GREAT JOB AS ALWAYS. 224225
5
5
Why etrailer.com?
At etrailer.com we guarantee:
Highest quality tonneau covers for the best price.
Real product know-how.
We make sure that the products we sell are what we say they are, and that they work the way they are supposed to work. This helps you get the right product the first time.
Every day our teams test, review, assemble and install our products. Our modern installation facilities allow our expert installers and customer service representatives to actually install and use the items we sell, so you can get real advice, from a real person who has the knowledge and expertise needed to solve your problem.
Most detailed, accurate tonneau cover information available.
Because we take providing accurate product information seriously, we take our own detailed product photos, demo videos and installation videos, as well as verify measurements, instructions, and vehicle fit information.
Information for this part was:
Installations, made easy.
We love helping people.
We have the most highly trained customer service, hands-on experience, step by step videos and installation instructions. We are prepared to answer any question, give advice, or troubleshoot any problem you come across.
Fast shipping.
Personalized service for life.
We provide one-on-one, personalized service from the ordering process through the life of your product.
Trusted since 1946.
We've been serving customers since our parts store first opened in 1946 and continue to be recognized by our customers, our vendors and third parties for exceptional service.