Thule Sport Carriers - TH320506
This bike trailer and stroller offers safety and comfort with features like disc hand brakes, ergonomic handlebar, and side window venting. Built-in brackets make it easy to store conversion kits (sold separately) for jogging or hiking and skiing.
Features:
Double-seat stroller is perfect for walking in all kinds of weather
Multifunctional carrier can be easily transformed for jogging, hiking, or cross-country skiing with conversion kits (sold separately)

Built-in brackets store stroller wheels while you use the carrier for other activities
Click n' Store brackets on each side of carrier hold biking and jogging kit accessories when they're not in use

Ball-and-socket bicycle hitch connection provides stable, comfortable ride for both rider and passengers

ezHitch replaces your bike's rear-wheel skewer
Flexible connection prevents pushing and pulling between bike and carrier
Safety flag and reflectors included

(2) 8" Diameter stroller wheels

Pivot so the carrier is easy to maneuver
Store in built-in brackets while you use the carrier for other activities

Disc hand brakes are perfect for slowing and stopping as you run up and down hills

Gives you the most control and smoothest braking

Safe, durable construction

Sturdy, lightweight aluminum frame acts as a protective roll cage
Large rear wheels travel easily over uneven terrain
Low center of gravity adds stability
Reflective trim
Fabric and UV-protected side windows are free of harmful substances

Comfortable design

Adjustable suspension can be customized to your children's weight
More leg room
Padded, 5-point restraint harnesses
Plush, padded seats
2-in-1 weather cover with bug screen and rain cover
Retractable sunshade
Tinted windows
Mesh upper seatback and side window vents provide ventilation
Recessed area provides room for your children's bike helmets

Parent-friendly extras

Ergonomic handlebar offers 5 grip positions
Wrist safety strap helps prevent carrier from rolling away from you
Aerodynamic shape reduces drag and racked-back design accommodates runner's kick stride
Parking brake
Cargo bag on the back of stroller can be folded up and out of the way
Harness straps and seat pad can be removed and hand-washed
Push-button wheels remove and carrier easily folds flat for storage and transport
Crossbar on top of stroller for accessories like a cup holder (sold separately)
Specs:
For children ages:

12 Months and older when used as a bike trailer
1 Month and older when used as a walking stroller

Requires an Infant Sling (sold separately) for infants who cannot sit up on their own

Weight capacity:

Passengers: 49 lbs
Passengers and cargo combined: 100 lbs

Maximum passenger height: 44"
Interior dimensions:

Sitting height: 25"
Shoulder width: 22-1/2"

Exterior dimensions:

Open: 48" long x 33" wide x 43-1/2" tall
Folded: 42" long x 31-1/2" wide x 12" tall

Carrier weight: 34 lbs
Bike trailer weight: 36 lbs
Walking stroller weight: 38 lbs
Meets or exceeds:

European Oeko-Tex Standard 100 for textiles
ASTM international standards when used as a bike trailer

Warranty:

Limited lifetime on frame
1-Year on fabric
The multifunctional CX child carrier has an adjustable suspension for a smooth ride and more leg room for your children's comfort. And its sturdy aluminum frame creates a protective roll cage around your children. The 2-in-1 zip-down weather cover shields your children from rain and cold, while the retractable sunshade, tinted windows, and zip-off side windows keep them comfortable on warm days. The ergonomic, 5-position handlebar is ideal for jogging and the disc hand brakes increase braking control on steep terrain. And the built-in accessory bar makes it easy to attach additional accessories like the cargo rack or console (both sold separately). The Click n' Store brackets provide onboard storage of your biking or jogging kit (sold separately), and the reflective trim provides better nighttime visibility.
Perfect for active families, this sport stroller can be converted for jogging, hiking, or cross-country skiing with your child (conversion kits sold separately). The multipurpose carrier keeps your garage or storage space from becoming a crowded stroller warehouse for a collection of expensive child carriers that are designed for only one sport. The CX is specifically designed for use in several sports. It has a low center of gravity and large wheels for stability, and the aerodynamic shape reduces drag. The stylish, raked-back design leaves lots of room behind the carrier for a runner's kick stride.
Bike Trailer Innovation
The bike hitch and safety equipment allow you to quickly and easily hook up the child carrier to your bicycle for a trip. The bike hitch arm is inserted into a VersaWing bracket on your child carrier. It snaps into the bracket in seconds. This hitch arm is then connected to your bike using the ezHitch system. A longer, quick-release wheel skewer in this kit replaces your rear wheel's quick-release skewer so that you can attach a hitch cup to your bike's rear axle.
Once you have installed the skewer and hitch cup, they can be left on your bike for use with or without the carrier. If you have a solid bike axle, simply remove the existing axle nut and then install the hitch cup. Reinstall the nut to secure the hitch on your bike and you're ready to ride.
After the hitch cup is mounted on your bike, the ball at the end of the hitch arm slides inside the hitch cup and is secured to it with a locking pin and safety strap.
The ball-and-socket design of this bike hitch makes a more flexible connection between your bike and the carrier than other bicycle hitches. This means that as your bike leans into corners, the carrier stays more upright because the bike and the trailer act independently, preventing twisting of the hitch bar. Using this hitch system stabilizes your bicycle trailer and helps to prevent the trailer from pulling or pushing on your bike as you turn, so you have a smoother ride.
4-Wheel Stroller Setup
The 2 sturdy, 8" front wheels snap into the VersaWing brackets on your carrier when you want to use it as a stroller. The larger stroller wheels are perfect for traveling over uneven terrain, and their smooth pivoting action makes sharp turns a breeze. The wheels can be removed with the push of a button and stored upside down in the VersaWing brackets when you're using the carrier for other activities.
Safe Construction
This carrier is designed with your children's safety in mind. The anodized aluminum frame of the carrier forms a roll cage around your precious cargo. Anodizing adds a strong surface coating that prevents rust while retaining the lightweight quality of the aluminum.
The durable, polyurethane-coated polyester fabric is free of harmful chemicals, and the UV-protected side windows are made of phthalate-free polyurethane, which complies with the European Oeko-Tex Standard 100 for safe textiles. The reflective trim increases visibility in low-light conditions so that drivers, pedestrians, and bike riders can see you coming.
The stroller comes with a wrist safety strap that extends between you and the carrier so it won't accidentally roll away from you.
Comfortable Ride
A Thule carrier keeps your children comfortable as you travel. The plush seat pads and cushioned, 5-point restraint harnesses keep the ride softer, and the large, tinted side windows let you check on your children as they enjoy the view. A mesh upper seatback and zip-off side windows provide ventilation for warm days. The stroller's seatback also has a recessed shelf so that your children's safety helmets don't get pushed down over their foreheads and eyes when you're using the carrier as a bike, ski, or hiking trailer.
The carrier's suspension provides a smooth ride. Powder coated leaf springs are mounted on the outside of the carrier just above the rear wheels. The suspension's comfort level and shock absorption can be adjusted according to the weight of your passengers, providing a consistently comfortable ride as your children grow. When you're carrying two children, you can adjust each side of the suspension system to match the weight of each child, thereby customizing the suspension so that both kids ride comfortably. You can modify the suspension by loosening the knob on the clamp around the leaf springs and then moving the clamp to the appropriate weight setting for your passengers and cargo. Once you have selected your setting, tighten the knob and you are ready to go.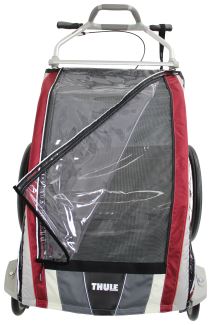 You can use the included weather cover with the screen alone to keep out bugs and debris or with the rain cover to shield your baby from wet or windy weather. Unlike a typical plastic rain cover, this soft, flexible cover rolls up quietly so you won't wake a sleeping baby.
A retractable sunshade helps to keep your children out of direct sunlight and can be rolled up and out of the way when it isn't needed.
Parent-Friendly Design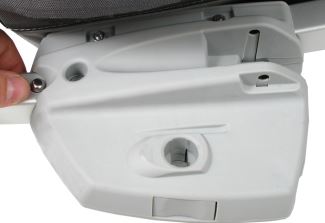 Parents will also appreciate the handy features that make the carrier easy to use. The VersaWing brackets on each side of the carrier make it lightning fast to add and remove biking, jogging, hiking, or ski conversion kit attachments with the push of a button.
Click n' Store brackets on both sides of the carrier hold bike trailer and jogging kit attachments, so you can go from stroller to jogger to bike trailer at a moment's notice. The back of the carrier has straps and hook-and-loop bands to store the jogging wheel.
For your convenience, the ergonomic handlebar offers five comfortable grip positions when you are using a stroller or jogging conversion kit (sold separately). The hand brake is removable so you can easily flip the bar over for more grip options. A built-in accessory bar across the handlebar provides a mounting point for other accessories (sold separately).
And the parking brake can be engaged and disengaged with your hand - there's no need for you to bend over to lock or unlock the stroller wheels. The harness straps and seat cushion can be removed and hand-washed when necessary.
Two side pockets inside the stroller store toys or other small items within easy reach. The large rear cargo compartment can be folded down to store a diaper bag, purse, or other cargo and folded up and out of the way when not needed. The storage bag has a mesh inner pocket for smaller stuff like your wallet and keys. The fabric cover can be fitted over the compartment to make sure your possessions are secure.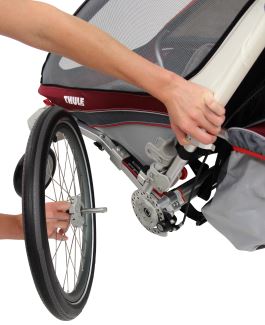 Each of the 20" rear wheels can be removed with the simple push of a button, which makes folding up the carrier a piece of cake. The body of the carrier folds flat for compact storage or for transport to your destination.
A storage cover (sold separately) is also available to protect the carrier when it's not in use.
10101320 Thule Chariot CX 2 Stroller for Two Children - Multifunctional Child Carrier - Burgundy, Silver, Gray
20100506 Thule Chariot Cycling Conversion Kit
Replaces 308503 and 316503
Installation Details

Alternate Instructions