Kuat Roof Basket - VX201
This stylish cargo basket lets you haul a full load of gear and 2 bikes on your roof rack. The sturdy steel basket includes 2 built-in fork blocks for bikes, a custom fairing to reduce wind noise, and locking mounts to secure it to your crossbars.
Features:
Cargo carrier with built-in bike fork blocks lets you transport gear on your vehicle's roof rack

Provides space for bicycles and a full load of helmets, shoes, and other accessories

2 Fork mounts with stainless steel skewers secure bikes to cargo basket

Requires that your bikes have 9-mm, quick-release front-wheel skewers
Hold bikes that have standard or disc brakes

Custom fairing attaches to front of basket to reduce wind noise and drag
Universal mounting hardware clamps onto most crossbar styles

Hand knobs tighten over U-bolts to secure basket to roof rack
Rubber coating on U-bolts protects crossbars from scratches and abrasions

2 Locking covers help to secure basket to crossbars

Deny access to the mounting hardware, preventing removal of basket

Undercut rear of basket provides clearance for hatches and roof spoilers
Xtender extension piece (VX202 - sold separately) lets you add 21" of length and 2 load bars to basket
Highly stylized brushed silver logos give basket a rugged yet sophisticated appearance
Sturdy steel tubing with gun metal gray powder coat finish ensures durability and rust resistance
Specs:
Application: round, square, aero, elliptical, and most factory crossbars

Maximum crossbar dimensions: 4-1/2" wide x 1-3/4" tall

Crossbar spread: 15" - 25"
Bike carrier:

Carrying capacity: 2 bikes
Weight capacity: 50 lbs per bike
Fork mount hole diameter: 9 mm
Fork block width: 4-3/8"

Weight capacity: 160 lbs
Dimensions: 52" long x 41" wide x 7" tall
Inside (usable platform) dimensions: 44-1/2" long x 37-1/2" wide x 4-1/2" tall
Front and rear tubing diameter: 1-1/2"
Carrier weight: 43 lbs
Limited lifetime warranty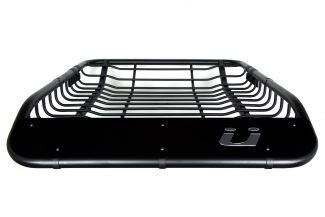 The Kuat Vagabond X combines ultimate functionality with striking good looks to form a unique and stylish way to transport your gear. This rooftop cargo carrier features real brushed silver logos on the front and sides that - left unpolished - will collect a patina over time and actually look better with age. Add a black powder coat over solid steel tubing and you've got a basket that's built to last.
Built-In Bike Mounts
The Vagabond X has built-in fork mounts for transporting 2 bikes. The fork mounts have 9-mm-diameter, stainless steel skewers to secure your bikes in place. These fork mounts work only with bikes that have quick-release skewers on the front wheels. And they will accommodate bikes with standard or disc brakes.
Custom Fairing
The cargo basket includes a custom fairing that reduces drag and wind noise. The fairing features a stylish brushed silver Kuat logo that's sure to grab attention. And it's easy to connect to the basket with the included clamps and screws.
Hatch Clearance
The Vagabond X has an undercut rear that provides plenty of clearance for your vehicle's trunk door or hatch. This means that you don't have to go through the aggravation of removing the basket just to access gear in your rear cargo area.
Universal Mounting Hardware with Locking Covers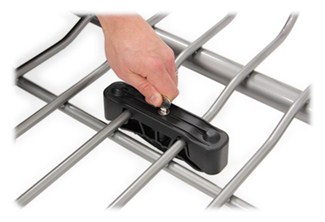 This cargo basket is designed to work with just about every crossbar on the planet. The U-bolts and hand knobs secure the basket to your roof rack, and 2 of the 4 mounting assemblies include locking covers. These covers prevent would-be thieves from accessing the mounting hardware and removing the basket from your crossbars.
Versatile, Expandable Design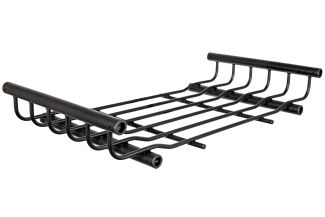 An extension piece (VX202 - sold separately) is available to add 21" of length to the Vagabond X cargo carrier. This extension piece includes a pair of square load bars that you can use to mount bike, snow sport, or watersport carriers and other accessories to the basket. If you don't have the extension piece - or don't want a basket longer than the Nile on your roof - you can simply attach carriers and accessories to the 1-1/2" diameter front and rear tubes of the basket itself. Note: Mounting accessories to the front tube of the basket may require temporary removal of the fairing.
VX201 Kuat Vagabond X Roof-Top Cargo Carrier Basket and 2 Bike Rack - Steel - 52" x 41" - 160 lbs
Replaces VX01
Installation Details