2016 Ford F-150 - Access Rockstar 2XL Custom Mud Flaps for Modified Suspensions - 42" Wide - Diamond Plate
Extra-long, trim-to-fit mud flaps for Ford F-150s with modified suspensions protect your towed boat or trailer from rocks or road debris. Custom-fit frame provides a factory look and allows access to hitch pin and wiring. Clamps onto 2" ball mount.
Features:
Hitch-mounted, 2XL mud flaps shield what you tow from mud, rocks, and road debris

Protects your boat, car, snowmobile, ATV, or 5th-wheel trailer

Extended-width design offers more protection than standard-size mud flaps

Each flap extends 4" past the custom frame for more coverage
Provides protection inward toward the ball mount
Great for Ford F-150s with dually rear tires

Extra-long flaps can be trimmed to fit Ford F-150s with modified suspensions

Ideal for lifted or lowered trucks

Custom fit to give you a from-the-factory look

Frame fits the contours of your bumper
Support flange fits on your bumper step to provide stability

Heavy-duty, 1/2" thick, smooth rubber mud flaps offer better protection than ordinary mud flaps

Helps reduce flapping and decreases ice and mud buildup
Withstands exhaust temperatures up to 250 F

Rustproof aluminum frame and stainless steel hardware ensure durability
Openings in the frame allow you to access your hitch pin and trailer connector
Easy installation - mud flap frame clamps onto your 2" ball mount

Mud flaps attach to frame with included hardware
Optional adapter (A81008 - sold separately) available for 2-1/2" ball mounts

Diamond plate finish
Optional heat shield (A80807 - sold separately) available for modified exhaust systems
Made in the USA
Specs:
Mud flap dimensions: 24" long x 42" wide x 1/2" thick
1-Year limited warranty
Note: A minimum of 3" of clearance is needed from the edge of the bumper step to the end of the ball mount shank to ensure a proper fit. If the ball mount shank does not align with the hitch receiver so that the hitch pin can be inserted - or if the Rockstar's frame cannot be positioned to hang straight and plumb - a longer ball mount will be needed to install the mud flaps.
Protect Your Investment
Without mud flaps, traveling the rocky road to your favorite campsite or boat launch may lead to costly fiberglass repairs or a scratched up paint job on your towed boat, trailer, car, ATV, or snowmobile. Protect your investment with this stylish Access Rockstar mud flap system. These mud flaps shield what you tow and look great while doing it. Rockstar's hitch-mount design clamps onto your ball mount and the whole assembly simply slides into your hitch receiver. Openings in the frame allow you easy access to your hitch pin and trailer connector, and you can easily remove the flaps when you aren't towing.
Rockstar 2XL Mud Flaps for Modified Suspensions
The Rockstar hitch-mounted mud flaps come in 4 different sizes. These 2XL mud flaps (highlighted in the image above) are perfect for dually trucks that may kick out debris in a wider area. They provide much more coverage inward toward your ball mount than the standard flaps. And the 2XL flaps extend 4" beyond the frame compared to the XL and standard flaps which only extend 1" past the frame. Plus these 2XL flaps extend up above the top corners of the frame to block even more debris.
These mud flaps are extra-long so that you can trim them if necessary to achieve the right clearance for your lifted or lowered Ford F-150.
Rockstar Looks and Custom Fit
Rockstar mud flaps just look cool on your truck. The diamond plate finish gives your Ford F-150 a rugged look, and the frame hugs your bumper tightly for a from-the-factory fit. And rounded top corners on both mud flaps offer a sleek appearance.
The support flange on the frame is designed to fit your bumper step. These custom details make the Rockstar kit one of the best-looking mud flap setups on the road.
Heavy-Duty Construction
The beefy mud flaps are made of a 1/2" thick rubber for superior protection. These mud flaps stay in place better than thinner mud flaps because the heavy-duty rubber construction helps to prevent flapping in windy conditions. They stay down where you need them - protecting your valuable equipment from mud and flying rocks. The smooth rubber surface also reduces ice and snow buildup for a cleaner look.
Rockstar mud flaps can withstand temperatures of up to 250 F, so they won't be damaged by the heat from your exhaust. If you have a modified exhaust system that brings your exhaust outlet closer to the mud flaps, a heat shield (A80807 - sold separately) is available for added protection.
The frame is constructed of sturdy, lightweight, rustproof aluminum.
Easy Installation and Removal
You can install the mud flaps in a few simple steps. First, attach the included 2" x 2" ball mount clamp to the back of the custom frame using the included hardware. Slide your ball mount into the frame, and tighten the frame clamp loosely around the ball mount shank. Next, insert the ball mount into your hitch and secure it with a pin and clip. Adjust the frame until it sits level and plumb on your bumper. Adhesive discs (included) protect your Ford F-150 from scratches where the frame comes in contact with the bumper. Finally, secure the frame to your ball mount by tighening the clamp with a torque wrench.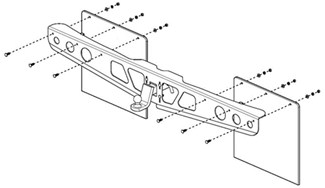 Once the frame is properly installed, attach the mud flaps to the frame using the included stainless steel screws. Next, check the length of the flaps to determine if trimming is needed. It is recommended that the bottoms of the mud flaps sit 5" to 7" off the ground with your truck unloaded and at least 3" off the ground with your truck under load. Use a utility knife and a straight edge to trim the excess length off of the bottom of each flap.
To take off the mud flaps, simply remove your ball mount from your hitch receiver with the Rockstar frame still attached. You do not need to remove the flaps from the frame before removing your ball mount. The Rockstar mud flap assembly stays clamped to your ball mount for a quick installation the next time you need it.
A10100622 Access 2XL Rock Star Hitch-Mounted Mud Flaps - Diamond Plate Finish - Trim To Fit for Modified, Lowered, or Lifted Suspensions
Installation Details

Alternate Instructions