Optronics Hunting and Fishing - DLL50WC
Illuminate a dock, buoy or other watercraft with the wide, flat beams produced by these lights. Includes 2 white LED lamps with white housing, weatherproof lens and wiring, adjustable mounting bracket and hardware. Works with 12- and 24-volt systems.
Features:
2 Heavy-duty, white docking and utility lights

Produce wide, flat beams
Illuminate reflective surfaces at more than 500 yards

Long-lasting, cool-burning LEDs (light emitting diode) are great replacements for incandescent lights

Multi-diode design optimizes light output
No bulbs to replace - no brittle filaments
More efficient - provide brighter light with less power

Dual power - works with 12- and 24-volt DC systems
Crystal Clear, impact-resistant polycarbonate lens
Gasketed lens and wiring ensure weatherproof performance

Suitable for fresh- and saltwater applications

Rugged, white, die-cast aluminum housing

Lightweight and coated for protection against corrosion and UV exposure

Fully adjustable, stainless steel mounting bracket and hardware
2-Wire design - includes lead wire for power and ground wire
Installation kit includes on/off switch, wiring with 5-amp fuse and terminals
Specs:
Shape: rectangular
Dimensions: 5" wide x 3" tall x 3-1/2" deep
Diodes: 2 per light
Power draw: 0.683 amps at 12 or 24 volts
Installation: pedestal mount - 1-1/2" long
Lifetime warranty on LEDs
DLL-50WC Heavy-Duty LED Docking Lights - 2 Diode, 12/24 Volts - Wiring and Switch - White Housing (Qty 2)
Customer Reviews
Heavy-Duty LED Docking Lights - 2 Diode, 12/24 Volts - Wiring and Switch - White Housing (Qty 2) - DLL50WC
Average Customer Rating: 4.7 out of 5 stars (12 Customer Reviews)
Illuminate a dock, buoy or other watercraft with the wide, flat beams produced by these lights. Includes 2 white LED lamps with white housing, weatherproof lens and wiring, adjustable mounting bracket and hardware. Works with 12- and 24-volt systems.
- DLL50WC
by: Peter N04/29/2013
Fantastic beautiful product. I installed a pair as docking lights between the front rails on my pontoon. They come with a pair of insulating plastic washers, which is a perfect thing for aluminum rails to prevent galvanic corrosion of alum against stainless steel fasteners. One little complain is the wiring (wire and fitting) seem to be built for cars not boats; not for marine harsh conditions. I had to put in additional heat shrinking wraps. Had to use a a converted drill head that allows me to drill horizontally into a an 8" clearance between rails. Looks very sexy once installed. Tested... lights are very bright. Excellent product. 78335
Comments
Looks good. Works OK. The only complaint I have is the wire gauge is to small for my current boats existing wiring.

Peter N - 04/30/2014
3870
- DLL50WC
by: Mike R05/22/2014
Housings appeared solidly sealed, but having read another review wherein the reviewer stated that his housing was 1/2 full of water after 2 weeks I took the precaution of sealing around the lens and the exit point of the wires from the housing with silicone to waterproof the units. The light is advertised as "weatherproof", not waterproof so hopefully this adds water resistance. Wire diameter is a little anemic in comparison to all the other wiring on my boat but functional. The lights are indeed very bright and are working well for me. 131998
Comments
One of the lights is fine the other failed due to water infiltration in the opening where the wiring goes into the light body. So at this point not so good.

Mike R - 05/22/2015
11969
- DLL50WC
by: Dan07/16/2012
We ordered the Optronics Docking lights from eTrailer with basic ground shipping.. The lights came in a normal shipping box with added protection. No damage and in the perfect condition. At this point we haven't had time to put the new lights on.. We have used Optronic docking lights on other boats in the past and have had no problems ever and we hope to have the same experience with this boat. There bright and work much better on a pontoon with a small motor and small charging system then the older halogen bulb docking lights. The important part here is that there Docking lights and not Driving lights.. It's not legal to use the docking lights the whole time out on the water at night and these can blind other boaters. Thank you ETrailer for the Fast shipping and service. I will buy from you again ~Dan 48105
- DLL50WC
by: Ron08/11/2014
Very bright with low amp draw. 145915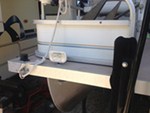 Click to Enlarge
Comments
I still think they are great lights.

Ron - 08/17/2015
14319
- DLL50WC
by: Gary K.07/12/2015
Installed these lights on my pontoon and after two trips on the water one light began to get water inside the lens and wouldn't work. Called e trailer and they sent a new set right away.I may silicone around the lens this time.These lights are very bright and seems to be of good quality. Thanks e trailer for great service. 211123
- DLL50WC
by: Martin M08/09/2012
The Optronics docking lights are very, very bright! The beam pattern is as advertised...FLAT. These lights are really well made, and I am sure that they would last! I needed a broader beam for my application, so I returned these lights...with no hasssles at all. 51101
- DLL50WC
by: johnf04/29/2012
First, my package arrived in good shape and as promised. Next, I now have my LED lights installed and are twice if not three times better than the Halogen I replaced. Heck of a lot less draw on the battery and bright. Believe me these lights are great! 38722
- DLL50WC
by: Brad M07/17/2014
Bought LED docking lights and they are awesome! Replaced old halogen, no comparison! Great product by Optronics, well made. Fourth order ftom Etrailer great company who back their products. Thanks again. 141940
- DLL50WC
by: Callum01/27/2014
Wow faster than expected, best price on the net, very informative via emails, great job guys love the product will post pics when project is completed. Thank you etrailer. you rock 114859
- DLL50WC
by: Ken D05/03/2013
Speedy shipping of product. Looks great in box, can't wait to hook it up! Great to do business with!! Thanks !! 78906
- DLL50WC
by: Paul09/21/2012
Installed the lights in my boat last weekend. Thay are great. 55473
- DLL50WC
by: Cassandra03/06/2013
THE PRODUCT WAS GOOD - SERVICE WAS GOOD 69238
12
12
Why etrailer.com?
At etrailer.com we guarantee:
Highest quality hunting and fishing for the best price.
Real product know-how.
We make sure that the products we sell are what we say they are, and that they work the way they are supposed to work. This helps you get the right product the first time.
Every day our teams test, review, assemble and install our products. Our modern installation facilities allow our expert installers and customer service representatives to actually install and use the items we sell, so you can get real advice, from a real person who has the knowledge and expertise needed to solve your problem.
Most detailed, accurate hunting and fishing information available.
Because we take providing accurate product information seriously, we take our own detailed product photos, demo videos and installation videos, as well as verify measurements, instructions, and vehicle fit information.
Information for this part was:
Installations, made easy.
We love helping people.
We have the most highly trained customer service, hands-on experience, step by step videos and installation instructions. We are prepared to answer any question, give advice, or troubleshoot any problem you come across.
Fast shipping.
Personalized service for life.
We provide one-on-one, personalized service from the ordering process through the life of your product.
Trusted since 1946.
We've been serving customers since our parts store first opened in 1946 and continue to be recognized by our customers, our vendors and third parties for exceptional service.