2002 Jeep TJ - Bestop Upper Door Sliders for Jeep Wrangler, Wrangler Unlimited 1997-2006 - Black Denim
Upper Door Sliders are perfect additions to Jeep lower steel doors, forming a complete door that includes dual, two-way sliding windows for optimum convenience. Windows open and click shut with one hand and feature toggle latches for locking.
Features:
Factory-original lower steel door application
Dual, 2-way sliding glass panels
Toggle latches on windows for security
Double-bulb weather stripping for tight seal
Rugged steel frame surrounded by fabric
Specs:
Fit Jeep Wrangler, Wrangler Unlimited models 1997-2006
Are compatible with factory top and all Bestop tops
Qty. 1 pair (driver and passenger sides)
Provide 1-year limited warranty
Bestop Upper Door Sliders are a factory-original lower steel door application featuring a pair of two-way sliding glass windows that make all those trips to the drive-through easier. The windows slide forward or backward on their tracks, clicking shut with one hand and securing with toggle latches.
The windows are constructed of thermally insulated, DOT-approved, tempered glass. Panes reduce road noise and also increase ventilation to the cab when opened.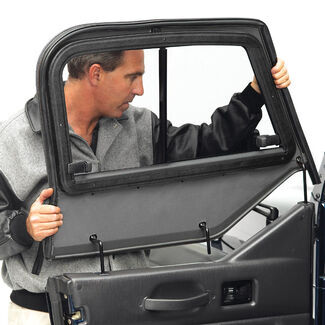 The windows are mounted on a rugged steel frame, surrounded by fabric and edged by double-bulb weather stripping that surrounds the channels to keep out ice, snow, dirt and debris. The weather stripping also provides a tight seal with the Jeep TJ soft top, further insulating the interior from the elements.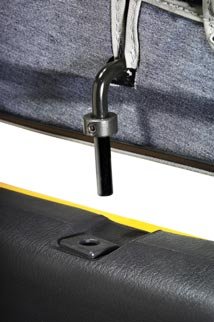 Upper Door Sliders attach easily to lower steel doors with door pins and adjustable collars, ensuring a snug fit to the factory door.
Kit includes passenger- and driver-side Upper Door Sliders. Fabric is designed to match Bestop soft tops and factory-original top colors.
The Upper Door Sliders come in Black Denim (above left), and are also available in Black Diamond (above right).
51787-15 Bestop Upper Door Sliders for Jeep Wrangler, Wrangler Unlimited 1997-2006 - Black Denim
51787-15 Bestop Upper Door Sliders for Jeep Wrangler, Wrangler Unlimited 1997-2006 - Black Denim