Boss Hitch Cargo Carrier - B04100-1
High quality, extremely sturdy motorcycle carrier is also very easy to use. Motorcycle rail tilts down to load bike. Wedgelock anti-rattle device eliminates movement inside hitch and stabilizes carrier.
Features:
Patented WedgeLock stabilizes the carrier in the hitch and eliminates wobble and bounce

Wedgelock anti-rattle device makes the carrier and the hitch seem as if they are one piece welded together

Easy to use tilt down feature means no separate ramps or jacks to mess with

Just pull the pin to release the tray, creating a ramp to load the bike
Makes for 1-person loading

Adjustable front tire cradle securely grips dirt bike tire

Also holds the bike upright while you attach it to the integrated tie-down anchors

Width of carrier can be adjusted to fit different bike lengths
Steel construction with welded structural components for extra strength
Powder coated to resist corrosion
Pin and clip included
Made in Canada
Specs:
Fits 2" x 2" trailer hitches
Application: motorcycles, motocross, dirt bikes, dual-purpose bikes, scooters, and mopeds
Measures 14" from the center of the hitch pin hole to motorcycle rail
Width of motorcycle tire cannot exceed 4-5/8"
Limited 1 year warranty
Note: Not recommended for use behind an RV or motorhome.
Carrier Weight Capacity
Carrier capacity depends on the tongue weight capacity of the vehicle and/or the hitch, whichever is less.
Tongue Weight
Carrier Capacity
300 lbs
180 lbs
350 lbs
225 lbs
500 lbs
350 lbs
750 lbs
450 lbs
The dirt bike carrier has a wheel chock that rotates to lock the front wheel, keeping the bike from shifting left to right on the carrier. The tie down hook also telescopes out to provide a better attachment point and to make securing the bike with ratchet straps even easier.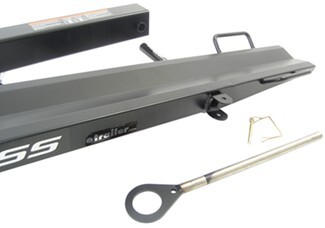 The dirt bike carrier tilts down, making it easy to walk the bike up onto the carrier. Once the front of the bike is secure, simply lift up on the carrier and slide the pin in to place.
04100-1 Boss Tilt Down Hitch Mounted Motorcycle Carrier