1997 Dodge Ram Pickup - Draw-Tite Front Mount Trailer Hitch Receiver - Custom Fit - 2"
Easily attach a variety of accessories to the front of your Dodge Ram Pickup with this fully welded, corrosion-resistant trailer hitch receiver. Perfect for winches, spare tire carriers and more.
Features:
Front-mount hitch provides attachment point for hitch-mounted accessories

Winch, spare tire carrier, snowplow, cargo carrier and more
No more blindly backing trailer in - just hook it up and drive it forward

Custom fit is designed specifically for your Dodge Ram Pickup
Computer-aided, fully welded steel construction ensures strength and durability
Tested Tough - safety and reliability criteria exceed industry standards
Easy, bolt-on installation - no welding required

Complete hardware kit and installation instructions included

Lifetime technical support from the experts at etrailer.com
Black powder coat finish covers e-coat base for superior rust protection
Sturdy, square-tube design
Specs:
Line pull: 9,000 lbs
Vertical load: 500 lbs
Gross trailer weight: 5,000 lbs
Receiver opening: 2" x 2"
Pin hole diameter: 5/8"
Limited lifetime warranty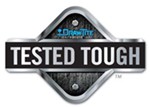 Draw-Tite Tested Tough
Draw-Tite's Tested Tough program provides testing standards far superior to those outlined by the Society of Automotive Engineers (SAE), the go-to source for engineering professionals.
Each Draw-Tite trailer hitch receiver undergoes extensive fatigue testing and static testing with the ball mount that is either supplied or recommended for use with that particular hitch, thus ensuring results that are applicable to real life use. Fatigue testing is also conducted on hitches rated for use with weight-distribution systems.
In addition, Draw-Tite performs static testing on a simulated automobile, as opposed to the rigid fixture used for SAE testing, resulting in a more true-to-life scenario.
etrailer.com Technical Support
At etrailer.com we're committed to the products we sell, and to our customers. Our experienced and knowledgeable staff are available via both phone and email to address your questions and concerns for the lifetime of your hitch. The technicians at etrailer perform hitch installations on a daily basis, making them a valuable resource for do-it-yourselfers. The one-on-one, personal service you'll receive comes straight from an expert in the towing and automotive field. We've installed it, we've wired it and we've towed with it, so whatever your question, we can answer it.
65003 Draw-Tite Front-Mount Trailer Hitch Receiver
Installation Details

Front Mount Capacity
Line Pull:
9,000 lbs.
500
Vertical Load:
# 500 lbs.
Tech Tip
No drilling required for installation , Plastic air deflector/fascia must be trimmed or removed to install hitch
Customer Reviews
Draw-Tite Front Mount Trailer Hitch Receiver - Custom Fit - 2" - 65003
Average Customer Rating: 4.5 out of 5 stars (4 Customer Reviews)
Easily attach a variety of accessories to the front of your vehicle with this fully welded, corrosion-resistant trailer hitch receiver. Perfect for winches, spare tire carriers and more.
- 65003
by: Art B.03/19/2015
I am very pleased with the way Etrailer handled my order. their web page was user friendly, I received my purchase with in 5 days & the installation was quite simple about 1.5 hr. I hade removed the factory parts before starting installation do to the online instructions. I did not have any help but a extra set of hands would of been nice. Art B. a very pleased customer. 179634
- 65003
by: Clayton01/29/2013
This product is great. Only took about an hour to install and fit perfectly. 64458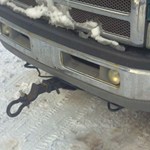 Click to Enlarge
- 65003
by: Dirk Appel02/23/2012
e-trailer carries name brand, quality products. My front mount trailer hitch receiver shipped in the time promised. Great communication on location and arrival time. Receiver came in in good shape and order. Will buy from these folks again. 32361
- 65003
by: Mark Denney11/16/2012
Just got it installed. looks sturdy. could have used better directions. one mounting bolt was the wrong one. too short. 59502
4
4
Why etrailer.com?
At etrailer.com we guarantee:
Highest quality front hitch for the best price.
Real product know-how.
We make sure that the products we sell are what we say they are, and that they work the way they are supposed to work. This helps you get the right product the first time.
Every day our teams test, review, assemble and install our products. Our modern installation facilities allow our expert installers and customer service representatives to actually install and use the items we sell, so you can get real advice, from a real person who has the knowledge and expertise needed to solve your problem.
Most detailed, accurate front hitch information available.
Because we take providing accurate product information seriously, we take our own detailed product photos, demo videos and installation videos, as well as verify measurements, instructions, and vehicle fit information.
Information for this part was:
Installations, made easy.
We love helping people.
We have the most highly trained customer service, hands-on experience, step by step videos and installation instructions. We are prepared to answer any question, give advice, or troubleshoot any problem you come across.
Fast shipping.
Personalized service for life.
We provide one-on-one, personalized service from the ordering process through the life of your product.
Trusted since 1946.
We've been serving customers since our parts store first opened in 1946 and continue to be recognized by our customers, our vendors and third parties for exceptional service.