2012 Jeep Grand Cherokee - 3D Kagu Custom Auto Floor Liners w MAXpider Grip - Tri-Layer - Front - Beige
Protect the floor of your Jeep Grand Cherokee with these custom liners. Durable, textured thermoplastic rubber keeps your feet from slipping, and a waterproof, shock-absorbent middle layer insulates from sound. Unique fibers on the bottom keep mats in place.
Features:
Custom-fit, 3-layer floor liners protect your Jeep Grand Cherokee's carpet from dirt, mud, water, and snow
Precision-molded mats cover maximum floor area

Semi-rigid material maintains its shape for superior coverage
Raised edges keep spills and melted snow from reaching your carpet

Durable thermoplastic rubber (TPR) top layer provides grip and will not crack, tear, or deform over time

Carbon fiber embossed pattern scrapes snow and mud off your shoes

Waterproof, shock-absorbent middle layer is sound insulating and helps regulate interior temperature
Anti-slip MAXpider fibers on bottom layer hold mats in place
Driver's-side heel pad provides extra grip and protects against wear and tear
Easy care - simply wipe clean with a wet towel or hose off
Environmentally friendly construction contains no PVC, plasticizers, or glue
Beige color complements your interior
2-Piece set includes front driver's-side and passenger's-side liners
3-Year limited warranty
These custom-fit rubber floor mats by 3D are named for the Taiwanese word "kagu," which means "long-lasting" or "very durable." These mats live up to that name because their sturdy rubber construction will stand up to constant wear and hold its shape for years to come.
Durable, Textured Thermoplastic Rubber Top Layer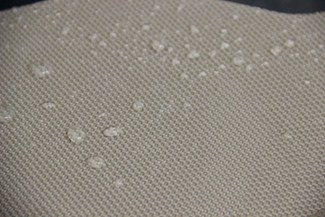 The top layer is made of thermoplastic rubber, which is rigid and will not deform over time. The carbon fiber embossed pattern in the rubber creates a textured surface that helps keep your feet firmly in place, even when it's wet. It also scrapes snow and mud off your shoes. The driver's-side liner has a heel pad for added grip and durability.
Waterproof XPE Middle Layer
The inner layer is made of XPE - a cross-linked polyethylene. XPE is waterproof, sound insulating, shock absorbent, and thermostatic. This layer blocks water from reaching your carpet, and it can help prevent road noise from disturbing your drive. It can also help regulate the temperature inside your car by preventing hot or cold air from entering or escaping through the floor.
No-Slip MAXpider Bottom Layer
Patented MAXpider fibers make up the bottom layer. These fibers grip your carpet without damaging it. This enhances safety by keeping the mats from sliding and by preventing the driver's-side mat from getting stuck under the pedals. And because the mats won't shift and expose areas of your carpet, they offer even better protection from dirt.
3-D Digitizing Process for Custom Fit
These Kagu floor liners are precisely molded to cover your Jeep Grand Cherokee's front carpet area. During a unique digitizing process, a 3-D scanner takes an image of the floor. The liners are created using this digital image so that they fit your specific model perfectly.
L1DG00611502 U Ace Max Spider Kagu 3D Auto Floor Mats - Triple Layer - Front - Tan