Curt Fifth Wheel - C16115
Sturdy, secure fifth-wheel hitch features an adjustable height to fit your towing needs. Dual-pivot head includes Permalube bushings, a slide-bar jaw and an anti-rattle skid plate for a smooth, quiet ride. Rails and installation kit sold separately.
Features:
Entry-level hitch offers several unique features
Auto-locking, slide-bar jaw mechanism provides superior security

Rear tension bar works with slide bar to clamp around king pin, minimizing rattle and movement

4-Position height adjustment for multiple towing applications
2-Pin head removal makes it easy for 1 person to remove hitch
Dual-pivoting head with 10-degree lateral movement for simple hookup

Permalube pivot bushings increase hitch life and reduce maintenance

Anti-rattle skid plate provides smooth, quiet ride

Nylon lube plate (sold separately) will help to prevent scratches on skid plate and to let king pin glide smoothly into hitch during hookup

Rails and installation kit sold separately

Works with industry-standard rails: Curt, Draw-Tite, Hidden Hitch, Pro Series, Reese, Valley

Sturdy, steel construction with carbide black finish
Specs:
Gross towing weight: 16,000 lbs
Vertical load limit: 4,000 lbs
Hitch height: 13-1/4" - 17"
5-Year warranty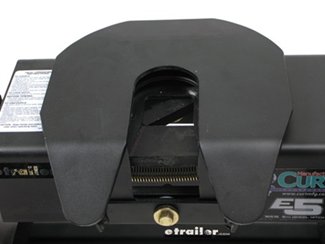 Simple, Secure Hookup
With a dual-pivoting head that offers 10 degrees of lateral movement, the E16 fifth-wheel hitch makes hookup a snap, even on unlevel ground. Once the king pin slides into the hitch, the auto-locking, slide-bar jaw secures it in place. A unique feature of the E16 is the rear steel tension bar within the jaw that activates upon hookup to clamp down on the king pin, providing a tighter grip that maximizes security and minimizes rattle.
16115 Curt E16 5th Wheel Hitch - 16,000 lbs
Customer Reviews
Curt E16 5th Wheel Trailer Hitch - Slide Bar Jaw - 16,000 lbs - C16115
Average Customer Rating: 4.7 out of 5 stars (26 Customer Reviews)
Sturdy, secure fifth-wheel hitch features an adjustable height to fit your towing needs. Dual-pivot head includes Permalube bushings, a slide-bar jaw and an anti-rattle skid plate for a smooth, quiet ride. Rails and installation kit sold separately.
- C16115
by: k dorn04/20/2015
The product went in my truck just fine but the instructions were not the best to read. I wish that the company would of gave me an orthographic blue print instead of an isometric. "2D instead of 3D". A video would of been great to see some of the tricks. But all in all everyting went pretty well. It took me from 3:30pm to 10:30pm to get it put in. Once I did the first side the second side went much faster. Make sure the brackets are not flipped around so you don't add extra holes like I did. The box was complete distroyed when it arrived. I think that every thing is in operational shape won't know until I hook up. 186424
- C16115
by: Ted A.07/15/2015
Looking at the box when it arrived, I thought that I was going to have to make a trip to the hardware store to get replacement bolts. Etrailer added an outside box to protect the factory packaging, and it was all there and in great shape! Shipped on time and tracked on their site well. Very pleased. 211889
- C16115
by: jamie t06/23/2015
shipping and price was great, overall I'm happy with the hitch but once assembled the legs didn't line up with the universal rails in my truck very well. it took a little persuasion with a 8lb hammer to get things to align properly but after that it worked great, id buy another for the price. 206601
- C16115
by: Edward M.09/02/2014
UPS really damaged the hitch! Looked like it went thru a hurricane! Bent everything back into shape as I didn't have time to get it replaced. Everything works as it should. Assembly was a snap! Got all items on my order in 2 days! Great customer service (thanks Julie! ). 149490
- C16115
by: Ozzie04/30/2015
I had the UPS guy put the box in the back of my truck and it took me about a half hour to install it and try it out. Worked great. Like I read in many reviews, the box was slightly damaged but the hitch didn't have a scratch. Was here in three days. 188980
- C16115
by: Floyd R.04/29/2014
Exactly what I wanted / needed as listed. Item was shipped and delivered in 3 days. Packaging was destroyed in shipment by carrier but item not damaged and all parts arrived. Very pleased as with last purchase from trailers. 127909
- C16115
by: E S11/17/2014
Service and shipping was great. As far as I can tell every thing was there. The shipping box was all broke up but there was no damage. I have not installed it yet so I can not say anything about it. Thanks 161264
- C16115
by: Lisa d06/17/2015
Easy to order fast delivery had in three days hitch was slightly damaged but nothing we couldn't fix very easy to install. Would definitely order from E-tralier again 204081
- C16115
by: greg g06/08/2013
Product great. But what is outstanding was Mike S who helped me out. Etrailer is the best outfit I've ever dealt with. Thanks 83836
- C16115
by: Tony Z.10/01/2014
I have placed several orders over the last few weeks. All I can say is the service and delivery is awesome. 153947
- C16115
by: Jeff O07/31/2014
Very happy with my new hitch! Even had my shipping upgraded. Customer support was awesome. Thanks Again!!! 143736
- C16115
by: Zayne Laszlo02/10/2015
needed a hitch next day and shipping was very affordable. great experience all the way around. 173210
- C16115
by: Leila G06/27/2015
Awesome service and follow-up!! Highly recommend etrailer for all your RVing needs :) 207734
- C16115
by: Nate W.06/13/2012
good hitch at a great price!! even upgraded my shipping for free. thanks. 44062
- C16115
by: Matt C05/13/2015
Only used once but functioned as it should. Easy install and hook up. 192479
- C16115
by: Bill07/20/2015
Good product, excellent customer service, and very fast shipping 213259
- C16115
by: James S03/03/2011
Great Unit Easy assembley Great Locking Assembly 8377
- C16115
by: Jim J06/07/2015
Excellent hitch. Went together easy. No issues. 201495
- C16115
by: rick06/19/2015
fifth wheel hitch fit nicely 204571
- C16115
by: Mike M06/05/2012
Fast install, easy to assy 42926
- 16516
by: Robert S12/18/2013
Review from a similar Curt E5 in Fifth Wheel
Very well made. It was not really tough to install. I would recommend this product. 110292
Comments
Hi,I am looking at this particular hitch set up Curt E16 5th Wheel Trailer Hitch w R16 Roller - Slide Bar Jaw - 16,000 lbs Curt Custom Fifth Wheel Installation Kit for 2007 Toyota Tundra - Gloss Finish Part Numbers: 16516, C16468-104I am in the process of looking at hitch options but I would like to know the exact weight of the hitch when assembled together. How much does this hitch weigh? Thanks.
comment by: Patrik K - 01/16/2014
2593
Our shipping weight is 216 pounds. I called my contact over at Curt and assembled outside of the boxes, it tips the scales at a bit over 200 pounds. There are a few things that make up the extra weight over other designs. The bars that the slider system use are solid round stock, not hollow tubes, that are secure to plate steel bases. The legs are made of plate steel rather than stamped. All of these adds up to put the hitch at about 50 pounds heavier than other similar setups.
Patrick B - 1/31/2014
Comments
Its very well made and works great. I would buy this again. I have had no problems with it, very happy.

Robert S - 12/18/2014
8081
- 16516
by: Kent USN Ret04/10/2015
Review from a similar Curt E5 in Fifth Wheel
I ordered on a Monday and got the equipment on Wed. I started the installation Wed after noon. Finished Thur. about 11:00 am. I did all the work myself with a little help from my son on holding the U bolts. I am 75.5 years old and had no trouble with the instructions. Thanks. PS Added the Jeep picture for fun. 184654
- 16516
by: Bill S.06/24/2015
Review from a similar Curt E5 in Fifth Wheel
The unit was as described and installed without a hitch (no pun intended). This unit went into a new GMC 1500 and we did not have to cut anything to install the mounting bolts -- but it was a bear to get the nuts on the bolts and then tighten. I used a universal (free) installation kit and we had to weld the braces to the frame. eTrailer always delivers on time and so far always with the correct product - wouldn't think of going to any other company. 206872
- 16516
by: John G.03/15/2015
Review from a similar Curt E5 in Fifth Wheel
Great product, great directions made for a fairly easy install. This is the first time I've ever installed a 5th wheel hitch. What's better is the customer service I received from Ricky S. at etrailer. I will use them for all my trailering needs. 178325
- 16516
by: jerry05/14/2015
Review from a similar Curt E5 in Fifth Wheel
GREAT 5th wheel my 09 2500 ram pulled my 34 ft camper very smooth the slide work out perfect shipping was fast took 4 hours to put it together everything went on easy. GREAT COMPANY . 193004
- 16516
by: Joshua A.03/16/2015
Review from a similar Curt E5 in Fifth Wheel
Fast and free shipping, great costumer service. The box was destroyed in shipping, but all the parts were there and in great shape. Would recommend this to anyone who is looking. 178423
29
29