K Source Custom Towing Mirrors - KS60179-80C
Custom, power towing mirrors replace your vehicle's factory side mirrors. Each mirror rotates out to extend your line of sight by 4-1/2". Heated mirror glass melts ice, and built-in spotter mirrors reduce blind spots. No-drill installation.
Features:
Extendable towing mirrors replace the factory side-view mirrors on your vehicle

No need for snap-on or strap-on mirrors that you constantly have to put on and take off

Flip-out function makes it easy to see around the side of your trailer so you can safely change lanes, pass, and park

Rotate mirror faces to the outside to extend your line of sight by 4-1/2" on each side
Push mirrors back into place when you're not towing

Power mirror adjustment lets you change mirror face position with the factory controls inside your

vehicle

Heated mirror glass quickly clears fog, frost, and ice
Built-in spotter mirrors reduce blind spots
Hinged design allows you to fold mirrors up against

vehicle

for parking or for fitting into tight spaces
Textured black plastic housings
Custom fit for your vehicle
Simple, no-drill installation

Mirrors use factory connections for electric and heat functions
Same footprints and same mounting points as factory mirrors

Driver's-side and passenger's-side mirrors included
Specs:
Mirror face dimensions: 10" wide x 7" tall
Overall length

Rotated out: 22"
Rotated in: 17-1/2"

Blind spot mirror width: 4-1/2"
FMVSS approved
90-Day warranty
Note: You cannot upgrade to power mirrors with heated faces if your OEM mirrors are not already equipped with those functions.
These flip-out towing mirrors replace your OEM side-view mirrors and provide the extended view needed for safe towing. Now you can change lanes, merge, and pass other cars with confidence, even with a trailer in tow.
The mirror faces on these custom mirrors can be rotated out to give you an extended field of vision for towing. Simply rotate them back for regular use.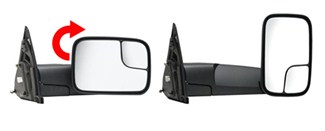 The picture on the left shows a mirror in normal use. The picture on the right shows a mirror flipped out for towing.
The entire mirror housing conveniently folds toward your vehicle for easy parking or maneuvering in tight spaces.
60179C-60180C KSource Custom Power Heated Towing Mirrors - Fold Out - Left Side and Right Side