Boone Outdoor Camping and Hiking - BH70114
Sturdy, light weight hitch mounted table is great on game days making it easy to enjoy the best tailgate parties! Tailgate table also works great at the job site, at the park, while camping and countless other places.
Features:
Light weight table is strong and durable

Blow molded top with steel support bar
Table top is constructed of high density polyethelene

Two table height adjustments: Dining and Bar height
Table folds all the way up for storage and transport
Table tilts forward to allow access to the rear of the vehicle
Includes a cover to keep the table clean
Anti-wobble device secures the table in the hitch
Specs:
Table top dimensions: 20" wide x 48" long
Fits 1-1/4" x 1-1/4" (Class I and II) trailer hitches

Table is designed to fit with very close tolerances!

Distance from the center of the hitch pin hole to the upright bar (when table is folded up for storage) measures 7-1/4"
Table height measurements:

Bar height: 21" above the top of the hitch opening
Dining height: 13.5" above the top of the hitch opening

Holds 50 lbs.
Assembly required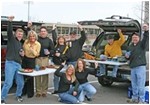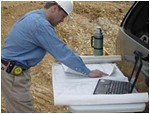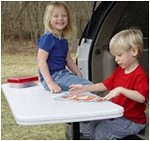 An anti-rattle device is included with the hitch mounted table to help prevent movement in the hitch. The anti-rattle device is a wedge that attaches to the hitch pin with a bolt. As you tighten the bolt, the wedge is slid farther into the trailer hitch taking up the empty space around the table shank.
The hitch mounted table will fold up for easy transport, and can be set at bar or dining height.
70114 Boone Outdoor Hardware Tailgate Table for 1-1/4" Trailer Hitches