# 1
24x60 Pro Series Cargo Carrier for 2" Hitches - Steel - 500 lbs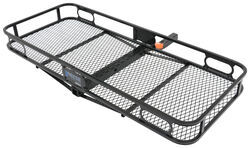 Code: 63153
Retail:$202.17
Our Price: $151.35
Flat Carrier
Fixed Carrier
24 Inch Wide
Heavy Duty
Fits 2 Inch Hitch
60 Inch Long
Class III,Class IV
Steel

Pro Series
more information >
Questions from Ford Flex owners about this product
For your 2011 Ford Flex without roof rails and extended moon roof, I would recommend installing a roof rack system to carry your skis. For carrying your luggage, I would recommend installing a hitch mounted cargo carrier, for which you would need to install a trailer hitch on your Ford Flex. For a roof rack, I would recommend Thule Roof Rack For Ford Flex, part # TH480R, THARB60, THKIT1518, which includes everything needed to mount to the roof of your 2011 Ford Flex. To...
view full answer...


Exhaust melting cargo on a cargo carrier isn't a super common problem, but we are aware that it does happen on occasion. Especially if the cargo carrier is at the same height as the exhaust, relatively close to it, and/or the material in the carrier is susceptible to melting. We typically recommend at least 12 inches between the exhaust tip and the carrier to prevent melting. Other factors to consider are the size of the engine, climate, and road conditions. Engines are basically...
view full answer...


Yes, first you will need a trailer hitch with a 2 inch hitch receiver, like Curt Class III Trailer Hitch Receiver # C13110 for the Ford Flex with dual exhaust, or Curt Class III Trailer Hitch # 13551 for the Ford Flex without a dual exhaust. Then you can use a cargo carrier like the 24x60 Pro Series Cargo Carrier for 2" Hitches, # 63153, which you referenced. I have included a couple installation videos of these hitches and the cargo carrier for you to check out.
view full answer...