Customer Reviews
Roadmaster EZ Base Plate Kit - Removable Arms - 52289-1
Average Customer Rating: 4.9 out of 5 stars (146 Customer Reviews)
Roadmaster's EZ Twistlock series brackets are virtually invisible, easy to mount and simple to remove. Brackets install on your vehicle's frame to provide attachment points for your tow bar.
- 52289-1
by: Mike H03/11/2017
This was a perfect fit for my 2015 Dodge Ram 1500 Big Horn truck. I was able to install the base plates with ease and they fit just as they should. Pros: Excellent fit, ease of instillation and great instructions Cons: None 351216
- 52289-1
by: Marshall B.10/01/2014
The tow brackets fit perfect and they were easy to install only took about 1 hour per side . 153894
- 52289-1
by: Classic01/31/2013
FIT IS GREAT. DONT NEED TO REMOVE BUMPER. EASY INSTALL AND SEEMS TO DO THE JOB 64675
- 52289-1
by: Mark T.06/02/2014
Part is just as order. Received promptl y. 133743
- 521440-1A
by: Phil02/15/2013
Review from a similar Roadmaster EZ in Base Plates
They were not kidding about removing the whole front end! Great fit up and looking forward to our first trip out this spring. This will be our first tow with these brackets, while still using our Road Master tow bar. 66445
- 523157-1
by: Tom B.08/28/2015
Review from a similar Roadmaster EZ in Base Plates
This is my second installation of this mounting kit and it went much easier. The past experience helped and the fit was much better on the 2010 Cobalt than on the previous 2007 G5. I will let the pictures tell the story. 222397
- 521440-1B
by: Bill R.04/29/2013
Review from a similar Roadmaster EZ in Base Plates
I installed this base plate system on my 2014 Jeep Grand Cherokee Limited this weekend. My Jeep had tow hooks which were basically removed and replaced by the base plates in the same location. No modifications to the grill were required and the base plates are no more noticable than the tow hooks were. Installation was straight forward. Roadmaster forwarded a PDF file of the excellent color instructions with my order confirmation. I was able to view the photographs on my ipad and zoom in where necessary to get more detail. Overall I would rate the Roadmaster product, instructions and customer service 5 star in every way. 78276
Comments
Did you have to do any drilling on your vehicle to mount this system?
comment by: John B - 09/19/2013
2088
Yes, there will be some drilling involved in the installation. Check the instructions link on the product page for more information about the drilling that will be required. I believe it will just be four 1/2 inch holes.
Patrick B - 9/25/2013
Comments
The Roadmaster baseplate and Falcon tow bar are working great with our 2014 Grand Cherokee and Endeavor motorhome. We are in the middle of a 1500 mile trip and have had no problems with the equipment. I have decided that I need to purchase a braking system for the Jeep. Thinking about the Invisi Brake, primarily because it is made by Roadmaster and I had a great experience with your companys customer service when the 2014 Grand Cherokee baseplate kit was being developed. Thanks for the good work.
Bill R - 05/16/2014
4249
Thanks for the follow up, very happy to hear that you are pleased with your Roadmaster Base plates. If you are considering the Invisibrake # RM-8700

Roadmaster InvisiBrake Supplemental Braking System
$899.00 as a braking system this is a great choice. The installation is a long and involved process and if you are looking for a more simplified installation you might like another Roadmaster product such as the Even Brake # RM-9400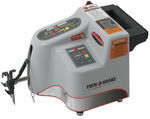 Roadmaster Even Brake Portable Supplemental Braking System - Proportional
$1,249.00. This will serve the same purpose as the Invisibrake, but the portable unit will have to be removed after flat towing your Jeep where the Invisibrake is permanently installed in your tow Jeep.
Rachael H - 5/27/2014
- 523163-1
by: Tim W04/26/2015
Review from a similar Roadmaster EZ in Base Plates
Very good product at a great price. Instructions and video are for a 2013 terrain and things were a bit different on my 2015. When all screws and clips are removed the front piece cannot be just pulled forward. There is a rear facing clip and you have to pull to the side to remove from this piece. (pics attached)There was no PS cooler attached in front on mine. Remove washer bottle totally which consists of 2 nuts and 1 bolt otherwise you will never get back up plate for top brackets in. If you remove horns it also makes installing the top brackets much easier. 188383
- 523163-1
by: Larry B06/05/2015
Review from a similar Roadmaster EZ in Base Plates
Purchased the towing adapter for my GMC Terrain a few week ago, received it on time & boxed not damaged. Watched the videos' about three time on how to do it myself and started one evening and finished it the next morning about three hours with Beer Breaks, LoL. All the parts fix perfectly, had no problems with any of the parts, Product is real sturdy and if you don't know where to look at the bumper you will not see the hide away receiver brackets. Very nice product, do it yourself and save Up loading two photos if it will let me one is with hide away brackets installed and the other one you can see is my complete tow bar attached to the hide away brackets 200736
Comments
Larry, Im assuming that youve towed your vehicle by now. Are you still happy with your choice and did you purchase any additional components like the electrical kit, fuse switch..etc Dave R
comment by: Dave R - 03/15/2016
17117
Comments
Have been using this tow adapter now for a while and everything works out fine, Easy to connect. I did purchase the Wiring harness from the tail lights to the front of the car instead of making it as I usually do and the connection to the RV from that connection and glad I did, the wiring harness also went easy and very fast.
comment by: Larry B - 03/15/2016
17118
- 521190-1
by: Rodney C.05/17/2013
Review from a similar Roadmaster EZ in Base Plates
Very happy with this product. Installation was pretty easy. I see no reason to pay someone to install this. True you have to take the bumper off and a large metal support beam but it was pretty easy. You just have to take it slow and not get frustrated. The bumper on the Honda Fit is held on with a gazillion little plastic clips and snap joints. Everything fits tight on a Honda so you have to be patient. My only complaint is they don't give you the exact torque settings. I had to consult a shop manual to get the correct torque values. They give a table at the end of the instructions that gives common torque values for various bolt sizes. I thought that was lame they could have given the correct value from the shop manual. Certainly not enough to lower my rating. This bar is awesome and when the drawbars are removed the base plate is almost completely hidden. My wife wanted nothing to show on the front of the car. She was very pleased with it. In the picture attached the bar is almost completely hidden. All you see are two small black circles. It takes about 2 seconds to mount the drawbars, just twist and go. VERY sturdy. I tow my Honda behind the motorhome with confidence. 80709
- 521567-1
by: Larry J02/06/2015
Review from a similar Roadmaster EZ in Base Plates
Thanks to the staff at etrailer they pointed me in the right direction for the base plate I needed for 2014 Honda CR-V that match up with my Roadmaster tow bar. After some thought and checking around for installation prices and reviewing the etrailer video I would save about $700.00 on labor doing it myself. Being backyard mechanic in my younger days what did I have to loose!!!! Took my I pad out to the shop so I could review each step by step as I took apart. I'm telling you I don't think I could have done it without the video. The paper instructions and pictures are ok but no comparison to someone walking through on video. I might make only one comment on the video, where the front bumper attached to front fenders it didn't show how they come apart. After a little probing in the seam I could feel some clips about one inch apart (three of them )taking small screw driver pushing down on them and pulling on bumper at same time to release (same type clip but smaller than what's under the headlights ) Sorry guy's I should have taken a picture of that maybe etrailer can come up with one. To all who may be a little mechanically inclined look at the video's and go for it. A special thanks to etrailer & staff for taking the time to help the customer keep making those videos I'll keep buying. 172684
- 521567-1
by: Jerry B.08/04/2013
Review from a similar Roadmaster EZ in Base Plates
Received both of our orders in just a few days. With the help of our 2, 21 year old grandsons, we were able to install our base plate in about 4 hours. If we ever have to do it again, we should be at least an hour faster. This is do able. Thanks for the prompt service and the excellent instructions. 93185
Comments
We havent experienced any problems with the base plate. On our way to Fl, E of Dallas-Ft. Worth a semi traveling ahead of us in the left hand lane, blew a trailer tire. With no where to go, a chuck went under our truck and did some damage to the cowling on the CRV. But, that was all that happened. We have only towed the car once, I guess we like it in FL, we renewed our work contract.
Jerry B - 02/02/2015
9209
- 521567-1
by: William S12/20/2012
Review from a similar Roadmaster EZ in Base Plates
Hitch base plate assembly was ordered and shipped on time. I called and asked questions pertaining to the kit for my 2013 Honda CRV and talked to a very well informed technical person. It has been installed, with no problems and fits as advertised. 61828
Comments
Will this base plate fit a late 90s early 2000s Roadmaster Sterling Tow Bar?
comment by: Al H - 08/01/2013
1843
Do you have any more information on the tow bar? It is tough to say just by a year range. A model name or part number? Could you send some photos?
Patrick B - 8/5/2013
Comments
The base plates have worked perfectly and as advertised. I refer your company to all my RV friends that need professional help in ing a quality towing system backed up by intensive research and development. Thanks again for a quality product.
William S - 06/20/2014
5009
- 521877-1
by: Chris D04/06/2015
Review from a similar Roadmaster EZ in Base Plates
Was pretty easy to install once you deal with the Plastic Rivet Retaining Clips. It's probably a good idea to have some spare clips available as they are pretty easy to break while removing. eTrailer offered the best price and shipping was free and fast. 183405
- 521190-1
by: Jerry L03/19/2012
Review from a similar Roadmaster EZ in Base Plates
Sequence of events can aid in easier installation. 1. Problem: I found threading the bolts into the weld nuts that are located on the bars that slide into the frame was very difficult. Solution: I took off the baseplate and chased the threads with a 1/2 - 13 tap to clear out the powder coat paint and the bolt easily threaded in by hand. 2. Problem: When I tried to get the base plate bolted on, I did the front facing bolts first then tried to align the slide in 3/4" bolts next. I couldn't get them in. I read a review where someone had to grind the frame to get the slide bolts to align. There had to be a better way without modification. Solution: When the front cowell has been removed and the baseplate is hand held in position on the FIT, thread the 3/4" head bolts into the slide in brackets BEFORE putting the 12 mm bolts into the brackets that face forward. In my case the bolts went in without any difficulty. If you follow my suggestion you too can avoid grinding. 34374
- 521434-1
by: ALAN L.01/21/2013
Review from a similar Roadmaster EZ in Base Plates
THANKS ETRAILER FOR ALL YOUR HELP. THE SERVICE WAS EXCELLENT AS IS THE QUALITY OF PRODUCTS RECEIVED. 63698
Comments
It has been working perfectly on the 2012 jeep liberty. In fact, the baseplate I used on my previous vehicle jeep grand cherokee was more difficult to connect and disconnect than this new style push in and rotate to lock into place. For whatever reasons this new style baseplate is faster connect and faster disconnect than the previous style.
ALAN L - 07/22/2014
5847
- 521567-1
by: John C.04/01/2014
Review from a similar Roadmaster EZ in Base Plates
Installation went just like it was supposed to. Instructions were very good. Took me about 6 hours for the first installation. The second time would be probably 3 to 4. etrailer did an excellent job with the purchasing process and shipping. I especially like them providing the shipping status, from UPS, on their web site. 123305
Comments
Meets all expectations. No problems
John C - 04/01/2015
10519
- 521190-1
by: Bill H.01/07/2014
Review from a similar Roadmaster EZ in Base Plates
Prompt Delivery!! Incredible packaging with no chance of any damages. The instructions were great and total install took just over 2 hours. Thanks again!! 112070
Comments
Honestly, since installation the use of the tow bar has become an automatic. To say I have not given it a single thought is the case. Simply stated it works as expected. Thanks for a great product!!
Bill H - 01/07/2015
8455
- 521567-1
by: Kurt12/09/2013
Review from a similar Roadmaster EZ in Base Plates
The tow hitch for my new CRV was promptly delivered, packaged safely and instructions included. I was impressed with the ease of the purchase. Thanks, etrailer.com. 109635
Comments
Great! We have towed are car down to Florida and back and all the way from Pennsylvania to Sun Valley, Idaho to visit family.I was able to install the hitch with no problem.
Kurt - 12/09/2014
7969
- 523163-1
by: Dan11/16/2015
Review from a similar Roadmaster EZ in Base Plates
fast delivery easy install done in 2 1/2 hours at a slow pace only problem in my mind sell for 5 dollars more and include red Loctite in parts kit 232060
Comments
after some 4000 miles since I installed it has performed flawlessly. A finger full of grease smeared on pins makes everything come apart easily when you arrive at your destination.
Dan - 11/15/2016
21851
- 521227-3
by: Colin M04/25/2015
Review from a similar Roadmaster EZ in Base Plates
Amazing customer service, very fast shipping, a good shopping experience overall. The installation instructions for my 2000 VW Jetta TDI were pretty good but not totally accurate. The passenger side base plate didnt quite fit right and had to be tweaked quite a bit in order to get it to match and align with the drivers side. I got it to work out, but I suggest taking your time making sure of the accurate placement of both baseplates before doing ANY drilling into the frame. Also, the passenger side, once installed, make it difficult to reinstall the intercooler, and the air duct needs to be trimmed way back in order to fit again. It's installed now and works great, but it was more challenging than I anticipated. Take your time, take a lot of measurements, and you'll get it! I'm. happy with the finished product! 188143
- 521876-1
by: Scott J05/24/2015
Review from a similar Roadmaster EZ in Base Plates
Installed on 2005 mini cooper convertible. Choose this base plate for our mini since it provided highest attachment height for tow bar (12 inches off ground, only requires 3 inch drop from back of RV), and attaches to mini frame more substantially that blue ox. Installation directions are nearly perfect, we had to widen holes on passenger side to line up with frame. Modification was approved by Roadmaster. 195240
- 521190-1
by: Andrej K07/15/2012
Review from a similar Roadmaster EZ in Base Plates
The installation on this was surprisingly quick on my 2011 Fit (base/non-sport version). Everything fit well (no pun intended). A few minor changes over the video as my car was slightly different: - I didn't have to trim anything on the air dam -- the tubes lined up perfectly with the slots on my grill. - There was a in the wheel on each side where the plastic bumper meets the steel body panel. I didn't realize they were there (they're hidden somewhat) so I ended up cracking the hole this screw was in, but everything came back together nice and tight anyway. 48006
- 523157-1
by: Bruce S.01/06/2015
Review from a similar Roadmaster EZ in Base Plates
Delivery was prompt and timely. Base Plate went on just as the instructions indicated, but getting to some of the screws and bolts on the vehicle was a little difficult. Very satisfied with the results. 167901
Comments
Still liking the products. They work well.
Bruce S - 01/18/2016
16472
- 52273-1
by: Andw W.02/18/2017
Review from a similar Roadmaster EZ in Base Plates
Bought this from Etrailer with all the supporting hardware needed to flat tow my Durango. The quality is excellent (stainless steel, very strong), the install was pretty easy. Only issues I had were because of the are of my vehicle. Towing with it and hooking up is simple. It takes only a minute to go from stowed to hooked up. Etrailer.com was easy to deal with, helpful, and shipping was very fast. This is my second order with them, both have been flawless. Their pricing also proved to be the lowest. 345284
- 521440-1B
by: Ernie T08/21/2014
Review from a similar Roadmaster EZ in Base Plates
This is my third Roadmaster Base Plate and they all have been designed well and are made to last. This Base Plate for a 2014 Jeep Grand Cherokee took about 4 hours to install. 147965
Comments
No Problems after a year.
Ernie T - 08/22/2015
14484
- 523163-1
by: Paul D07/14/2016
Review from a similar Roadmaster EZ in Base Plates
Roadmaster base plate for 2010 GMC Terrain. Very detailed instructions, great videos. Product was as described, no holes to drill, just replace factory parts with Roadmaster parts. Everything went together very well. I used the instructions supplied along with the video on my laptop. Hardest part was popping the bumper shroud back on due to colder temperature. I have a fair bit of experience with rebuilding classic cars so have lots tools and reasonable mechanical ability. 271956
- 522112-1
by: Don05/08/2013
Review from a similar Roadmaster EZ in Base Plates
Sturdy for safety, functional. The receiver covers help hide the receivers which HAS to come through the grill. 79468
Comments
It just is great! It is there doing its thing without a problem.
Don - 05/11/2014
4085
- 521876-1
by: Keith W.07/27/2015
Review from a similar Roadmaster EZ in Base Plates
Very well constructed. Fitting right side took some adjustment, I had to clearance the lower member hole in order to fit the bolt. I installed the base plates myself, after the prospective mechanic claimed this was the incorrect fitment. Subsequent calls to Roadmaster produced a "No Fit" pronouncement, in spite of the lookup and even the printed instructions. Undaunted, I proceeded, and the fit was successful. YES, this DOES fit a 2007 Mini Cooper S Convertible. 214849
- 52285-1
by: Holly11/04/2015
Review from a similar Roadmaster EZ in Base Plates
Installed on 2008 Smart Car. EXCELLENT INSTRUCTIONS. Only concern I had was with the instruction to use RED Loctite on all hardware. Normally a good idea but if you do that on a Smart car you would never be able to replace the radiator if it fails. (Radiator replacement requires removal of bumper core/roadmaster baseplate. Red Loctite bolts require 500 degree heat to loosen - it's permanent!) You'll have to weigh the risks for yourself but I used the Blue Loctite - still locks threads but not as strong and bolts can be loosened with ordinary hand tools and normal strength. In all, this baseplate is a well designed product with excellent instructions. 231396
- 521433-1
by: Jim K06/05/2014
Review from a similar Roadmaster EZ in Base Plates
Base plate was delivered on time and in good condition. Directions were very clear and fairly easy to install. My son helped me.Its easier with 2people. The light kit was also easy. We ran the 4 flat wire through the firewall driver side .We found a rubber gromet near the top and popped out. We ran the wire under the plastic trimon bottom of door all the way to compartment for jack to tailight assembly. We drilled hole in bottom circle of light to accept light and then under rear bumper and up other side to right assembly.Wired according to instructions. They work great. I like the ease of taking the hitch off when not in use. Thank you for everything. 134468
- 521440-1A
by: James M.09/25/2012
Review from a similar Roadmaster EZ in Base Plates
Took about 3hrs to install 55751
- 521423-1
by: Joe D.08/20/2014
Review from a similar Roadmaster EZ in Base Plates
I just got through installing my base plate on my 2005 Jeep Liberty and if I can do it after having 6 back surgeries anyone can. I threw away the directions and used the video on this website. Before and after 147660
- 523173-1
by: Bryan S.07/01/2012
Review from a similar Roadmaster EZ in Base Plates
From start to finish the installation went smoothly largely due to the well written and photographed instructions. Having a lift at the house made it even easier but it wasn't required. There was one fitment issue but it was easly overcome with the 1/2" bit that was required during the installation. Probably the single biggest problem was getting the outside air temp sensor disconnected so I could set the front plastics down and start the installation, this is where having the car several feet in the air was a disadvantage as I couldn't hold the plastics up and use both hands to disconnect the plug. 46443
- 521567-1
by: will n07/14/2013
Review from a similar Roadmaster EZ in Base Plates
This is my second Roadmaster baseplate to install on a Honda CRV. The first, a 2009 used the XL and this 2013 uses an EZ. Installation was as described in the, well illustrated directions. It took me about 3 hours. New cars with soft plastic parts might be better than older models with brittle plastic. Once installed I felt the XL baseplate on the old car was easier to use because I could slide the tow unit on in one piece. With the EZ, I have to separate the bar from the arms, twist each arm in, and then place the bar across. This adds complexity to assembly and disassembly. 89460
- 523149-1
by: Richard U.06/08/2015
Review from a similar Roadmaster EZ in Base Plates
I called in the afternoon and the lady said it wood shipped that day which is normally not the case. But it was shipped that very day. The other thing I had called Road Master and they had gave me the part # for the rubber caps that goes on the end of the hitch which the order lady said wasn't right. She put me on hold and called Road Master and she came back and Road Master had gave me the number for the 1 1/4" instead of the 1 1/2" that I needed. Now that is what I call good service. I sorry I forgot her name but she deserves a Atta boy. Thanks again for the great service 201622
- 521433-1
by: Levi S.04/03/2017
Review from a similar Roadmaster EZ in Base Plates
I finaly got around to mounting the EZ tow mount on my 2009 Jeep Liberty after receiving it over a month ago. The written instructions were very detailed and I also watched a U-tube video showing the installation on a 2012 Liberty. All the parts were there and every thing "bolted up" as advertised. The only issue I had was a weld on the inside of the square tube for one of the long bolts kept me from getting a socket on that bolt. A littel work with a file and that was taken care of. I have yet to tow the vehicle behind my MH yet but I don't think there will be any problems. 362128
- 521442-1
by: Bob G10/21/2013
Review from a similar Roadmaster EZ in Base Plates
I ordered this online after talking to a rep who was very helpful. The product shipped right away. Installation instructions were detailed and provided excellent guidance for the installation on my 2013 Jeep Compass. I took my time and carefully read everything prior to performing the installation. I was finished in under 4 hours. I could easily do the same installation in 2 hours now that I've gone through it. All the necessary parts were included in the kit along with a couple of spare nuts, washers, etc. Great experience. Product works as advertised. 104537
- 521567-1
by: John G.07/07/2013
Review from a similar Roadmaster EZ in Base Plates
The baseplate for our 2013 Honda CRV is great and is barely noticeable. I had a local body shop install it and the installation only took them two hours. They said you could tell it was designed specifically for the vehicle and went together perfectly. The install only cost me $100.00 and was done professionally. This is a great product and looks terrific. 87999
- 52348-1
by: Peter K.07/27/2013
Review from a similar Roadmaster EZ in Base Plates
Even I had to wait almost 2 months, I'm so grateful that I got the Roadmaster base plates and tow bar..:) It is so easy to be mounted and to operate with it... Thank you for the good product.... P.S You don't need to cut anything from the bumper plastic facial...so you can just skip that part from the instructions! 91939
- 521190-1
by: Dale N03/18/2014
Review from a similar Roadmaster EZ in Base Plates
Base Plate went in without any problem. The on-line video helped tremendously especially when removing the plastic bumper. A little more information could have been prided on disconnecting the fog lights on the Sports model of the Honda Fit. But I was able to take out a few more screws and get access to the plugs. The base plate is barely visible and I love the twist and lock feature on the base plate. Much better than the old pins and clevis on older base plates. 121119
- 524413-1A
by: Chuck09/24/2010
Review from a similar Roadmaster EZ in Base Plates
Great Product-hard to install Installation took about 4-6 Hrs. The most difficult part was drilling the 4 half inch holes in the bumper. The sq. tube that forms the internal bumper is made of a vary hard steel (spring steel??) I went thru 3 or 4 drills. they should have recommended drill types in the instructions. I found that carbide tipped drills worked the best. When using this type, do not run the drill at high speed and use some oil on the drill bit. 3479
- 52285-1
by: Allen01/25/2017
Review from a similar Roadmaster EZ in Base Plates
This is a premium quality item. Very well made from heavy materials. I'm still installing the baseplate so I haven't use the tow bar yet but as soon as I took it out of the box, there is no question it's a quality product. I'll review again after my first tow. There was a slight problem with my delivery in that I didn't receive the "vehicle side" hardware. I contacted etrailer.com and they are sending it out immediately. Really good customer service! 338348
- 523163-1
by: TBird777902/16/2011
Review from a similar Roadmaster EZ in Base Plates
The installation went well and everything fit as best as you could expect on a unibody vehicle. I only found one issue with my Terrian SLT, on step 7 it states there are 4 bolts on the bumper and mine only had three. Not an issue until you install reciever brace on step 8 and find out the 4th hole in step 7 that didn't have a bolt in it is not threaded. The bolts that you took out in step 7 are self threading. So I used one of them and it worked out great. 7230
- 521433-1
by: Dan F.07/04/2012
Review from a similar Roadmaster EZ in Base Plates
Not an easy task of course. I've done a 2006 Liberty once before, so I was somewhat familiar with the installation. The directions were great and installation went well. Only the finder flare rivets were a problem because I did not have a plastic rivet tool and there were none available near here. I had to use vise grips, a pair of pliers with a small grip hole at the end and a foot. Gotter done, Thanks for the prompt delivery. Dan 46740
- 521190-1
by: Jane Smith05/20/2015
Review from a similar Roadmaster EZ in Base Plates
This was a great kit to work with. Instructions made it simple. It took longer to put the car back together than to put the base on. I would highly recommend this product . I am a 74 year old women and I tow my 2010 Honda Fit with ease. Buying this product thru E trailer really saved me a lot of money with their free shipping. Juanita did a great job helping me order it. I will return here again if I ever need anything more. 194612
- 523145-5
by: Jean Dionne02/17/2011
Review from a similar Roadmaster EZ in Base Plates
I had Roadmaster base plate on the car traded in I wanted Roadmaster product again because I like it and trust it. It was delivered sooner that I thought. Surprised to see that my order was processed the same day as ordered even though the order was placed near the end of the day. I always had good luck with "e trailer" It's not the first time I order from e trailer. 7306
- 523145-5
by: Terry B.12/19/2011
Review from a similar Roadmaster EZ in Base Plates
The order was taken very professionally and handled with care and understanding. It was easy to follow the delivery and we were extremely pleased with the product and especially the service. It is nice to see that there is someone in the United States that still handles customers with respect and realizes there is no business if there are no customers. We would definitely use you again. 28279
- 521181-5
by: Leonard05/11/2016
Review from a similar Roadmaster EZ in Base Plates
I had purchased other Roadmaster products before, and was always very pleased with their fit and construction. This was no exception, the fit was very good, the directions were OK but the video the was on the etrailer web site was excellent and very helpful. When ever I need towing equipment I always try to buy from etrailer, great price, good communication, and fast shipping 249799
- 521190-1
by: Jerry L03/15/2012
Review from a similar Roadmaster EZ in Base Plates
Received the baseplate in the time specified. They followed up with an email confirmation that the product was delivered to my side door. I seldom buy something over the internet but this was a good experience. It arrived in good shape but that is no surprise because it is really rugged and heavily constructed. Can't wait to install it. Instructions look really detailed. 33982
84
182
Show More Reviews