- AM3413
by: Leon D08/08/2014
Review from a similar Andersen Rapid Hitch in Ball Mounts
Hello The hitch works great as viewed in the enclosed pictures. If inverted it hits the bumper, of my Dodge 2500. The section that goes into the receiver is about 1/2" too short and hits the bumper. I have not tried it on my other vehicle to see if this is a problem. Kind Regards Leon D 145385
Comments
Leon, I have the same problem and am looking for a resolution. Ive called Andersen my CA sales rep and left a message.Id even be interested in paying for a custom shank length to be built for me needs. Well see, fingers crossed.
-- comment by:
JohnnyJ - 09/04/2014
6656
Johnny thanks for the feedback. In case you did not know we do also offer some ball mounts in extended lengths (long and extra long) for this exact reason. For a long ball mount that has the same rise and drop as this Rapid Hitch ball mount, check out the Diversi-Tech # DTSTBM7025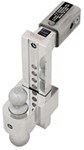 Solid-Tow Adjustable 2-Ball Mount w Chrome Balls - 2-1/2" Hitch - 10" Drop, 11" Rise
$247.73. For this ball mount the distance from the center of the hitch pinhole to the back of the upright bar is 4-1/4 inches, vs. the Rapid Hitch # AM3413 is 3 inches.
--
Rachael H - 9/5/2014