2001 Dodge Ram Pickup - aFe Direct-Fit Pro 5R Performance Air Filter - Oiled
This oiled, washable filter fits into your airbox and connects to the intake tube. Ideal for gas and diesel Dodge Ram Pickups driven on paved roads, it maximizes airflow without sacrificing protection. Five cotton layers block out 98.6 percent of dirt.
Features:
Provides maximum airflow and necessary protection for gas and diesel Dodge Ram Pickups

Ideal for paved-road driving conditions
98.6-Percent filtration efficiency rate made possible by 5 cotton layers and specially formulated oil coating
100-Percent polyurethane composition on all sides withstands extreme engine temperatures
Washable and reusable

Designed for use in stock or aFe airbox

Filter has Dodge Ram Pickup-specific application

Made in the USA
2-Year limited warranty
The aFe Pro 5R oiled air filter allows maximum airflow and offers necessary engine protection. Designed for gas and diesel street Dodge Ram Pickups, it performs well in paved-road driving conditions. Composed of 100-percent polyurethane on all sides, the filter withstands high engine temperatures.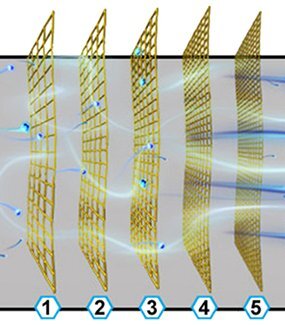 Five layers of progressively finer, medical-grade cotton gauze block 98.6 percent of dirt and grime from clogging your engine. These materials provide the highest-performance airflow and extended service intervals. This aFe air filter is washable and reusable; cleaning and re-oiling are recommended once every 25,000 to 30,000 miles.
Note: Upgrading your stock air filter to a performance filter does not change the stock intake tract or emissions output of your exhaust system. Therefore, performance air filters - like this product from aFe - are considered street legal and compliant with emission standards in all states and in Canada.
30-10056 Advanced FLOW Engineering Direct Fit Pro 5 R Custom Replacement Oiled Air Filter