Customer Reviews
Replacement Shock Absorber for Titan Model 60 Brake Actuators - T2336200
Average Customer Rating: 4.7 out of 5 stars (22 Customer Reviews)
Replaces shock absorber for Titan and Dico Model 60 brake actuators.
- T2336200
by: Jeff B.01/27/2016
Just finished putting brakes, rims and new tires on my boat trailer. Etrailer had everything I needed to get the Job done. I received my tires and wheels only to discover I was sent 3-14" tires and 1-15". I quickly called and talked with Courtney and she was very apologetic and made sure the right tire and rim were sent out the same day. I received it 5 days later and was able to complete the job. I will definitely use etrailer again in the future, it was a pleasure dealing with them. Here is a picture of my project. 236375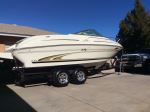 Click to Enlarge
- T2336200
by: GEORGE03/16/2017
Ordered this shock absorber for the surge breaks on my car dolley. When I was towing my car on the dolley, the surge breaks would 'chuck' (swiftly engaging and disengaging causing the dolley and car to quickly stop / start as the breaks went on and off) The shock fit exactly and seems to have fixed the problem. That takes a lot of the worry about towing a car off my shoulders, and that is a good thing!! I ordered the part on a Tuesday and it arrived here in Florida, after crossing half the country, on Friday morning. Great job! 353617
- T2336200
by: Jimm H07/19/2013
Replaced the shock in my Titan 60 actuator assembly along with the actuator itself. Less expensive and easier than replacing the whole Titan 60. This part took all or 5 min. 90508
- T2336200
by: Jamie08/19/2016
Had exactly what I needed. Kept me informed of status of my order thru both phone calls and emails. Easy and great to work with. 285512
- T2336200
by: David D08/27/2014
easy install on hydraulic brake actuator for 6000 lb boat/trailer. trailer was slamming when stopping/starting 148885
- T2336200
by: CHARLES WALL07/30/2012
This product was of very good quality. There were no problems in installing it and it's working fine. 49861
- T2336200
by: James mills08/13/2015
This part fit perfectly on my 2009 boat trailer replacing the broken part and solving a problem. 218837
- T2336200
by: Mike Burchill09/14/2012
received this part in good condition, installed and found it to work well. thanks. 54684
- T2336200
by: Aloha D12/27/2013
Replacement shock absorber fit perfectly. Fast shipment and item well packed. 111344
- T2336200
by: Jarrod05/19/2015
Part functions as it should. Actuator no longer slams out on acceleration. 194236
- T2336200
by: Rasko03/06/2013
Easy to install and a perfect fit. This was exact OEM replacement. 69280
- T2336200
by: shock absorber07/07/2015
Item requires periodic replacement due to match with heavy load. 210047
- T2336200
by: James c.08/25/2016
Prefect fit , no more clunk , clunk on stopping and starting 287423
- T2336200
by: Dave E.08/22/2016
part is correct and is now installed on trailer hitch 286436
- T2336200
by: Kevin10/02/2011
Product as advertised. Delivered on sc hedule. 24961
- T2336200
by: greg b08/18/2012
Shock looked and fit perfect, fast ship ping 52162
- T2336200
by: Roy S03/26/2015
Perfect fit and fast delivery- Great! 180984
- T2336200
by: ronda silmon07/01/2012
fast shipping, just what I needed. 46426
- T2336200
by: Kelly B.03/14/2017
Went right on. Great product. 352833
- T2336200
by: James C08/19/2016
Thank you for great service 285627
- T2336200
by: jody09/28/2016

great price 301037
- T2336200
by: ser08/04/2016
goot 279790
22
22
Why etrailer.com?
At etrailer.com we guarantee:
Highest quality accessories and parts for the best price.
Real product know-how.
We make sure that the products we sell are what we say they are, and that they work the way they are supposed to work. This helps you get the right product the first time.
Every day our teams test, review, assemble and install our products. Our modern installation facilities allow our expert installers and customer service representatives to actually install and use the items we sell, so you can get real advice, from a real person who has the knowledge and expertise needed to solve your problem.
Most detailed, accurate accessories and part information available.
Because we take providing accurate product information seriously, we take our own detailed product photos, demo videos and installation videos, as well as verify measurements, instructions, and vehicle fit information.
Information for this part was:
Installations, made easy.
We love helping people.
We have the most highly trained customer service, hands-on experience, step by step videos and installation instructions. We are prepared to answer any question, give advice, or troubleshoot any problem you come across.
Fast shipping.
Personalized service for life.
We provide one-on-one, personalized service from the ordering process through the life of your product.
Trusted since 1946.
We've been serving customers since our parts store first opened in 1946 and continue to be recognized by our customers, our vendors and third parties for exceptional service.