Replacement Shock Absorber for Titan Model 60 Brake Actuators
Item # T2336200

In Stock
Brake Actuator
Shocks
Titan
Replaces shock absorber for Titan and Dico Model 60 brake actuators. Call 800-298-8924 to order Titan accessories and parts part number T2336200 or order online at etrailer.com. Free expert support on all Titan products. Guaranteed Lowest Price and Fastest Shipping for Replacement Shock Absorber for Titan Model 60 Brake Actuators. Accessories and Parts reviews from real customers.
Titan Accessories and Parts - T2336200
Replaces shock absorber for Titan and Dico Model 60 brake actuators.
Features:
Replaces shock absorber for Titan Model 60 brake actuators

Also fits Dico Model 60 actuators

Extended length: 6-1/4"
Collapsed length: 4-15/16"
2336200 Replacement Shock Absorber for Titan and Dico Model 60 Brake Actuators
Customer Reviews
Replacement Shock Absorber for Titan Model 60 Brake Actuators - T2336200
- T2336200
by: Jeff B.01/27/2016
Just finished putting brakes, rims and new tires on my boat trailer. Etrailer had everything I needed to get the Job done. I received my tires and wheels only to discover I was sent 3-14" tires and 1-15". I quickly called and talked with Courtney and she was very apologetic and made sure the right tire and rim were sent out the same day. I received it 5 days later and was able to complete the job. I will definitely use etrailer again in the future, it was a pleasure dealing with them. Here is a picture of my project. 236375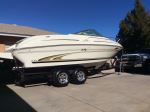 Click to Enlarge
- T2336200
by: GEORGE03/16/2017
Ordered this shock absorber for the surge breaks on my car dolley. When I was towing my car on the dolley, the surge breaks would 'chuck' (swiftly engaging and disengaging causing the dolley and car to quickly stop / start as the breaks went on and off) The shock fit exactly and seems to have fixed the problem. That takes a lot of the worry about towing a car off my shoulders, and that is a good thing!! I ordered the part on a Tuesday and it arrived here in Florida, after crossing half the country, on Friday morning. Great job! 353617
- T2336200
by: Gary Massin-Ball09/28/2017
Found this shock online here at etrailer which I had trouble finding anywhere else with any confidence. The listing on etrailer.com helped me identify the exact shock I needed for my 25 year old Surge unit. Fit right, works great! Thanks etrailer! Gary 437365
Click to Enlarge
- T2336200
by: George T.09/11/2017
This was exactly what I needed to fix the tongue on my trailer. It was sliding in and out about three inches, causing a bang when a started and stopped. The trailer is for a 2000 Bayliner boat. This shock absorber matched the old one perfectly. And, it only took about ten minutes to replace. Perfect part and delivered very quickly. 431038
- T2336200
by: DM0598207/31/2017
I was pleased with the brake lines and trailer shock absorber. I received what was shown. They came in a timely manner, was what I needed and was reasonably priced. Thank you. I am installing them today. Will be back to order more parts in the future. Pat B. 414069
- T2336200
by: Norm R.08/19/2017
The product arrived as scheduled and fit exactly as advertised. At first, I was concerned that there was a mix-up on shipping details, but Stacy looked into the matter and assured me that everything was good to go. Excellent service and follow up! 422482
- T2336200
by: Jack S10/06/2017
Didn't know exactly what I was looking for but they knew what it was & found it & showed it to me on line & I had in few days. It cured my trailer brake issues with one phone call. GREAT JOB 439946
- T2336200
by: Jimm H07/19/2013
Replaced the shock in my Titan 60 actuator assembly along with the actuator itself. Less expensive and easier than replacing the whole Titan 60. This part took all or 5 min. 90508
- T2336200
by: Michael T07/31/2017
Etrailer transaction was easy and delivery of the shock and master cylinder was fast. Both products installed without any mods and my boat trailer is a dream to tow now. 412865
- T2336200
by: Mark07/25/2017
Everything we ordered worked as it should and we got the order quick. When I talked to the staff, I explained what I needed and they were so helpful. 412425
- T2336200
by: Jamie08/19/2016
Had exactly what I needed. Kept me informed of status of my order thru both phone calls and emails. Easy and great to work with. 285512
- T2336200
by: David D08/27/2014
easy install on hydraulic brake actuator for 6000 lb boat/trailer. trailer was slamming when stopping/starting 148885
- T2336200
by: CHARLES WALL07/30/2012
This product was of very good quality. There were no problems in installing it and it's working fine. 49861
- T2336200
by: James mills08/13/2015
This part fit perfectly on my 2009 boat trailer replacing the broken part and solving a problem. 218837
- T2336200
by: Ed D08/17/2017
Customer service is excellent. Received the correct part in the time advertised! Good quality. 421729
- T2336200
by: Mike Burchill09/14/2012
received this part in good condition, installed and found it to work well. thanks. 54684
- T2336200
by: Aloha D12/27/2013
Replacement shock absorber fit perfectly. Fast shipment and item well packed. 111344
- T2336200
by: Jay C08/26/2017
Works great and a prefect fit and a nice price!! Thank you!! Fast shipping!! 425364
- T2336200
by: Jarrod05/19/2015
Part functions as it should. Actuator no longer slams out on acceleration. 194236
- T2336200
by: Don H08/08/2017
Fast service and delivery. Got the right product and in good condition. 417461
- T2336200
by: Rasko03/06/2013
Easy to install and a perfect fit. This was exact OEM replacement. 69280
- T2336200
by: shock absorber07/07/2015
Item requires periodic replacement due to match with heavy load. 210047
- T2336200
by: James c.08/25/2016
Prefect fit , no more clunk , clunk on stopping and starting 287423
- T2336200
by: Dave E.08/22/2016
part is correct and is now installed on trailer hitch 286436
Comments
still working fine good quality
Dave E - 08/24/2017
27544
- T2336200
by: Kevin10/02/2011
Product as advertised. Delivered on sc hedule. 24961
- T2336200
by: greg b08/18/2012
Shock looked and fit perfect, fast ship ping 52162
- T2336200
by: Mike M07/12/2017
Great item. Fits perfectly. Fast Shippi ng. 404847
- T2336200
by: Kent Dickinson08/31/2017
Quick shipping great company perfect fit 427317
- T2336200
by: Roy S03/26/2015
Perfect fit and fast delivery- Great! 180984
- T2336200
by: Mike W10/10/2017
Worked great, simple easy install. 441270
- T2336200
by: ronda silmon07/01/2012
fast shipping, just what I needed. 46426
- T2336200
by: Kelly B.03/14/2017
Went right on. Great product. 352833
- T2336200
by: James C08/19/2016
Thank you for great service 285627
- T2336200
by: Mike06/08/2017
Still working fine! 390759
- T2336200
by: Dorman Dove03/26/2017
Direct replacement 358685
- T2336200
by: Will04/04/2017
OEM direct fits 362959
- T2336200
by: jody09/28/2016
great price 301037
- T2336200
by: ser08/04/2016
goot 279790
38
38
Info for this part was:

Photos by:
Theodore B

Expert Research:
Michael L

Expert Research:
Michael H

Expert Research:
Reno H

Expert Research:
Jameson C
Expert Research:
Adam R

Updated by:
Laura H

Expert Research:
Lori W
At etrailer.com we provide the best information available about the products we sell. We take the quality of our information seriously so that you can get the right part the first time. Let us know if anything is missing or if you have any questions.