Customer Reviews
Replacement Rear Wheel Tray for Thule T2 Hitch-Mounted Bike Racks - 753-3582
Average Customer Rating: 4.9 out of 5 stars (104 Customer Reviews)
Replaces 1 lost or damaged reinforced rear-wheel tray for your Thule T2 platform-style bike carrier.
- 753-3582
by: Robert S.09/03/2014
The items ordered were replacements for a couple I damaged on a trip. They are the exact same item and work just as good as the originals. 149917
Comments
The part is not working out as planned. The latch seems to be popping loose during trips, releasing the back tire of the bike. First we lost a bike on a vacation trip this way, it was demolished on the highway. The actual problem became evident on a local bike ride when I returned home and the clasp had come loose again. Luckily our friends bike was spared. I am questioning if this part is actually OEM. I need to change my score to one star.

Robert - 09/03/2015
14745
Comments
We are sorry to hear about this experience you had while using our T2 carrier. We would like to replace that part for you, so you can transport your bike with the assurance it will be held securely in place. We are not sure of the exact cause, but nonetheless we would like to get you a replacement to ensure no issues persist and no harm is done.
Michael L from
- 09/08/2015
14792
- 753-3582
by: Wayne P.09/26/2013
This was a perfect fit. In fact it appears to be more durable than the original part 101632
Comments
Not so well the strap holder broke again. I plan to come up with some other method for the rear tire tie down. Very disappointed with Thule in the design. This was my second replacement part for the same item. Will not buy another one.Maybe I am pulling the strap too tight when securing my bike. If that is the case I would think Thule would advise an owner about over tighten the hold down strap.

Wayne P - 09/26/2014
6996
Comments
If you can provide us specific details on what exactly failed on the rear wheel retention device we can surely replace that under warranty for you. Because the strap ratchets in and then the cam folds down, often times folks over-torque them. You just need the wheel to be held in place securely, not super tight. Either way, we can certainly make this right for you.
Michael L from
- 09/26/2014
7003
- 753-3582
by: Pearce Weaver09/03/2015
Etrailer site was very easy to navigate. I found exactly what I needed. The price was best I had seen. Easy to order. Regular updates on my order up to delivery. Recommend this site to anyone looking for Thule replacement parts. 223935
Comments
Great

Pearce W - 09/02/2016
20773
- 753-3582
by: Mike E09/09/2014
Exactly what I wanted 150436
Comments
The replacement part works great and I love the bike rack. Ive used it for years now and of the three Ive owned its been the best bike rack of them all.

Mike E - 09/09/2015
14826
- 753-3582
by: Keith05/30/2015
Replacement needed due to breakage of the previous one. Etrailer had the best price and I received it quickly. Fit and works perfect. 198761
Comments
No problems

Keith - 05/29/2016
18114
- 753-3582
by: Albert lopez07/30/2014
The correct item arrived on time . Well satisfied with purchase 143419
Comments
Perfect better than the original part or at least it has last longer

Albert l - 07/30/2015
13737
- 753-3582
by: Rick06/01/2014
I really love my Thule T2 Rack. The bikes sit firmly in the carrier trays. However, a week before my wife and I were set to leave for a 4 day ride along the Allegheny Passage the ratcheting strap hinge bracket broke. I needed the part quickly and etrailer didn't let me down. I ordered the replacement part online and I had it within 4 days. I also got a free replacement part from Thule but it wasn't going to arrive before my trip so I have a back-up part in case this happens again. This was my second order from etrailer and I was very happy with the service. 133583
- 753-3582
by: Mike Blackwater12/16/2016
This is a review of eTrailer, not the Thule bike carrier mount. Thule is OK, but doesn't build their racks to last very long. We've had several and they need repair or replacement (hence this purchase) after a couple of years. As far as eTrailer is concerned, I'm AGAIN reminded at how awesome this company is. We've ordered everything from full trailer hitches to small parts like this Thule mount. They routinely exceed our expectations on shipping time and price. A great company to deal with. 325517
- 753-3582
by: Chris Q09/27/2013
This is my second order from etrailer, and both of them were handled professionally, delivered on time and with excellent communication. These rear retainers are an easy swap on the T2 and since they're so inexpensive, a great peace of mind purchase for your rack if the original ones are getting worn out. One phillips screw and an 11mm ratchet (on the inside of the crossbar) are all you need to remove the old ones and pop on the new ones. 101813
- 753-3582
by: Jim08/28/2015
etrailer had exactly the part we needed, identified both by its product number and description, so it was easy to find. The web site experience was without flaws, the two-day shipping was perfect and the product arrived today in perfect shape and was back on our bike carrier within five minutes of opening the package. Very pleased with products and service. Thank you! 222526
- 753-3582
by: Christine07/05/2016

Ordered this replacement for our Thule bike rack, came promptly and was less expensive than if we ordered from Thule. Needed this part because of a seemingly design flaw of the Thule t2 916 bike rack. We keep an extra in car in case of another failure (extra part free from Thule). Part has held up so far. etrailer as always is a great company to deal with. 268229
- 753-3582
by: John R10/15/2016
I had one question from the vendor and he quickly responded professionally. The wheel tray looks great on my rack! 307359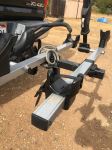 Click to Enlarge
- 753-3582
by: Wayne03/07/2014
This product is a perfect fit. This is my second one, the first one I had a problem with the strap but it was not a flaw in the product is was caused by the way I was using the strap. Learned from my mistakes, so I purchased another one from etrailer. Pleased with the service I get from this site. 119767
- 753-3582
by: Bill02/28/2013
Replaced original retention holder on Thule rack where strap-ratchet was broken. Product was exactly as described, the price was fair, and shipping was fast! Hope I don't break another, but would definitely order a replacement from etrailer again. 68098
- 753-3582
by: Paul S.01/27/2016
I needed a new rear wheel tray for my Thule bike rack and etrailer had available stock at a reasonable price. I received the product timely and in excellent condition. It is factory new and solved my problem accordingly. Thanks etrailer.com! 236345
- 753-3582
by: Dave M.10/05/2016
Product is exactly as pictured, including the strap which I was not sure be included since it has it's own part number. It arrived faster than expected and I installed the part right away with no problems. Thanks for the great service! Dave 303566
- 753-3582
by: Brad M06/29/2015
I backed into a tree and broke a wheel tray. The replacement worked perfectly. The price was much less than anywhere else, the product was identical to the original, and the delivery was fast. I am very satisfied with this purchase. 208194
- 753-3582
by: Burt O11/09/2015
Exact part I needed for my Thule rack. Every order from etrailer is a smooth, perfect transaction. They keep you informed, ship at lightning fast speed, and their prices are low. I'll never shop anywhere else. Thanks etrailer.com. 231660
- 753-3582
by: Matt03/01/2017
eTrailer is the real deal! Products arrived in a timely matter, were in great condition and worked perfectly. I'll definitely be replacing more Thule components on my racks through eTrailer.com. Thanks George and team! 347250
- 753-3582
by: Mark10/16/2016
Ordering was easy. The price was the best I could find. The order arrived as stated. Can't beat that. Just getting back up parts for my Thule rack since the rear wheel locking straps were looking like they may fail soon. 307681
- 753-3582
by: fred12/26/2015
Here's the thing. It's a simple part. The price was reasonable. I ordered it. It got shipped within 24 hours, and arrived at my house when they said. Nothing high drama, just good business. Exactly what I want in an order. 234345
- 753-3582
by: charley f.08/23/2012
somehow the old rear retention on our thule bike rack was tagged in a parking lot. i was able to bend the clip to where it was useable. later i felt it was better to replace it with a new one, just for the peace of mind. 52714
- 753-3582
by: Tim G.11/20/2016
Needed to replace rear saddle due to damage from theft, 1st replacement came with piece broken off, etrailer immediately shipped new piece. Easy to install and worked perfectly with existing Thule bike rack. 318314
- 753-3582
by: Jerry H.08/03/2016
First time ordering with you. What a great experience. Was shocked I could find this part in stock and at a very reasonable price. It showed up ahead of schedule and fit perfect. Great Job! 279348
- 753-3582
by: Larry D.04/03/2015
I purchased this as a replacement part for my Thule rack when the original clamp rusted and broke. Took two minutes to slide the original part off and this one on. Works perfectly. 182828
- 753-3582
by: Dan F.04/14/2014
The replacement rear retention for a Thule T2 bike rack fits perfectly on the rack. Cannot tell the difference between the original part and the replacement. Completely satisfied. 124911
- 753-3582
by: Sharon S.10/07/2013
I was happy to find the item was looking for so quickly on your site. I have not installed it yet, the product itself looks great and in fact seems better than the original one! 102914
- 753-3582
by: Steph S.04/14/2015
Replacement part for the Thule T2 hitch mount bike rack. Our buckle broke and this was the fastest and cheapest place to get the part. Delivered fast and a breeze to swap out. 185129
- 753-3582
by: Chris M.04/05/2014
Service is great. Unfortunately the grommet on the product failed - twice. Not e-Trailer's fault, but sending both pieces back...maybe they can get replacements from Thule. 123888
- 753-3582
by: Ivan K07/07/2016
Easy to swap out, previous wheel holder had rusted out on pins that hold the lever, the whole job took about 3 minutes to complete. Usual great service from etrailer. 269021
- 753-3582
by: Gordon06/24/2016
The locking part of the strap broke and you have to buy the entire piece because the locking latch is pop riveted to the carrier. It's a Thule problem, not etrailer. 264735
- 753-3582
by: James G06/11/2015
The Product is exactly what I was expecting. I haven't installed it yet but it is an exact replacement. My order was delivered quickly with great customer service. 202579
- 753-3582
by: Blake F.08/06/2015
Fits better than the one it was replacing (much tighter so that it doesn't slide back and forth when I turn corners.) It arrived one day before it was supposed to. 217142
- 753-3582
by: D. Pope11/09/2015
Great service. Shipped same day and received shipment in just a few days. Quality part and easy to replace. Would recommend etrailer.com for any similar needs. 231646
- 753-3582
by: Bert G10/22/2014
the item received was exactly as pictured Quality of the replacement part was the same as the original part. etrailer's pricing and shipping was excellent. 157540
- 753-3582
by: Patrick H06/11/2012
Same say shipment Product just as described at a very good price Highly recommend, will use for all needs and refer all cyclist to your site thanks 43658
- 753-3582
by: John W07/18/2013
The part works perfectly, but was a little surprised I couldn't buy the latch to repair the rear wheel retention unit. Thule must not make it available. 90170
- 753-3582
by: Jon M.10/16/2013
I have a Thule 917XTR T2 rack for my car (1.25 inch hitch), and I needed this to replace a broken part. The new one fit perfectly, and functions well. 104005
- 753-3582
by: Ed C07/17/2016
Another replacement...if I had not backed into wall, I wouldn't need the replacement...even then, the old one still worked...bent badly, but worked! 272906
- 753-3582
by: Howard04/18/2013
Replacement part fits perfectly. Thule products are all quality made. eTrailer service is great and the shipping was the fastest ever. Thanks 76682
- 753-3582
by: John N09/19/2016
I have placed two orders with Etrailer and received excellent service and feedback both times with immediate delivery of the items ordered. 296550
- 753-3582
by: Jason08/06/2015
Kind of annoying that you need to buy the whole unit when the clasp breaks; but easy to install and not too pricey to replace it. 217255
- 753-3582
by: Greg08/11/2014
Perfect fit for my rack. Easy to remove the old one and put this one on (just 1 screw). Used it that day without any issues. 145880
- 753-3582
by: Mark08/20/2012
This is a very good website with hard to find parts. It arrived quick and as described with no need for expedited shipping. 52420
- 753-3582
by: Ron08/10/2016
The part was exactly as described, delivery was fast and I will definitely use the etrailer site for any future needs. 282268
- 753-3582
by: Jared11/08/2016
Processed and shipped faster than indicated. Excellent tracking app and follow up.. wish the part was less expensive. 314861
- 753-3582
by: Joel02/24/2015
The part was exactly what I needed. Annoyed at Thule for such poor quality. But, service from etrailer was terrific 175983
- 753-3582
by: Brit05/02/2013
Awesome but it right on My bike rack! Easy perfect good price paid twice as much at a bike shop glad I found you! 78645
- 753-3582
by: Rusty Planks04/29/2016

I use these on a weekly basis hauling DH and Enduro bikes and they have held up well. Great replacement and cost. 247481
- 753-3582
by: Jim B10/21/2014
Was concerned, because it was selected for a Sportswork (prior to acquisition by Thule) model. Fit perfectly. 157026
52
106
Show More Reviews