people keep backing their car into mine and is this point I just removed the bike rack because it is so bent out of shape. It was damaging my bike because the wheel was getting out of alignment because the whole rack was so twisted up. Now I need to find a new one!! Open to suggestions.
Joan s - 07/07/2017
Thanks for the follow up Joan. Since your bike rack keeps getting damaged from others backing into it, I recommend a folding style that will fold up against your vehicle. The Kuat Transfer # TS02G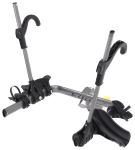 Kuat Transfer 2 Bike Platform Rack - 1-1/4" and 2" Hitches - Wheel Mount - Tilting
$289.00 is similar in the dimensions when installed in your hitch, but it folds up against your vehicle. This would make is less likely to be hit by others. This bike rack is a little more costly than your current Swagman, but it does offer a completely different profile when folded up against your vehicle. When folded, the outermost parts of the bike rack are steel, and would hopefully offer a better option for you. One of my co-workers has a 3 bike version of this on his Ford Fusion and it has sleek profile when folded against the Fusion. THis bike rack also fits 1-1/4 and 2 inch hitches that is also similar to your existing Swagman. There are several install videos that show this bike rack installed on mid sized SUvs and a couple on sedans. At this time we have not had this bike rack for a very long time, but as we have it longer our video library will grow.
--
Rachael H - 7/10/2017