Replaces the step pad for Bully nerf bars. Designed with Bully logo. Clips included. Call 800-298-8924 to order Pilot Automotive accessories and parts part number NB-PAD or order online at etrailer.com. Free expert support on all Pilot Automotive products. Guaranteed Lowest Price and Fastest Shipping for Replacement Step Pad with Bully Logo for Bully Nerf Bars. Accessories and Parts reviews from real customers.
Replacement Step Pad with Bully Logo for Bully Nerf Bars
Item # NB-PAD
In Stock.
Pilot Automotive Accessories and Parts - NB-PAD
Replaces the step pad for Bully nerf bars. Designed with Bully logo. Clips included.
Features:
Replaces the step pad for Pilot/Bully nerf bars
Designed with Bully logo
Includes clips
Dimensions: 19-3/4" long x 3-1/2" wide
Includes 1 black step pad

NB-PAD Replacement Step Pad with Bully Logo for Bully Nerf Bars
Customer Reviews
Replacement Step Pad with Bully Logo for Bully Nerf Bars - NB-PAD
Average Customer Rating: 4.5 out of 5 stars (86 Customer Reviews)
Replaces the step pad for Bully nerf bars. Designed with Bully logo. Clips included.
- NB-PAD
by: Matt P05/28/2014
These step pads are exactly what I was looking for. On the negative side, I did have to wait for more than 6 months from the time of order before I received them. On the positive side the item is an exact replacement for what I had and the staff at etrailer.com was fantastic about letting me know that the product was on back-order and would be delivered as soon as available. Stephanie H. did a great job and I would be happy to do business with them again. 133067
Comments
Still looking good.
Matt P - 05/28/2015
12126
- NB-PAD
by: Randall06/13/2015
Ordered four Bully replacement pads. Upon unpacking the pads I found one of the pads had two of the four mounting pins broken off. Since the broken pins were not in the packaging I can only assume the product was shipped broken. The other three pads were ok and were installed with no problems. Contacted Customer Service, who said they would ship a replacement right away. Works for me! 203152
Comments
Fair...two have broken going through care washes due to flimsy material used for pads.
Randall - 06/12/2016
18536
- NB-PAD
by: Arratta05/13/2015
Needed this replacement pad and wow--great service--gave it to our son for his birthday and made him a very happy man 192801
Comments
Great ........ was for our sons pickup truck....was a birthday gift and is working just awesome. Thanks for your followup.
Arratta - 05/12/2016
17782
- NB-PAD
by: Jason M.08/24/2014
I had bought a used truck with nerf bars, but the pads were missing and the dealer had no idea what brand the nerf bars were. I started looking around the internet to try to find some when I came across etrailer.com. I found the dimensions of the pads and the measurements for the holes the pads fit into in the bars. That helped me know they should fit my bars. I got Cathy T in customer service and she was great! Kept me informed the whole time as to the status of my order by email and phone when they got back ordered. It took a month for the first set but was well worth it. Price is great and customer service too is great, will not hesitate to buy here again! 148221
- NB-PAD
by: jerry wolfe01/28/2014
the bully pads are the right one they will look good on my truck . . thank you for keep me up date on the product 115022
Comments
they brake off when they get cold thet r no good for that
jerry w - 01/28/2015
9020
- NB-PAD
by: SAM E.08/27/2014
REPLACEMENT PADS WERE OF A GOOD QUALITY.I WOULD RECOMMEND THEM TO ANYONE. 148968
Comments
ITEM FIT PERFECT AND STILL LOOKS GOOD.
SAM E - 08/27/2015
14597
- NB-PAD
by: Luke10/17/2014
I saw a lot of negative reviews about shipping times and customer support so I was leery of ordering from etrailer.com. I rarely give reviews but I would like to commend Patrick from etrailer.com for doing it right. I received my step pad within just a few days, with a tracking number to set aside any doubt. I have also received ongoing contact from Patrick to ensure that I am a satisfied customer. I would highly recommend etrailer.com, any issues they had in the past are just that, in the past. Great product, fair price, fast shipping, what more could you want? 156466
- NB-PAD
by: Ritchie11/22/2016
I have Bully nerf bars from well to well on a crew cab. I had to replace all 6 pads as the weather had eaten them up. Once I figured out the best way to install the first one the rest went on easy and look great. E Trailer stayed in touch with the order and kept me informed of the shipping delays, which were not really too bad. The only reason I did not give 5 stars is they did not give directions for installation. If you are not careful it is easy to break the pegs off during installation as was declared on a youtube video I watched prior to installing. 318943
- NB-PAD
by: Raymond S.12/11/2015
I ordered new step pads from etrailer.com. They were replacement step pads with Bully Logo for Bully nerf bars. They got the order correct the 1st time. I received the order in about a week with standard shipping. They were very easy to install. Everybody at etrailer.com was very helpful . I had to replace the pads because the Texas sun had dry-rotted the old ones over a 10 year period. It's nice to have the steps looking new again. Thanks. 233631
- NB-PAD
by: Richard W03/14/2017
This is a replacement for by Bully pads. The sun and weather took a toll on the original pads. I reached out to etrailer for replacement. Four pads arrived in a timely fashion but one was defective. I took a picture of the defective part and had a reply in hours. Very quickly they send out a replacement. The product was easy to install and the nerf bars look like new ago. Great service by a well run company. I will buy from them again in the future. 352836
- NB-PAD
by: Dave c03/01/2017
Bought a used ram 1500 with bully nerf bars it was missing a foot pad ordered at 7 am by 10 am received a reply back from George j to let me know it had been shipped that day five days later it was at my door I was very pleased with the info of where it was and when to expect it now the bully nerfs look nice sorry for no picture but thanks for help when someone ask I will let them know where to get them again thanks George 347277
- NB-PAD
by: Jake P.07/23/2015
Well I ordered a set of replacement inserts for the steps, received them fairly quick. But the pins were broke. They shipped another set and I received them within a couple of days.. Not bad. I tried installed them.... But the pins broke. So I guess I'll order some more. The company is quick and easy to deal with. However, the product...... I can't really say anything good. Poor quality 213828
- NB-PAD
by: Mike D.10/23/2014
I am happy that a replacement pad is available for these step bars. No instructions are provided. The installation is not that complicated but having suggested information from the manufacturer would still be helpful. The plastic pins on the bottom of the step pads should all be started into the spring barrel clips and then even pressure applied while installing the pad. 157605
- NB-PAD
by: joeb05/30/2017
I would not buy this product again. instalation is not difficult, but the pad keeps popping up where it is bent...mainly a first pin. 2 days perfect . A long story short, after several attempts to keep it in place the first pin broke. on both pads i bought. wasted time and money. i do not know if I did something wrong, instalation is easy ...... i bought Bully brand. 386395
- NB-PAD
by: dave b09/07/2014
bought 2 replacement pads.took several months do to back order from manufacture.tried to install today except no instructions so I winged it.after installing the metal clips on the plastic pins I put on the steps the holes lined up perfectly.using HAND pressure to seat the pins and clips in the holesthe front pins SNAPPED OFF!!!!!NOT HAPPY 150311
- NB-PAD
by: Cyrus Haze10/06/2016
Product arrived SOONER than expected Product was packed very carefully and came exactly as expected... brand spankin new. Customer service was phenomenal given that i ordered the wrong part initially and Hally went out of her way to contact me to ensure the right item was ordered. We NEED more great AMERICAN companies like these... 303744
- NB-PAD
by: Ricky P.06/19/2015
Product was exactly what I needed. The pads where a perfect fit and I received them faster than expected. One of the plastic pins was broken when received, but it was in the middle of the pad. I installed it and it seemed not to make any difference. I will use your company again and will recommend it to others. 204493
- NB-PAD
by: Mark B01/24/2015
Although getting the item to me was excellent. Fast and easy. Bad news though is that the day before I got the item... Had a guy pulled out into my lane and ran me off the road. Now truck is resting in a shop and i can't use the item that I ordered. Forsure though an excellent service!! Will go back!! 171101
- NB-PAD
by: Jason05/06/2017
The Bully Nerf Bar replacement step pad was a perfect fit. As other reviews have stated it is a real bear to install but once installed it's? not going anywhere. Over a year after installing it, it is firmly in place and holding up well. I replaced the driver's side so it sees a lot of traffic. 377005
- NB-PAD
by: Adam T.08/27/2014
Great replacement pads for a great price. They were delivered right on time and are good quality. The only hard part was pushing them in and locking them into the clips (that are included) I am a big guy and it took all I had to get them in. Besides that, I am very pleased with this product. 148929
- NB-PAD
by: Steve K11/14/2013
Items were on back order for a few months. Finally received the product and when installing them, two of the four prongs broke when I pushed them into the holes. I am wondering if the specs are slightly off.......I am ordering two more since this is still cheaper than replacing nerf bar. 107414
- NB-PAD
by: Jim Y.02/02/2015
This is the exact replacement for the step pads on the Bully Nerf Bars on my truck, which had become worn and cracked after eight years of use. Excellent customer service from Wayne H., both with my order and with providing prompt shipping/tracking info. Highly recommend etrailer.com. 172175
- NB-PAD
by: Bully pad review11/12/2015
I ordered 2 replacement bull step up pads and it took about 2 months when I finally revived the package the first pad was in good shape but the second pad had a tap broken...I didn't return it because I was able to jarry rig a tap, also it would have been another 2 months!.. 231903
- NB-PAD
by: James02/07/2017
Step pad retaining prong has broken off less than a year from purchase 339497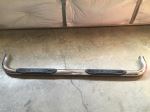 Click to Enlarge
- NB-PAD
by: Kyle Z.02/09/2015
Had to replace the step for the nerf bar on my truck (driver side), and this was perfect; fit is correct and installed with a few taps from the hammer with a block to protect the finish. I was glad to find the pads on etrailer. Shipping was faster than expected. 173113
- NB-PAD
by: SaraR04/13/2017
Step pad came in perfect condition with the metal parts to lock in the step to the running board. Fast easy shipping and my package was updated on the tracking so I could keep up with it. I will be ordering more parts from etrailer when I need them! 366788
- NB-PAD
by: Bob W10/10/2014
Ordered replacement step pads for my Bully Nerf bar, recieved products in just a few days, installed products with no problems. Great service and product only slight complaint is I thought the pads would have the Bully Logo on them and they did not. 155478
- NB-PAD
by: Kelly Geise10/21/2014
Product arrived with 1 pin broken on 1 pad. Did not return, it was a center pin, pad seemed to fit ok with out. Installation went ok pin didn't match up exactly so pads where a little difficult to get fully seated on bar. Once on pads look good. 157003
- NB-PAD
by: Bruce P.09/02/2014
The pads are an exact fit. It took awhile to get them because the manufacture had them on backorder, but the people a etrailer kept up with my order and shipped them a soon as they could. I am very happy with my purchase. It was worth the wait. 149805
- NB-PAD
by: Mark09/09/2015
Got my new pad with clips in the mail today. It actually had to be put on my wife's truck. Her short friend that rides with her actually wore it out !! I was really impressed with George. He let me know where my part was and when to expect it. 224702
- NB-PAD
by: Jason F.12/22/2014
Bully step pad fit holes for replacement of the discontinued Nasta step pad. End prong broke off pushing it on. You have to be gentle when pushing down on the step pad. Other than that, look nice and fit nice. I would recommend them. 166510
- NB-PAD
by: bully step pads12/10/2014
product worked great one came broken and karen sent me a replacement out right away and karen was one of the best sales ladies that ive delt with in a long time she was a great help from start to finish keep up the great work karen 164173
- NB-PAD
by: Wayne Mullannix07/15/2017
Product was excellent and fit perfectly. Most important though, Tim in customer was the most hemlpful person I have ever dealt with. This is the second time I have ordered from etrailer and it will not be the last. 406207
- NB-PAD
by: Cal05/31/2017
Very helpful. The product that I wanted was unable until later in June, and that they had one that would fit and it was cheaper. And the product fits very well and I'm not disappointed. THANKS ALOT!! 386944
- NB-PAD
by: Jon B.02/20/2017
My truck had nerf bars with both pads missing on one side when I bought it used. These pads were a nice replacement. Thank you for your great customer service! 343721
- NB-PAD
by: Harry02/13/2013
Perfect replacement for my broken step. Fits great and easy to install and shipping and customer service were excellent! Will definitely use etrailer again! 66103
- NB-PAD
by: Bernie S04/23/2013
Good product, easily to install. Most importantly, the service provided by e-trailer was exceptional. Will continue to use your service whenever possible. 77519
- NB-PAD
by: Jimmy03/03/2016
Perfect fit fast delivery its the second one that I replaced from etrailer and when another one is needed this is where it will be ordered from. 239349
- NB-PAD
by: Tommy04/22/2017
Nerf pad was a perfect fit to my no named nerf bars and easy to install, also great customer service, I receive my order in the same week. 370727
- NB-PAD
by: patrick03/22/2013
The item was just as described and arrived on the date promised. It was easy to install and looks great. Thanks Trailer, Patrick 71985
- NB-PAD
by: JESSE G01/11/2017
I HAD NO ISSUE ORDERING SKID FOR MY VEHICLE. THE BUSINESS WOULD PROMPTING ANSWER ANY OF MY QUESTIONS. I WOULD RECOMMEND THIS BUSINESS 331660
- NB-PAD
by: Ken M03/10/2016
Product was perfect match for original. Service from etrailer is top notch, you can't go wrong purchasing from them. Thanks, Ken 240490
- NB-PAD
by: Cliff B.07/08/2013
The step pad was exactly what I was looking for. Only took about 5 min. to replace the old step pad with the new one. 88088
- NB-PAD
by: GLENN H01/20/2017
Great service. The pads were easy to install and they look great. They were a perfiet fit. I recommend the pads. 333917
- NB-PAD
by: Toni06/09/2016
This supplier is quick, great prices, on time and reliable. I will use this supplier again, in a heart beat. 259481
- NB-PAD
by: Nikki B.11/30/2012
It was exactly as ordered and a very fast delivery time. I will order from this company again in the future. 60326
- NB-PAD
by: Tom w04/14/2017
Went on as it should looks as good as new or better just real happy with this product. ( Nerf bar pads ) 367201
- NB-PAD
by: J G.ohn11/21/2015
Great product , Came with every thing to install. Shipping was super fast . Will Deal again Thank You . 232362
- NB-PAD
by: Gary Johnson10/15/2014
Bully Nerf pads exactly what was pictured, received in great shipping time. Step bar looks new again! 156067
- NB-PAD
by: Sharon z01/04/2017
Very good product, fit exactly,?????????? Good see you later very good communication Thanks :) 330003
50
86
Show More Reviews
Info for this part was:
At etrailer.com we provide the best information available about the products we sell. We take the quality of our information seriously so that you can get the right part the first time. Let us know if anything is missing or if you have any questions.