Customer Reviews
Replacement Washer Kit for Blue Ox Aladdin, Aventa II and Aventa LX Tow Bars - BX84-0089
Average Customer Rating: 4.9 out of 5 stars (82 Customer Reviews)
Unique kit contains all washers that are required for your Blue Ox Aladdin, Aventa II or Aventa LX tow bar.
- BX84-0089
by: F Putnam02/17/2014
Exactly what I needed. 116786
Comments
We do a lot of traveling towing a car behind the motorhome. We find that we have to rebuild the tow bar once a year as the Nylon spacerswashers grind away to nothing as we travel. Its a good thing this kit is available for a reasonable price.
F P - 02/17/2015
9549
- BX84-0089
by: Ken Maddox08/09/2013
Exact product ordered was delivered, and quickly. I could not ask for better service. Now I have to rebuild my tow bar. :) 94247
Comments
The rebuild went well, and as the instructions indicated.The product is holking up well, and performing to expectations.ThanksKen
Ken M - 02/07/2015
9352
- BX84-0089
by: Ralph08/04/2015
Great to know I could get these parts, so I would not have to buy a new tow bar. 216637
Comments
Great
Ralph - 08/03/2016
19893
- BX84-0089
by: Larry M.07/02/2016
Nuts and washers worked as intended on blue ox. 267646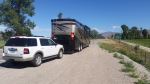 Click to Enlarge
Click to Enlarge
- BX84-0089
by: Jim07/19/2015
Also purchased part bx 84-0052 Replacement Shank for our Blue Ox Aladdin Tow Bar. The package included the nuts but not the needed washers and so I had to order the washer pack separately. Parts arrived promptly and quality as expected. Would have helped if information on the Shank had pointed out that I also needed to order the washer package. 212919
- BX84-0089
by: Cliff04/18/2015
Received my package within a few days from the order. I was disappointed that there was not any type of instructions regarding the installation of the washers on my Blue Ox hitch. I called and all they could provide was the samething that I could get off of the net. The people were very knowledgeable and very professional 186005
- BX84-0089
by: Chuck08/22/2016
Blue Ox washer kit...even has extra parts. Most important to me is E-trailer does not rip you on shipping!! Little envelope stuff is charged that way not like some other shippers. I'm a returning customer and plan to return again when I need more parts. Call me very satisfied customer THANKS!!! 286522
- BX84-0089
by: David C07/22/2014
The repair kit restored my Blue Ox tow bar to like new operation . I watched a how to on utube that was produced by Blue Ox with easy to follow instructions. My 10 year old tow bar operates like new and saved me having to ship it back to the factory for refurbishing . Great product , price, and service. 142604
- BX84-0089
by: Don05/28/2016
Washer kit worked great, correct size and thickness. Order was shipped on time as promised. Great people to do business with. Real helpful on phone to make sure I had the right parts. I will continue to order from Etrailer. I have always been happy with all their services and products. 252853
- BX84-0089
by: lonfu06/27/2016
Used this to rebuild an old worn out tow bar with 180k miles on it. I needed to add a few extra steel washers from the hardware store. I thought the instructions were good. The car no longer wobbles back and forth and " wags" the moho. worked exactly as expected. good quality. 265744
- BX84-0089
by: Ron DeMarse04/28/2016
Amazing the difference in thickness between the originals and the replacement kit.! No wonder I was feeling my toad so much. Price was right and the product was just as described! Had it on my doorstep in 4 days from ordering, can't beat that! Thank you etrailer.com! 247335
- BX84-0089
by: Argil E.02/16/2017
Rebuilt my Blue Ox Aventa towbar and bought all the parts from etrailer. All parts were complete and correct and made the entire job easy and quick and correct and safe. As always, etrailer's service was quick and efficient. Great company to deal with and good products. 344490
- BX84-0089
by: Robert B03/30/2015
Everything you need to service the Blue Ox tow bar. I did end up reusing one of the medium plastic washers to get a good fit so order one of those if you can. There is a great video on YouTube that show step by step how to do this, including a few excellent tips. 181684
- BX84-0089
by: David Mader08/26/2016
If you order any other parts, which is likely if these parts are worn,some of these come with. lots of duplication. Not sure of the answer here. Maybe split this package into two groups. (Nuts) (Washers). I think your customers would appreciate it. 288144
- BX84-0089
by: Doug S09/23/2016
After a little operator error on my part, I contacted etrailer for replacement parts for my Blue Ox. They had all the parts I needed in stock and shipped them directly to the campground. Couldn't be happier with the level service I received. 300311
- BX84-0089
by: Mark B04/04/2017
Arrived UPS. No external package damage. Internal package good to go. Blue Ox replacement washers all look to be present in the plastic bag, but I haven't started the rebuild yet. I'll update this review if needed after the project. 362556
- BX84-0089
by: Henry T08/30/2016
Product received in very timely manner. Looks good but have not yet installed the rebuilt kit for my Blue Ox Tow Bar. A few words on best approach to install would have been very helpful although I believe it is straight forward. 289408
- BX84-0089
by: Greg L02/12/2017
Originally was going to buy this product off [retailer], but both price and shipping was better with etrailer. Great line of products and great service, I will continue to use etrailer as my primary source of suppliers. 341039
- BX84-0089
by: Steve H06/07/2016
Washers are as described. Only improvement would be an instruction sheet. For the Avanta LX towbar employing the pivot ball assy, the addition of a 1", 0.060 thick brass washer or a source for it would also be helpful. 258670
- BX84-0089
by: Mark03/30/2015
This is exactly what it looks like, a bag of nuts and washers, but it's nice that they made a kit so I didn't have to piece it all together individually. I haven't installed it yet but it all looks good. 181508
- BX84-0089
by: Dean04/30/2015
Although it isn't listed in the title, this also fits the Alpha tow bar. There are no instructions but it's basically self-explanatory, just replace the washers you remove with like ones. 189141
- BX84-0089
by: Bob E.02/20/2016
Having problems getting tow bar apart, but the items ordered is exactly what I needed. The service was prompt and arrived in a timely manner. Thanks. 238335
- BX84-0089
by: Blue Ox Bx84-008904/24/2015
Ordered the extra washers and only used the nuts, Comes with a bunch of washers, many you will never need, let alone figure out where they go..... 188032
- BX84-0089
by: Jerry R.10/21/2014
Everything was as ordered and turn around was fast!! Very pleased with how everything matched up with my Blue Ox tow bar 157163
- BX84-0089
by: Kevin G01/31/2016
Product was as described. etrailers service is outstanding. I check their site first because the service is exceptional. 236655
- BX84-0089
by: Curtis B09/24/2014
Great inventory, competitive pricing, great shipping/tracking communication, fast delivery - that's as good as it gets! 152903
- BX84-0089
by: Paul B.10/10/2016
Great service, products of top quality, and fair price. Have ordered products before and will use e trailer again. 305839
- BX84-0089
by: Don S.04/10/2014
Product was delivered in orderly fashion (quite fast I must say!!) Would recommend e-trailer for all. 124629
- BX84-0089
by: Jack03/20/2017
Parts showed up in just a couple of days. Everything was intact and exactly what I was looking for! 359572
- BX84-0089
by: Jerry F06/03/2016
Great Company to do business with, always seem to have the product I need and very fast shipping. 256352
- BX84-0089
by: Ronnie H10/21/2016
Great way to take some of the wiggle out of your tow bar, also a very good price from e-trailer. 309550
- BX84-0089
by: Bob R.06/03/2015
Product was fine. Fast shipping and great customer service. A great company to deal with. 200220
- BX84-0089
by: Jim O10/21/2016
Product was as stated. Fit my Blue Ox very well and tighten it up so there was no play. 309254
- BX84-0089
by: James M.07/04/2013
Rebuild kit had all necessary parts to upgrade my Blue Ox tow bar to like new condition. 87646
- BX84-0089
by: Jim N10/07/2013
Excellent service tracking back orders and immediate response to additional purchases. 102940
- BX84-0089
by: Dawn D09/03/2016
Everything I needed in one small package. No searching around for part numbers. 290802
- BX84-0089
by: George Schutz04/21/2014
Like the Product I also like the Price fast shipping George Will buy again 126243
- BX84-0089
by: gary g04/14/2016
Received kit everything as advertised. Service was fast, I give you 5 stars. 244219
- BX84-0089
by: richard e06/12/2016
appears to be as described. not yet installed. received in good condition. 260572
- BX84-0089
by: Lin S08/25/2013
Very easy to install, same as new again! Thanks for a great product 96862
- BX84-0089
by: AR07/12/2016
OEM product exactly as ordered at a good price and quickly shipped. 270888
- BX84-0089
by: Geneva D04/09/2017
The product arrived quickly and is exactly what I was looking for. 366522
- BX84-0089
by: Randy Adams09/20/2015
Good Description and Fast Service Thanks Again Everything worked 226628
- BX84-0089
by: Lonnie Y05/30/2013
Product as described. Timely shipping. Arrived as scheduled. 82559
- BX84-0089
by: Bob C.08/18/2016
Arrived on time looks like everything I need is in the kit. 285150
- BX84-0089
by: Bill06/12/2016
Fast shipping product as described wii buy again Thanks 260587
- BX84-0089
by: Fred K12/24/2015
Haven't had a chance to use them yet, but look good. 234160
- BX84-0089
by: John B01/27/2015
Great service,super fast shipping, fits perfectly. 171394
- BX84-0089
by: On the road.04/28/2016
Good washer kit to rebuild the Aventa II tow bar. 247330
- BX84-0089
by: John G01/05/2015
part was what I ordered and delivered as stated. 167776
51
83
Show More Reviews