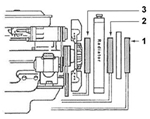 Select the correct transmission cooler by determining where there is enough space to mount it. The diagram on the left numbers the best three positions to mount the transmission cooler in order. Transmission coolers are more efficient when they receive maximum air flow. At Position 1, the transmission cooler is 100% efficient. Position 2, between the air conditioning condenser and radiator, is 75% efficient while Position 3, between the radiator and fan, is only 60% efficient. If positions 2 or 3 are used, a larger transmission cooler will be needed to compensate for the loss of cooling power. If this is the case, choose a transmission cooler that is one or two sizes larger.
Tech Tips: Transmission fluid cannot be over cooled, but it is critical in extreme cold conditions to allow the vehicle to warm up before driving.
Filter Products (20)
Contact and Help
What our customers are saying:
Excellent service - An easy to use website gave me a number of options for my vehicle. The product was delivered to my door for a fraction of the cost of essentially that same product from the dealer. Keep up the good work!
Graeme
Belmont, CA