Can Weight Distribution be Used on Curt Hitch C13073 on a 2011 Kia Sorento
Question:
I have a 2011 kia sorento,its tow capacity is 3500 I want to tow a 2619 trailmanor travel trailer with a dry weight of 2673 lbs. The C13073 can not be used with weight distribution, what is the reason,and what can I use, or what can I do to use weight distribution, a local trailmanor dealer here in colorado springs co. said I could use the C13073 if I fitted my vehicle with rear air shocks , so I can level the trailer in that manor, do you know is this is correct?
asked by: richard u
Expert Reply:
I spoke with my contact at Curt, the manufacturer, about Curt Hitch, # C13073. He stated that the hitch is not rated for weight distribution because it is a lighter hitch that is wider than many other hitches. Because of this if you added a weight distribution system it would add more torque and possibly flex or bend the hitch. This flexing or bending would compromise the hitch and make it unsafe for towing. Because of that they do not recommend adding weight distribution with this hitch.

There is another hitch that will fit your vehicle and will allow for weight distribution. The Draw-Tite Class III Trailer Hitch Receiver, # 75684, will work on your vehicle. We talked to the manufacturer and they verified it. I have included a link to the instructions for this hitch below.

For a weight distribution system, I recommend the Reese Strait-Line Hitch, # 66072. This system comes with dual cam, pro-active sway control that stops trailer sway before it starts. I have included a link to a WD FAQ that you might find helpful.

Adding rear air shocks will not solve this problem as it will not distribute weight like a WD system. Also, adding a WD system will not increase the towing capacity of the vehicle. You can still tow your travel trailer as long as you stay under the 3,500 pound capacity of the vehicle and the 300 to 500 pound tongue weight capacity of the hitch.



expert reply by: Michael H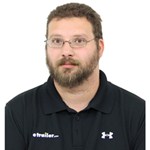 Have a question for the experts? click here.
Products Referenced in This Question
Draw-Tite Max-Frame Trailer Hitch Receiver - Custom Fit - Class III - 2"





40 reviews
Retail: $231.75
Price: $191.95
Product Summary:
Custom Fit Hitch
Class III
Visible Cross Tube
350 lbs TW
3500 lbs GTW

Product Specs:
2 Inch Hitch
5000 lbs WD GTW
500 lbs WD TW

more information
Product Page this Question was Asked From
Curt Trailer Hitch Receiver - Custom Fit - Class III - 2"





65 reviews
Retail: $249.65
Price: $138.39
Product Summary:
Custom Fit Hitch
Class III
Visible Cross Tube
350 lbs TW
3500 lbs GTW

Product Specs:
2 Inch Hitch

more information
More Answers about Trailer Hitch