Weight Distribution and Sway Control for 2010 Ford F-150 Towing 7600 Pound GTW Travel Trailer
Question:
Im due to pick up a 33 travel trailer soon. 7600 lbs loaded w/ 780 lb tongue weight. Please recommend ideal system for me. The reese 66155 was recommended, but Im not sure. Thanks
asked by: Tony A
Expert Reply:
The High Performance Reese SC Weight Distribution System # RP66155 you referenced will work just fine with the tongue weight and gross trailer weight you provide. This system also has reactive sway control which means it only responds to trailer sway after sway has already started.

I would recommend the Reese Strait-Line Weight Distribution Hitch System, part # RP66074. This system is designed for trailer with tongue weights ranging from 600 to 1200 lbs.

The Strait-Line Weight Distribution System part # RP66074 offers pro-active sway control which once properly set up, will stop the trailer from swaying before it can start. As an additional advantage, there are no U-bolts to conflict with bottle racks or other A-frame mounted items.

The Reese SC system includes the adjustable shank, but the trailer ball is not included. For a 2 inch ball, use part # A-90, or part # 19286 for a 2-5/16 ball.

The shank and the trailer ball are not included with the Strait-Line system. The # RP54970 shank would be a good choice, along with either of the trailer balls mentioned above.

For product demonstration videos and install details, use the provided links.
expert reply by: Michael H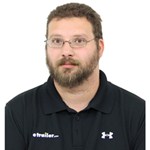 Have a question for the experts? click here.
Products Referenced in This Question
Hitch Ball with 2-5/16" Diameter and Medium Shank, 12,000 lbs GTW - Chrome





51 reviews
Retail: $17.13
Price: $12.49
Product Summary:
Hitch Ball
Standard Ball
12000 lbs GTW
Class IV
Chrome

Product Specs:
2-3/4 Inch Shank Length
2-5/16 Inch Diameter Ball
1-1/4 Inch Diameter Shank

more information
Hitch Ball with 2" Diameter and Medium Shank, 10,000 lbs GTW - Chrome





69 reviews
Retail: $18.20
Price: $10.92
Product Summary:
Hitch Ball
Standard Ball
10000 lbs GTW
Class IV
Chrome

Product Specs:
2-5/8 Inch Shank Length
2 Inch Diameter Ball
1-1/4 Inch Diameter Shank

more information
Reese Weight Dist Shank - 12-1/4" Long - 2" Drop to 6-1/2" Rise - 1,500 lbs TW





6 reviews
Retail: $132.56
Price: $89.95
Product Summary:
Weight Distribution
Accessories
Replacement Parts
Trunnion - 6-1/2 In Rise
Round - 5-1/4 In Rise
1500 lbs TW

Product Specs:
Trunnion - 1-1/4 In Drop
Round - 2 In Drop
Shanks
Fits 2 Inch Hitch

more information
Strait-Line Weight Distribution w Sway Control - Trunnion Bar - 12,000 lbs GTW, 1,200 lbs TW





5 reviews
Retail: $842.96
Price: $485.66
Product Summary:
WD With Sway Control
Electric Brake Compatible
700 lbs
800 lbs
900 lbs
1000 lbs
1100 lbs
Dual Cam
Trunnion-Style Bars

Product Specs:
Fits 2 Inch Hitch
Shank Not Included
Up to 12000 lbs GTW

more information
Product Page this Question was Asked From
Reese SC Weight Distribution w Sway Control - Trunnion - 12,000 lbs GTW, 1,200 lbs TW





2 reviews
Retail: $912.11
Price: $519.95
Product Summary:
WD With Sway Control
Electric Brake Compatible
Surge Brake Compatible
700 lbs
800 lbs
900 lbs
1000 lbs
1100 lbs
2-Point Friction
Trunnion-Style Bars

Product Specs:
Fits 2 Inch Hitch
Includes Shank
Up to 12000 lbs GTW

more information
More Answers about Weight Distribution