Best Way to Tow Fifth Wheel Trailer With 2014 Dodge Ram 2500 With Factory Tow Prep Package
Question:
I am purchasing a 2014 Dodge Ram 2500 8ft bed with this towing prep. I have a fifth wheel trailer. What would I use as a hitch set up that will be easily removed from the truck showing a flat bed. No rails left in the bed I also noted you offer a conversion package to bolt to my trailer that will allow me to use the gooseneck set up. which would you recommend?
asked by: Michael D
Have a question for the experts? click here.
Products Referenced in This Question
B&W Companion OEM 5th Wheel Hitch for Ram Towing Prep Package - Dual Jaw - 25,000 lbs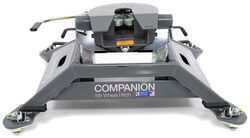 197 reviews
Code: BWRVK3600
Retail:$1,224.95
Price: $1,159.00
Fifth Wheel
Fixed Fifth Wheel
Hitch Only
6500 lbs TW
25000 lbs GTW
Double Pivot
Standard - Double Jaw
17 - 19 Inch Tall
B and W
more information >
Curt E16 5th Wheel Trailer Hitch for Ram Towing Prep Package - Slide Bar Jaw - 16,000 lbs
5 reviews
Code: C16515-16021
Retail:$1,230.56
Price: $655.95
Fifth Wheel
Fixed Fifth Wheel
Hitch Only
4000 lbs TW
16000 lbs GTW
Double Pivot
Economy - Slide-Bar Jaw
Curt
more information >
Curt A16 5th Wheel Trailer Hitch for Ram Towing Prep Package - Dual Jaw - 16,000 lbs
38 reviews
Code: C16520-16021
Retail:$1,482.55
Price: $775.95
Fifth Wheel
Fixed Fifth Wheel
Hitch Only
4000 lbs TW
16000 lbs GTW
Cushioned 360-Degree
Standard - Double Jaw
13 - 17 Inch Tall
Curt
more information >
Curt Q20 5th Wheel Trailer Hitch for Ram Towing Prep Package - Dual Jaw - 20,000 lbs
88 reviews
Code: C16530-16021
Retail:$1,666.62
Price: $840.95
Fifth Wheel
Fixed Fifth Wheel
Hitch Only
5000 lbs TW
20000 lbs GTW
Cushioned 360-Degree
Standard - Double Jaw
13 - 17 Inch Tall
Curt
more information >
Curt Q24 5th Wheel Trailer Hitch for Ram Towing Prep Package - Dual Jaw - 24,000 lbs
110 reviews
Code: C16545-16021
Retail:$1,690.53
Price: $837.95
Fifth Wheel
Fixed Fifth Wheel
Hitch Only
6000 lbs TW
24000 lbs GTW
Cushioned 360-Degree
Standard - Double Jaw
13 - 17 Inch Tall
Curt
more information >
Convert-A-Ball Cushioned 5th-Wheel-to-Gooseneck Adapter - 12" to 16" Tall - 20,000 lbs

249 reviews
Code: CAB-C5G
Retail:$548.11
Price: $446.95
Gooseneck and Fifth Wheel Adapters
Adapts Trailer
Fifth Wheel Trailer to Gooseneck Hitch
No Offset
20000 lbs GTW
Bolts Over King Pin
Adjustable Height
King Pin Adapters
Convert-A-Ball
more information >
Reese 5th Wheel Rail Adapter for Ram OEM 5th Wheel Towing Prep Package - 25,000 lbs

113 reviews
Code: RP30154
Retail:$597.51
Price: $369.95
Accessories and Parts
Fifth Wheel Installation Kit
Rail Adapter
more information >
Product Page this Question was Asked From
Reese Select Plus 5th Wheel Trailer Hitch - Single Jaw - 20,000 lbs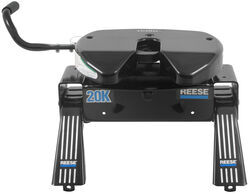 15 reviews
Code: RP30081
Retail:$1,389.49
Price: $693.95
Fifth Wheel
Fixed Fifth Wheel
Hitch Only
5000 lbs TW
20000 lbs GTW
Double Pivot
Premium - Single-Hook Jaw
14 - 16 Inch Tall
Reese
more information >
More Answers about Fifth Wheel >