Trailer Hitch Mount Bike Rack Recommendations for a 2013 Honda CR-V
Question:
Hello, I own a 2013 Honda CRV. I have never owned any style of bike rack, there are literally dozens of manufactors and models all claiming to be the best! I would like to buy a four 4 bike model, but, would like to take in consideration of safety transporting, convience and a budget around $200. WOULD YOU PLEASE be so kind as giving a few recomendations. Thank You for your time
asked by: Fred P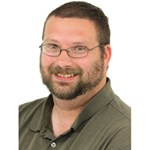 Have a question for the experts? click here.
Products Referenced in This Question
Swagman Trailhead 4 Bike Rack for 1-1/4" and 2" Hitches - Tilting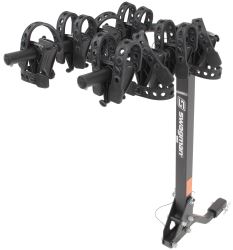 191 reviews
Code: S63380
Retail:$180.00
Price: $162.00
Hitch Bike Racks
Hanging Rack
4 Bikes
Steel
Locks Not Included
Fits 1-1/4 Inch Hitch
Fits 2 Inch Hitch
Fits 1-1/4 and 2 Inch Hitch
Class 1
Class 2
Class 3
Frame Mount - Anti-Sway
Tilt-Away Rack
Fold-Up Rack
Swagman
more information >
Softride Element Parallelogram Tilting 4 Bike Rack for 1-1/4" and 2" Hitches
104 reviews
Code: SR26248
Price:$223.00
Hitch Bike Racks
Hanging Rack
4 Bikes
Steel
Locks Not Included
Fits 1-1/4 Inch Hitch
Fits 2 Inch Hitch
Fits 1-1/4 and 2 Inch Hitch
Class 2
Class 3
Frame Mount - Standard
Tilt-Away Rack
Fold-Up Rack
Swing-Away Rack
Softride
more information >
Product Page this Question was Asked From
Thule Hitching Post Pro - Folding Tilting 4 Bike Rack w Anti-Sway - 1-1/4" and 2" Hitches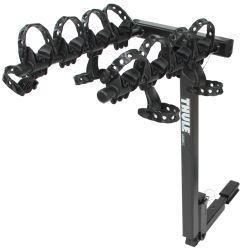 286 reviews
Code: TH934XTR
Retail:$219.00
Price: $199.00
Hitch Bike Racks
Hanging Rack
4 Bikes
Steel
Locks Not Included
Fits 1-1/4 Inch Hitch
Fits 2 Inch Hitch
Fits 1-1/4 and 2 Inch Hitch
Class 1
Class 2
Class 3
Frame Mount - Anti-Sway
Tilt-Away Rack
Fold-Up Rack
Thule
more information >
More Answers about Hitch Bike Racks >