Trailer Running Lights Turn On Faintly When the Turn Signals are On
Question:
When I turn on my left or right turn signal. All the running lights faintly blink also. I have ran and reran all wires... I do not have any shorts, am well grounded and stake my life that all lights and wires are connected correctly...I have tried adding extra grounds from the tail lights to the frame- still blinking. I dont have any other problems its just when the turn signal is on. We do have a ground on the front frame too. Also we tried hitching it on the ball, still faintly blinking. Are they supposed to? Is this some new thing for lights?
asked by: Trish
Expert Reply:
The most likely culprit is a bad ground. I know you have spent a lot of time on the grounds but it is still possible especially if you have an aluminum frame or tilt trailer. But something else that could be causing this is a dirty or corroded trailer connector. This could cause some bleed over to the running light circuit. Clean out the vehicle and trailer side connectors and see if that fixes the problem.

If not then you are looking at a ground issue. Any corrosion where the lights attach to the frame can be the cause. Or if you have recently added a plastic license plate holder between a light and the metal trailer frame. You can try moving the grounds to different locations as well.

Lights are not supposed to do this so you are correct to troubleshoot the possible cause.
expert reply by: Michael H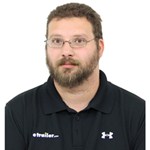 Have a question for the experts? click here.
Product Page this Question was Asked From





2 reviews
Retail: $34.41
Price: $24.95

More Answers about Wiring