Only One Tail Light is Working On Trailer Using Wiring Harness 119175KIT on a 2003 Nissan Xterra
Question:
initially I wired the tail/park and the brake wires backwards on my 2003 Nissan Xterra would that have caused the converter to damage, I then rewired it correctly double checking with the circuit tester now only one tail light on the trailer is working only with the park lights no brake lights no turn signals.
asked by: Paul
Expert Reply:
Switching the tail and turn/brake wires on harness # 119175KIT should not cause it to fail. It sounds like the issue is a bad ground on the trailer. First, to make sure the harness is working properly, use the circuit tester to test the 4-Way end of the harness without the trailer connected. If you are getting the correct signals on the 4-Way, that would confirm the issue is on the trailer.

If the signals are incorrect on the 4-Way, test the wires leading into the converter from the vehicle. If they are correct then the harness is bad and it will need to be replaced. If they are not correct going in then it is either still not wired quite right or there is a wiring problem with the vehicle itself.

If the vehicle checks out then we will need to focus on the trailer. Most likely there is a bad ground. Check the main trailer connector ground and the trailer light grounds. They should all be attached to clean and corrosion free bare metal surfaces. Also check the trailer connector and clean out any dirt/corrosion build up.
expert reply by: Michael H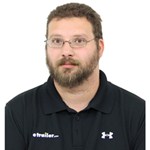 Have a question for the experts? click here.
Product Page this Question was Asked From
Upgraded Circuit Protected Taillight Converter Hardwire Kit with 4 Pole End (Includes Testers)





166 reviews
Retail: $43.74
Price: $35.44

More Answers about Custom Fit Vehicle Wiring,Wiring