Diagnosing and Repairing Wiring Problem on Trailer Towed by 2006 Ford Freestar
Question:
My son-in-law purchased a hitch and wiring adapter from you for his 2006 Ford Freestar. Installed adapter, relays and fuses attached to trailer lights and observed these symptoms, with vehicle lights off: 1 press car brake: trailer running lights + brake lights come on 2 turn left turn signal on: both trailer brake + running lights flash 3 turn right turn signal on: left trailer signal flashes 4 Turn on car lights: running lights come on dim, right trailer tail is bright, left is off Trailer wiring harness works fine with other vehicles. Applied voltage to trailer harness and observed running lights, and individual signal lights illuminated as expected. Seems clear something is wrong on the car side. Have you seen this behavior before? I tried to troubleshoot this without a volt meter, so I dont have the best info for you, but thought I would ask anyway. I will go back with more tools and check more...
asked by: Bronson H
Expert Reply:
In a situation like this, where you seemingly have ruled out the trailer as being the problem, I would recommend trying the vehicle with a different trailer, if you can borrow one from a friend or neighbor, you can quickly and easily determine if the problem exists with the tow vehicle or with the trailer. If you try a borrowed trailer, and all the lights work fine, then the problem is on your trailer. If the lights on the borrowed trailer do not work correctly, you have isolated the problem to the tow vehicle.

What you have going on is a faulty ground connection. 99 percent of the time, the problem will be on the trailer but having the problem on the vehicle is not unheard of.

You can try examining the connector on the vehicle where the wiring harness plugs in, making sure it is not damaged or corroded. If possible, trace the wiring from the rear of that connector to make sure that the ground wire (typically the white wire) is grounded to the vehicle frame. Make sure the ground connection is secure and not corroded.

You might want to spend a moment checking the grounds on the trailer, as well. Some trailers work better with some vehicles, so there is still a slim chance that the problem is on the trailer. Check the ground location on the trailer tongue as well as the ground for each lamp.

If this is a tilting trailer, over time the pivot point that allows the trailer to tilt can become worn and unable to provide a continuous ground connection between the tilting and the stationary portion of the trailer. Take a short length of wire, and install a ring terminal on each end. You can use this as a jumper to continue the ground connection between each part of the trailer.
expert reply by: Mike L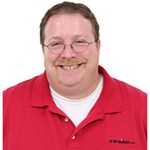 Have a question for the experts? click here.
Product Page this Question was Asked From
Curt T-Connector Vehicle Wiring Harness for Factory Tow Package - 4-Pole Flat Trailer Connector





9 reviews
Retail: $39.11
Price: $23.47

More Answers about Custom Fit Vehicle Wiring