Roof Rack and Cargo Basket Recommendation for a 2010 Volvo XC90
Question:
I would like to purchase a roof mounted cargo basket for my Volvo xc90 2010. I have the factory rails but not cross bars. It will be used infrequently but would like to have this option for storage on trips. From a to z what will I need to purchase. Ive looked on your site and noticed inexpensive solutions besides Thule what is the best bang for my buck?
asked by: Rich
Expert Reply:
The first item that you will need to start carrying a cargo basket on your 2010 Volvo XC90 is a set of crossbars. For your vehicle, I would recommend taking a look at the Rhino-Rack SXB Roof Rack, # SXB3. This roof rack includes 2 aerodynamic crossbars that reduce drag and cut down on wind noise better than square crossbars.

This roof rack is also very easy to install. You simply place the clamps on your side rails and tighten them down using the provided tool. This roof rack also has a built-in security hardware to deter theft. I have attached an demonstration video for you to check out.

This roof rack is also available in silver with part # SXB3-SILV. The weight capacity for these roof racks is 165 lbs, however, you should verify the weight capacity of your vehicles roof before loading any cargo. Exceeding your vehicles roof weight capacity could damage your vehicle. I have attached a link to all of the roof racks that we carry for your vehicle for you to check out.

If you would like a recommendation on a cargo basket, then I would recommend looking at either the Rhino-Rack Roof Mounted Cargo Basket, # RMCB, or the Rola Cargo Basket, # 59504.

The Rhino-Rack basket has an aerodynamic design and taller walls to secure your cargo. The Rola cargo basket is going to be a more cost effective option, but keep in mind it does have a lower weight capacity of 130 lbs. Any time you are loading cargo, you should not exceed the weight rating of the lowest rated component. I have attached installation instructions for both cargo baskets for you to check out.

You could also take a look at the Surco Safari Rack, # SPS4560-1101. This cargo basket does not require crossbars because it can mount directly to the raised side rails plus the weight capacity is only limited to that of your vehicles roof weight capacity.

The only other items that you may want to pick up are nylon tie down straps like part # RTD4, rubber straps, # EM06736, or a cargo net like part # 59200 to secure your cargo to the basket.
expert reply by: John H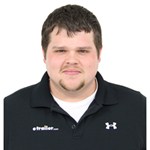 Have a question for the experts? click here.
Products Referenced in This Question
Rola Flat Strap Cargo Net 36" x 48"





5 reviews
Retail: $30.00
Price: $27.95
Product Summary:
Cargo Net
Hitch Cargo Carrier Net
48 Inch Wide

Product Specs:
36 Inch Long

more information
Rola Roof Mounted Cargo Basket - Steel - 52" Long x 40-1/2" Wide x 6" Deep - 130 lbs





157 reviews
Retail: $251.99
Price: $184.95
Product Summary:
Roof Basket
Round Bars
Square Bars
Factory Bars
Steel
Black

Product Specs:
48 Inch Long

more information
Erickson Adjustable Rubber Tarp Strap with S-Hooks - 30"





1 reviews
Price: $2.09
Product Summary:
Tie Down Strap
Tarps
Bungee Strap

Product Specs:
30 Inch Long
Strap with S-Hook

more information
Rhino-Rack Roof Mounted Steel Cargo Basket - 47" Long x 35" Wide - 165 lbs





4 reviews
Retail: $259.00
Price: $207.20
Product Summary:
Roof Basket
Round Bars
Square Bars
Aero Bars
Elliptical Bars
Factory Bars
Steel
Black

Product Specs:
47 Inch Long

more information
Rhino-Rack SXB Roof Rack for Raised, Factory Side Rails - Aero Crossbars - 45" Long - Silver




7 reviews
Retail: $299.00
Price: $239.20
Product Summary:
Complete Roof Systems
Elliptical Bars
Silver
45 Inch Long
2 Bars

Product Specs:
Aluminum
Locks Included

more information
Product Page this Question was Asked From
Rhino-Rack SXB Roof Rack for Raised, Factory Side Rails - Aero Crossbars - 45" Long - Black





8 reviews
Retail: $299.00
Price: $239.20
Product Summary:
Complete Roof Systems
Elliptical Bars
Black
45 Inch Long
2 Bars

Product Specs:
Aluminum
Locks Included

more information
More Answers about Roof Rack