LED Replacement Light Recommendation For Bargman 68 Round 4-1/2 Inch Trailer Lights
Question:
I have an older trailer with four of the round 4 1/2 dia bargam 68 tail light fixtures. The fixtures were new back in 1989, now after of years of use the light sockets have split open and wont hold the bulbs in. So I am looking for a direct replacement LED fixture. I measured the holes in the rear bumper and they are 4.500 inches. I am trying not to modify the trailer to except any other units. What do you think that I need?
asked by: Roger K
Expert Reply:
We have four different round LED stop, turn and tail lights that will fit in the 4-1/2 inch diameter holes in your rear bumper. You could use the Optronics light, # STL23RB, # STL43RB, # STL53RCB or # STL23CCRB. These are 4 inch round lights, but they require a rubber grommet, # A45GB, that allows 4 inch round lights to flush mount in a 4-1/2 inch cutout.

Lights # STL43RB and # STL53RCB are sealed, submersible lights if you are adding these lights to a boat trailer. All of these lights accept the industry standard 3-prong plug like part # A47PB. You will not need to modify your trailer to add these lights.
expert reply by: John H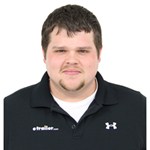 Have a question for the experts? click here.
Products Referenced in This Question
Rubber Grommet for 4" Round Trailer Tail Lights





10 reviews
Price: $0.95

Product Summary:
Trailer Lights
Replacement Parts

Product Specs:
Light Grommets
Round

more information
Right Angle 3-Wire Pigtail for Sealed Trailer Stop, Turn and Tail Lights





23 reviews
Price: $1.15

Product Summary:
Trailer Lights
Replacement Parts

Product Specs:
Mount Parts
Light Plugs

more information
Miro-Flex, Sealed, 4" Round, Stop/Turn/Tail Light, 12 LEDs, Reflector - Red w/ Clear Lens
Price: $21.95

Product Summary:
Tail Lights
Submersible Lights
Red
Flush Mount

Product Specs:
Round
LED Light
4-5/16 Inch Diameter

more information
Miro-Flex LED Trailer Stop/Turn/Tail Light - 12 Diode, 12 Volts - 4" Round - Red





8 reviews
Retail: $19.95
Price: $18.95

Product Summary:
Tail Lights
Submersible Lights
Red
Flush Mount

Product Specs:
Round
LED Light
4-5/16 Inch Diameter

more information
Sealed, 4" Round LED Trailer Stop, Turn and Tail Light, Flush Mount, 3-Function, 10 Super Diode





12 reviews
Price: $14.95

Product Summary:
Tail Lights
Submersible Lights
Red
Flush Mount

Product Specs:
Round
LED Light
4-5/16 Inch Diameter

more information
Sealed, 4" Round, LED Trailer Stop/Turn/Tail Light, 3-Function, 10 Diode - Red w/ Clear Lens





3 reviews
Price: $14.95

Product Summary:
Tail Lights
Submersible Lights
Red
Flush Mount

Product Specs:
Round
LED Light
4-5/16 Inch Diameter

more information
Product Page this Question was Asked From
Replacement Lens for RVPL5C and RVPL7C Lights





5 reviews
Price: $1.45

Product Summary:
Trailer Lights
Replacement Parts
Clear

Product Specs:
Light Lenses
Oval

more information
More Answers about Accessories and Parts