Can the Ends of the Rackem Magnum Wheel Lock be Cut with Bolt Cutters
Question:
My concern is the way that the ends taper down. I was thinking that maybe a heavy duty pair of bolt cutters could fit around the small end.
asked by: Harvie
Expert Reply:
I pulled the Rack em Magnum Wheel Lock, # RA-25, and found that it measured 1 inch x 7/8 of an inch at its narrowest point at the end of the arms. It would be difficult for a thief to use bolt cutters to cut through the arms of this wheel lock and if they did manage to do so, cutting near the ends of the arms will most likely not be enough to actually remove the lock from the wheel. They would have to cut through a thicker section to remove the lock.

One thing to remember is that locks are for keeping honest people honest. If a thief encounters a lock that cannot be easily removed, then they will most likely move on. With time and determination thieves can defeat almost any lock.
expert reply by: John H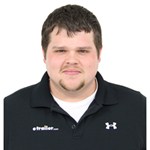 Have a question for the experts? click here.
Product Page this Question was Asked From
Rack'em Manufacturing Lock'em Magnum Wheel Lock





32 reviews
Retail: $144.15
Price: $99.95
More Answers about Locks