Left Turn Signal and Brake Lights Do Not Work On Trailer or 4-Way on 2006 Honda Ridgeline
Question:
About 4 yrs ago I installed a hidden hitch and wiring harness #118400 on a 2006 Honda ridgeline. It has worked fine until about a month ago. The Lt signal/brake light are not activating and I have tried it on 3 different trailers with the same result. I believe I have traced the problem back to the black module. I have power in those lights wires to the box, but nothing from the box to the trailer connector on the Lt brake/signal wire. Is there a way to by-pass the module or do i just need to replace the entire harness? Is it common for these to fail or short out?
asked by: John S
Expert Reply:
You have done all of the correct testing and it does indicate that the converter in harness # 118400 has gone bad and needs to be replaced. There could be any number of reasons for a converter to go bad. It could be a short on the trailer that blew the box, protecting the vehicle wiring like it was designed.

Check the trailer to make sure the grounds are all attached to clean bare metal surfaces. Also make sure that the trailer and vehicle side connectors are free of dirt and corrosion. Check the wiring for any bare wires that might be touching metal.

Four years is a pretty good run for an aftermarket trailer wiring harness on a vehicle without a tow package. There are a lot of things that can negatively impact these types of harnesses like the weather, overloads, and dirty connectors.

Your vehicle has a 3-wire system with separate turn signals and brake lights where as the trailer uses a 2-wire system with combined brake and turn signals. The converter is needed to convert the 3-wire signal to a 2-wire signal so you cannot bypass it.
expert reply by: Michael H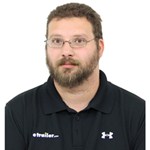 Have a question for the experts? click here.
Product Page this Question was Asked From
T-One Vehicle Wiring Harness with 4-Pole Flat Trailer Connector





38 reviews
Retail: $65.16
Price: $51.95
More Answers about Custom Fit Vehicle Wiring