Sealed LED Trailer Lights for a 2006 Nitro 591 Boat Trailer
Question:
I currently have incondesent 6 1/2inch bulbs mounted in a grommet horizontal for tail lights. Im looking for led replacements that are waterproof and will except my current 3 prong connection. I see you have a couple of choices that look like they would meet my needs. The 10 diode vs the 48 diode? Any suggestion on best unit would be appreciated. The lights are for a 2006 nitro 591 boat trailor and I want the most reliable LEDs. Ive had multiple issues with incondescent Lights taking on water after only a year
asked by: John
Expert Reply:
The more diodes the LED lamp has, the brighter it would be so if that is a concern then go with a model that has more diodes. You can take a look at the 48 diode model, # STL70RB, in the review video I have included. These lights use a 3-prong wiring harness like # A45PB. I cannot promise that it will be the same as your existing 3-prong connector. If you have to make splices, I recommend sealing out water using liquid electrical tape, # SWC50122.

These lights can be mounted using grommet # a70gb and, if a bracket is needed, # BK70BB. Otherwise you would need an oval hole that measures 6-11/16 inches wide and 2-5/8 inches tall for the light and grommet to fit in.
expert reply by: Michael H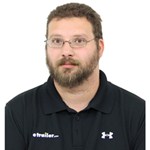 Have a question for the experts? click here.
Products Referenced in This Question
Straight 3-Wire Pigtail for Sealed Trailer Stop, Turn and Tail Lights





28 reviews
Price: $0.95

Product Summary:
Trailer Lights
Replacement Parts

Product Specs:
Mount Parts
Light Plugs

more information
Rubber Grommet for 6-1/2" Oval Trailer Tail Lights





55 reviews
Retail: $2.95
Price: $0.95

Product Summary:
Trailer Lights
Replacement Parts

Product Specs:
Light Grommets
Oval

more information
Trailer Light Mounting Bracket for 6-1/2" Oval Trailer Lights, Steel - Black Powder Coat





26 reviews
Price: $3.25

Product Summary:
Trailer Lights
Replacement Parts
Black

Product Specs:
Mount Parts
Mounting Brackets

more information
Sealed, 6-1/2" Oval LED Trailer Stop, Turn and Tail Light, 48 Diode





18 reviews
Price: $24.95

Product Summary:
Tail Lights
Submersible Lights
Red
Flush Mount

Product Specs:
Oval
LED Light
6-1/2L x 2-1/4W Inch

more information





2 reviews
Price: $16.95

Product Page this Question was Asked From
Miro-Flex, Sealed, 6-1/2" Oval, LED Trailer Stop/Turn/Tail Light, 3-Function, 12 Diode





51 reviews
Retail: $27.95
Price: $19.95

Product Summary:
Tail Lights
Submersible Lights
Red
Flush Mount

Product Specs:
Oval
LED Light
6-1/2L x 2-1/4W Inch

more information
More Answers about Trailer Lights