Trailer Hitch and Cargo Carrier Recommendations for a 2011 Kia Sportage
Question:
Morning guys, we came back last week from 10 days in OBX, and Im done renting larger vehicles for the extra cargo room, when we decide to take extra people.. I want to know your recommendations for the following. My wife wants to set up her 2011 Kia Sportage with a trailer hitch, steel cage basket, and luggage bag to fit. After searching the web for 2 days, we decided to go with the trailer hitch set up as opposed to the roof set up. Her roof is NAKED, and she does not want to have a roof rack installed. We have used our large 17 cu. ft Cabelas rooftop bag on other vehicles with racks, but those vehicles are recently sold,along with the bag. She never really liked that system, as we basically had to use a small step ladder to get in it all the time while traveling which is a pain, and the noise and drag was noticeable. We have an older pickup for towing, so this set up will be strictly for carrying this set up. I was leaning on the class II, 1 1/4inch hitch, with the 20x48 basket, light kit, and bag to fit. I would really like the 60inch wide basket set up, but it may stick out an inch on either side.Is that O.K.? Should I go with the class III? Its not much more, and would it be better in case I needed the extra capacity, or will the Class II fit the bill, as it will be for this set up only? How much weight can be put in these baskets, if we decide not to use the made to fit bag all the time. Your site is by far the best, I like the videos, the products and the knowledge you guys have. Im really in no hurry , as we may not need this set up till our next adventure in late October. I want to buy from you, but want to know exactly what we need and the amount of greenbacks I need to put aside. Thank you so much for your time and assistance
asked by: Jim L
Expert Reply:
I absolutely understand about wanting to go a different route other than something that mounts on the roof for your 2011 Kia Sportage. I would definitely go with a Class III trailer hitch, like # 87612. (With the Curt hitch you would have to use a stabilization strap # 18050 for non-trailer loads per Curts warranty requirements.)

In addition to more capacity, you will have a wider range of options as far as what carriers you could use and a Class III hitch is more versatile all around when compared to a Class II trailer hitch.

I think going with a larger 60 inch wide cargo basket like # 63153 would give you the most bang for your buck. This carrier has a capacity of 500 pounds but will be limited to the tongue weight capacity of the trailer hitch you choose and/or the vehicle tongue weight capacity, whichever is lower. Hitch # 87612 has a tongue weight capacity of 525 pounds. The Curt hitch has a tongue weight capacity of 350 pounds.

With this basket you could use light kit # 98174LED, which is the LED style lights that draw much less power than incandescent lights. You could then add a bag like # 988501 to sit on the carrier. I have included some links showing these parts.

Another option would be to use an enclosed hitch mount carrier like # 59109. This is basically a cargo box that mounts at the back of the vehicle. The awesome thing about this carrier is that it can swing off to the side of the vehicle to allow access to the rear hatch of the vehicle. The box can also be locked for more security than just a bag could offer. There is also a built-in light kit.

To power the lights for either set up, you would need a 4-Way on the Kia, # 118526. I have included a video link that will help with installation. Current pricing is available on the product page for each product.
expert reply by: Michael H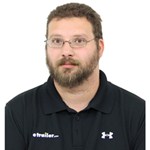 Have a question for the experts? click here.
Products Referenced in This Question
T-One Vehicle Wiring Harness with 4-Pole Flat Trailer Connector




27 reviews
Retail: $109.73
Price: $77.95

Curt Trailer Hitch Support Strap - Bike Rack Strap with Cambuckle




20 reviews
Retail: $14.72
Price: $8.83

Product Summary:
Hitch Bike Racks
Replacement Parts

Product Specs:
Cradle and Arm Parts
Straps

more information
Rola Swinging Enclosed Cargo Carrier for 2" Trailer Hitch





16 reviews
Retail: $791.76
Price: $625.95

Product Summary:
Enclosed Carrier
Swinging Carrier
Molded
250 lbs

Product Specs:
13.5 Cubic Feet
Fits 2 Inch Hitch
Class 3
Class 4

more information
Pro Series 24x60 Cargo Carrier for 2" Hitches - Black Powder Coated Steel - 500 lbs





228 reviews
Retail: $202.17
Price: $139.95

Product Summary:
Flat Carrier
Fixed Carrier
Steel
500 lbs
24 x 60 Inch

Product Specs:
10 Square Feet
Fits 2 Inch Hitch
Class 3

more information
Hidden Hitch Trailer Hitch Receiver - Custom Fit - Class III - 2"





17 reviews
Retail: $244.65
Price: $159.95

Product Summary:
Custom Fit Hitch
Class III
Concealed Cross Tube
350 lbs TW
3500 lbs GTW

Product Specs:
2 Inch Hitch
5250 lbs WD GTW
535 lbs WD TW

more information
LED Light Kit for Draw-Tite, Tow Ready, and Rola Railed Cargo Carriers





32 reviews
Retail: $75.26
Price: $50.33

Product Summary:
Hitch Cargo Carrier
Accessories

Product Specs:
Flat Carrier Parts
Light Kit

more information
etrailer.com Extra Large Cargo Bag for Hitch Mounted Cargo Carriers - 18 cubic feet





134 reviews
Retail: $88.95
Price: $67.95

Product Summary:
Hitch Carrier Bag
Weather Proof
18 Cubic Feet
Black

Product Specs:
54L x 24W x 24H Inch

more information
Product Page this Question was Asked From
20x48 Cargo Carrier for 1-1/4" (Class II Only) Trailer Hitches




31 reviews
Retail: $194.94
Price: $148.95

Product Summary:
Flat Carrier
Fixed Carrier
Steel
300 lbs
20 x 48 Inch

Product Specs:
6.7 Square Feet
Fits 1-1/4 Inch Hitch
Class 2

more information
More Answers about Hitch Cargo Carrier