Right Turn Signal and Brake Light Not Working on a 2003 Boat Trailer
Question:
2011 truck. 2003 boat trailer. Everything works , but seems sensitive. ALL worked on the way to the lake, but on the way home, I noticed that the right turn signal and brake light didnt work. Ive already changed the light fixture with no change. As of today, no right turn signal or right brake light.
asked by: Gil S
Expert Reply:
This sounds like a classic bad ground problem. To make sure it is a problem on the trailer and not the vehicle, disconnect the trailer and test the trailer connector on the vehicle. Use a circuit tester like # 3808 if needed.

Have someone sit in the vehicle and run through the functions. If everything is working on the vehicle connector then that would indicate an issue on the trailer, probably a bad ground. If the trailer connector on the vehicle is not showing the correct signals then there could be a poor ground at the trailer connector or a blown fuse or relay.

On the trailer and vehicle connectors, make sure they are clean and corrosion free. Corrosion can also build up behind some connectors where the wires attach. On the trailer side, check the main ground from the trailer connector and make sure it is attached to a clean an corrosion fre bare metal surface.

Next, do the same with the lights. Many trailer lights ground through the mounting studs if there is not an obvious ground wire. In either case they, too, must be attached to clean and corrosion free bare metal surfaces.

If it is an aluminum trailer, you may have to connect the light grounds to the main trailer connector ground. You can also check the trailer light wiring for nicks or breaks that may be causing the malfunction.
expert reply by: Michael H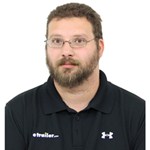 Have a question for the experts? click here.
Products Referenced in This Question





2 reviews
Retail: $34.41
Price: $24.95

Product Page this Question was Asked From
Plug-N-Tow (R) Vehicle Wiring Harness





2 reviews
Price: $24.95

More Answers about Custom Fit Vehicle Wiring