Bike Rack Recommendations to Carry 3 Bikes on a 2004 Chrysler Pacifica
Question:
Does a Rhode Gear 3 bike rack - trunk mount fit onto a 2004 Chrysler Pacifica?
asked by: Jennifer B
Expert Reply:
We do have trunk mounted bike rack options for your 2004 Chrysler Pacifica, however, Yakima, the manufacturer of Rhode Gear racks, states that their trunk mounted racks are not compatible with your vehicle. I can also tell you that it is not recommended to carry more than 2 bikes on a trunk mounted bike rack on your vehicle because the weight of a three or more bikes could damage your rear hatch.

We do offer Thule trunk mounted bike racks like the Thule Raceway 2 Bike Rack, # TH9001, which is one of our most popular trunk mounted bike racks, or the Thule Passage 2 Bike Rack, # TH910XT, which is a more economical choice, however, you will be limited to carrying only two bikes.

To carry 3 bikes on your vehicle you will need to install a trailer hitch and use a hitch mounted bike rack. For your vehicle you will want the Hidden Hitch Class III Trailer Hitch, # 87432. We have installed this hitch on a 2004 Pacifica so I attached the installation video and instructions for you to check out.

Advantages to using a hitch mounted bike rack are that the bike rack will not have any contact with your vehicle, reducing to chance of potential damage to the vehicle paint, and you will still have access to your rear cargo area without having to remove the bike rack each time.

For a bike rack, I would recommend the SportRack Escape 3 Bike Rack, # A30403. I have attached a review video on this bike rack as well. I would also recommend getting an adapter bar like the Thule Bike Adapter Bar, # TH982XT, if you plan on carrying any small or angled bike frames. This adapter bar will allow you to load the bikes level and safely.
expert reply by: John H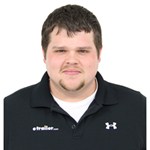 Have a question for the experts? click here.
Products Referenced in This Question
Hidden Hitch Trailer Hitch Receiver - Custom Fit - Class III - 2"





18 reviews
Retail: $279.50
Price: $180.95

Product Summary:
Custom Fit Hitch
Class III
Visible Cross Tube
350 lbs TW
3500 lbs GTW

Product Specs:
2 Inch Hitch
5000 lbs WD GTW
500 lbs WD TW

more information
SportRack Escape 3 Bike Hitch Mount Folding Rack w/Frame Mount Cradles for 1-1/4" & 2"





9 reviews
Retail: $189.95
Price: $148.95

Product Summary:
Hanging Rack
3 Bikes
Tilt-Away Rack
Folding Rack
Steel
Locks Not Included

Product Specs:
Class 2
Class 3
Fits 1-1/4 Inch Hitch
Fits 2 Inch Hitch
Fits 1-1/4 and 2 Inch Hitch
Frame Mount - Anti-Sway

more information
Thule Raceway 2 Bike Carrier - Trunk Mount





61 reviews
Retail: $249.95
Price: $224.95

Product Summary:
Frame Mount - Anti-Sway
2 Bikes
Hanging Rack
Bike and Rack Lock

Product Specs:
Dual Arm
Folding

more information
Thule Passage 2 Bike Carrier - Trunk Mount





13 reviews
Retail: $119.95
Price: $107.95

Product Summary:
Frame Mount - Anti-Sway
2 Bikes
Hanging Rack
Locks Not Included

Product Specs:
Dual Arm
Folding

more information
Thule Bike Adapter Bar for Women's and Alternative Frame Bikes





44 reviews
Retail: $39.95
Price: $35.95

Product Summary:
Hitch Bike Racks
Trunk Bike Racks
Spare Tire Bike Racks
Accessories
16 - 31-1/2 Inch

Product Specs:
Bike Adapter Bar

more information
Video/Article/FAQ this Question was Asked From
Article or Video