Is a Weight Distribution System Needed When Hauling 5500 lbs With a 2003 Cadillac Escalade EXT
Question:
I will be towing a HandH 20 ft. flat bed trailer with my 2003 Cadillac Escalade EXT. The tow vehicle has automatic leveling air shocks in the rear. They can not be disabled.It has a class 3 hitch and the car has a towing max capacity of 7300 pounds and recommended tonge weight ranging from 350 to 1000 pounds. At this point, I will very, very rarely tow more then 5500 pounds gross trailer weight. Given the self leveling capability, do I need weight distribution ? I will add sway control no matter what.
asked by: Lee O
Expert Reply:
I did some research on your 2003 Cadillac Escalade EXT and it has a Gross Vehicle Weight Rating of 7,000 lbs. Weight distribution systems are recommended if the trailer that you are pulling is more than 50 percent of the vehicles weight. Even though your vehicle has self leveling air shocks, a weight distribution would take stress off of those shocks and distribute the load among all axles.

For your situation, I would definitely recommend a weight distribution system. To be sure you choose the correct system for your set up, you will want to verify the tongue weight of your trailer with the heaviest load that you will be towing. When you tow around 5,500 lbs, your tongue weight could be as much as 850 lbs. I have attached an article on weight distribution that details tongue weight for you to review.

The weight distribution system that I would recommend is the Pro Series Weight Distribution System With Sway Control, # PS49903. This system has a 1,000 lb tongue weight capacity and should be enough for even your heaviest load. I have attached the installation instructions for you to check out. This system also comes with a sway control bar.

Keep in mind that anything loaded behind the rear axle in your Escalade will also contribute to the tongue weight. This system comes with a 2-5/16 inch hitch ball. If your trailer requires a 2 inch hitch ball, then you will also want to pick up the hitch ball, # A-90.
expert reply by: John H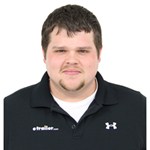 Have a question for the experts? click here.
Products Referenced in This Question
Hitch Ball with 2" Diameter and Medium Shank, 10,000 lbs GTW - Chrome





54 reviews
Retail: $18.20
Price: $10.92

Product Summary:
Hitch Ball
Standard Ball
10000 lbs GTW
Class IV
Chrome

Product Specs:
2-5/8 Inch Shank Length
2 Inch Diameter Ball
1-1/4 Inch Diameter Shank

more information
Pro Series Weight Distribution System w Friction Sway Control - Round - 10,000 lbs GTW, 1,000 lbs TW





67 reviews
Retail: $428.02
Price: $257.95

Product Summary:
WD With Sway Control
Electric Brake Compatible
800 lbs
900 lbs
Bar-Style Friction
Round Bars

Product Specs:
Fits 2 Inch Hitch
Includes Shank
Up to 10000 lbs GTW

more information
Product Page this Question was Asked From
Strait-Line Weight Distribution System w Sway Control - Round Bar - 12,000 lbs GTW, 1,200 lbs TW





3 reviews
Retail: $929.22
Price: $574.95

Product Summary:
WD With Sway Control
Electric Brake Compatible
700 lbs
800 lbs
900 lbs
1000 lbs
1100 lbs
Dual Cam
Round Bars

Product Specs:
Fits 2 Inch Hitch
Includes Shank
Up to 12000 lbs GTW

more information
More Answers about Weight Distribution