Motor Home Bike Rack Recommendations for Two Manhattan Beach Cruiser Bikes
Question:
Will this rack carry two Manhattan beach cruisers? They have wide handle bars. And, Do the front wheels just dangle, or are they fastened some how? thanks
asked by: Jim
Expert Reply:
The first issue that you will run into when trying to carry your Manhattan beach cruisers on a motor home or trailer bike rack is the weight capacity. All of our motor home and trailer bike racks will only accommodate bikes that weight no more than 35 lbs each. I did some research on your bikes and it looks like most cruiser style bikes weigh between 40 and 60 lbs. If your bikes weight 35 lbs or less, then we may have a solution for you.

The Surco 2 Bike Carrier, # SP501BR, can support two bikes at 35 lbs each, but the wide handlebars of your bikes will most likely hit your motor home or trailer. The front wheels will hang loosely, but you could use tie downs like the Softride Soft Velcro Tie Downs, # SR18679, to secure your front wheels to the bike frame.

For your situation, I would recommend a hitch mounted bike rack if your motor home has a trailer hitch. The Swagman XP Bike Rack, # S64910-2, measures 13-1/2 inches from the center of the hitch pin hole to the upright bar of the bike rack. This bike rack provides the greatest amount of clearance between the bikes and the motor home of all of our bike racks.

I have attached the installation instructions for this bike rack for you to check out.

You could also look into the RV Bumper 2 Bike Rack, # S80500, if your RV or trailer has continuous welded steel square bumper between 4 and 4-1/2 inches wide. This rack will extend 13 inches from the bumper. I have attached the installation instructions for this bike rack as well.

These will be the best options for carrying your beach cruisers and minimizing contact with your RV or trailer.

If you do not have a trailer hitch on your motor home or trailer, then you may be able to use the RV Bumper Receiver, # S64025. This will give you a receiver for a hitch mounted bike rack if you do not have one or do not want to install a trailer hitch. Be sure you contact your trailer manufacturer to see if your bumper can support the weight of both of your bikes plus a bike rack. This is not compatible with aluminum or spot-welded steel bumpers.

For the hanging style bike racks, you may also want to look into an adapter bar like the Swagman Easy-Out Adapter Bar, # 64005. Cruiser style bikes often have large or angled frames. This bar would provide a level crossbar to mount the bikes on hanging-style bike racks.
expert reply by: John H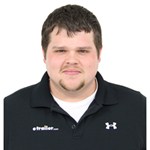 Have a question for the experts? click here.
Products Referenced in This Question
Swagman Easy-Out Women's and Alternative Frame Bike Adapter for Hitch Bike Racks




85 reviews
Retail: $30.00
Price: $27.00
Product Summary:
Hitch Bike Racks
Trunk Bike Racks
Spare Tire Bike Racks
Accessories
16 - 29-1/2 Inch

Product Specs:
Bike Adapter Bar

more information
Swagman XP 3 Bike Rack for 2" Hitch




24 reviews
Retail: $212.00
Price: $190.80
Product Summary:
Hanging Rack
3 Bikes
Fixed Rack
Steel
Bike Lock

Product Specs:
Class 3
Fits 2 Inch Hitch
Frame Mount - Standard

more information
RV Bumper 2 Bike Rack for Around the Spare Tire - Swagman Around the Spare Mighty Rack




43 reviews
Retail: $112.00
Price: $100.80
Product Summary:
Hanging Rack
2 Bikes
RV Bumper Rack
Dual Arm
Locks Not Included

Product Specs:
Frame Mount

more information
Product Page this Question was Asked From
Surco 2 Bike Carrier for Vans and RVs - Ladder Mount





19 reviews
Price: $79.95
Product Summary:
Hanging Rack
2 Bikes
RV Ladder Rack
Dual Arm
Locks Not Included

Product Specs:
Frame Mount

more information
More Answers about RV and Motorhome Bike Racks