Parts Needed to Install Electric Brakes On 1995 Coleman Destiny Royale Trailer
Question:
I have a 1995 Coleman Destiny Royale pop up camper. It has brake flanges on the axle 4 hole and the electric brake wiring in place. Im thinking about installing electric brakes on this unit. The current hub is a 5 bolt with 5.30x12 wheels. Im looking at the below parts with the accompanying Right Hand parts as well: 23-47 8-257-5UC3-EZ Are they the right size for that trailer and axle? Are there any measuerments I should take? Anything else that I might need? Thanks in advance.
asked by: Jym D
Expert Reply:
To make sure that you get the correct parts, I would need to know the inner and outer bearing numbers stamped into the metal of the bearings.

There are different 5 lug bolt patterns. Use the FAQ I have linked to measure for bolt pattern so you can get the correct hub and drum assemblies. If you do not have EZ Lube axles, you will not need EZ lube hub and drum assemblies.

If you do have L44649 inner and outer bearings and the seal has a 1.987 outer diameter and 1.5 inch inner diameter, you can use hub and drum # 8-257-5UC3-EZ for an EZ lube or # 8-257-5UC3 for a regular assembly.

You could then use the 7 inch electric brakes, # 23-47 and # 23-48. For hardware, you would need 8 bolts, # 7-75, 8 nuts, # 6-17, and 8 lockwashers, # 5-8. Since the trailer is already set up for electric brakes you should not need any other parts on the trailer provided the connector has an electric brake circuit.

To activate the electric brakes you will need a brake controller on the towing vehicle and a 7-Way trailer connector. You will start by installing a 4-Way trailer connector if the vehicle does not have one already. The vehicle entered states you have a 2002 Chrysler Town and Country. The 4-Way for it is # 118376.

You will then need to install a 4 and 7 way installation kit # ETBC7. I have included some links that will help with the installation of the 4-Way and ETBC7 installations.

Last, you will need a brake controller. Our most popular model is the Tekonsha P2, # 90885, because it is easy to set up and easy to use. I have included a link to the instructions for it as well.
expert reply by: Michael H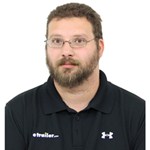 Have a question for the experts? click here.
Products Referenced in This Question
T-One Vehicle Wiring Harness with 4-Pole Flat Trailer Connector





56 reviews
Retail: $32.52
Price: $27.95

7" Electric Brake Assembly for 2K Axles - RH





7 reviews
Retail: $83.33
Price: $59.95

Product Summary:
Electric Drum Brakes
Brake Assemblies
Manual Adjust

Product Specs:
Right Hand Side
7 x 1-1/4 Inch
2000 lbs Axle

more information
Lockwasher for Brake Mounting Bolt for 7" and 10" Brake Assemblies





9 reviews
Retail: $0.20
Price: $0.15

Product Summary:
Trailer Brakes
Replacement Parts
7 Inch
10 Inch

Product Specs:
Washer
Electric Drum Brakes
Hydraulic Drum Brakes
Brake Mounting Bolt
Hardware

more information
Nut for Brake Mounting Bolt for 7" and 10" Brake Assemblies





11 reviews
Price: $0.25

Product Summary:
Trailer Brakes
Replacement Parts
7 Inch
10 Inch

Product Specs:
Bolts
Electric Drum Brakes
Hydraulic Drum Brakes
Brake Mounting Bolt
Hardware

more information
Brake Mounting Bolt for 7" and 10" Brake Assemblies





3 reviews
Retail: $1.08
Price: $0.69

Product Summary:
Trailer Brakes
Replacement Parts
7 Inch
10 Inch

Product Specs:
Bolts
Electric Drum Brakes
Hydraulic Drum Brakes
Brake Mounting Bolt
Hardware

more information
Trailer Hub and Drum Assembly for Electric Brakes - 2,000-lb Axles - 5 on 4-1/2
Price: $59.95

Product Summary:
Hub with Integrated Drum
Standard
10 Inch
12 Inch
13 Inch
L44649
L44649

Product Specs:
7 x 1-3/4 Inch Drum
For 2000 lbs Axles
5 on 4-1/2 Inch

more information
Trailer Hub and Drum Assembly for Electric Brakes - 2,000-lb Axles - 5 on 4-1/2 - E-Z Lube





3 reviews
Price: $59.95

Product Summary:
Hub with Integrated Drum
EZ Lube
10 Inch
12 Inch
13 Inch
L44649
L44649

Product Specs:
7 x 1-3/4 Inch Drum
For 2000 lbs Axles
5 on 4-1/2 Inch

more information
Tekonsha Prodigy P2 Trailer Brake Controller - 1 to 4 Axles - Proportional





388 reviews
Retail: $167.24
Price: $124.95

Product Summary:
Proportional Controller
Electric
Electric over Hydraulic
Digital Display
Vehicle Mount

Product Specs:
Automatic Leveling
2 - 8 Brakes
360 Degrees

more information
Universal Installation Kit forTrailer Brake Controller - 7-Way RV and 4-Way Flat - 10 Gauge Wires





219 reviews
Retail: $84.20
Price: $64.80

Product Summary:
Brake Controller
Accessories
2 - 8 Brakes
10 Gauge Wire

Product Specs:
Connector
Brake Controller Wiring
Wired to Brake Controller

more information
Product Page this Question was Asked From
7" Electric Brake Assembly for 2K Axles - LH





10 reviews
Retail: $83.33
Price: $59.95

Product Summary:
Electric Drum Brakes
Brake Assemblies
Manual Adjust

Product Specs:
Left Hand Side
7 x 1-1/4 Inch
2000 lbs Axle

more information
More Answers about Trailer Brakes