Bike Rack Recommendations to Carry 1 or 2 Bikes on a 2012 Ford Focus SE With Rear Spoiler
Question:
Hi there, I have a 2012 Ford Focus SE with rear spoiler and am in need of a bike rack for 1 - 2 bikes. What rack do you recommend for this vehicle that is easy to install and use, yet safe and secure? Appreciate any assistance and guidance you can provide! Thanks
asked by: Mary
Expert Reply:
We have a wide variety of bike racks for you to choose from for your 2012 Ford Focus SE.

The bike rack that I would recommend for your vehicle is the Thule Raceway 2 Bike Rack, # TH9001. This bike rack is one of our most popular trunk mounted bike racks for our Ford Focus customers and is designed to work with most factory spoilers.

One advantage to this bike rack is that it only uses 4 retractable cables instead of 6 straps. The cables will last longer than nylon straps and they will retract into the hub so you do not have straps flying in the wind while you are driving. Since it uses cables instead of straps it only needs 4 connection points on your vehicle instead of 6.

I have attached installation instructions and a review video of the bike rack for you to check out. I have also included a link to all of the trunk mounted bike racks that we carry for your vehicle.

If you plan on carrying any womens, childrens or alternative bike frames, then I would recommend picking up the Thule Bike Adapter Bar, # TH982XT. Some smaller or angled bike frames are difficult to mount on bike racks and mount in awkward positions. This adapter bar will allow you to carry the bikes level and safely.

I have attached a video demonstration of this bike rack for you to check out.

Another popular option for your vehicle is to add a trailer hitch and use a hitch mounted bike rack. The advantages to using a hitch mounted bike rack is that it eliminates contact between the bike rack and your vehicle and it will allow full access to your trunk without having to remove the bike rack each time.

For a trailer hitch I would recommend the Hidden Hitch Class I Trailer Hitch, # 60290, for your vehicle and one of our most popular hitch mounted bike racks is the Swagman XTC-2 Platform Bike Rack, # S64670. A platform style bike rack is the easiest bike rack to mount bikes on and will carry 2 bikes with ease.

I have attached the installation instructions and a demonstration video of this bike rack on a 2012 Ford Focus for you to check out. I have also included the installation instructions to the trailer hitch for you to review as well.
expert reply by: John H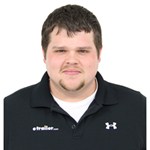 Have a question for the experts? click here.
Products Referenced in This Question
Hidden Hitch Trailer Hitch Receiver with Drawbar - Custom Fit - Class I - 1-1/4"





4 reviews
Retail: $216.77
Price: $150.95

Product Summary:
Custom Fit Hitch
Class I
Concealed Cross Tube
200 lbs TW
2000 lbs GTW

Product Specs:
1-1/4 Inch Hitch

more information
Swagman XTC-2 - 2 Bike Platform Carrier for 1-1/4" and 2" Trailer Hitches





238 reviews
Retail: $234.00
Price: $210.60

Product Summary:
Platform Rack
2 Bikes
Folding Rack
Steel
Locks Not Included

Product Specs:
Class 1
Class 2
Class 3
Fits 1-1/4 Inch Hitch
Fits 2 Inch Hitch
Fits 1-1/4 and 2 Inch Hitch
Wheel and Frame Mount

more information
Thule Raceway 2 Bike Carrier - Trunk Mount





62 reviews
Retail: $249.95
Price: $224.95

Product Summary:
Frame Mount - Anti-Sway
2 Bikes
Hanging Rack
Bike and Rack Lock

Product Specs:
Dual Arm
Folding

more information
Thule Bike Adapter Bar for Women's and Alternative Frame Bikes





44 reviews
Retail: $39.95
Price: $35.95

Product Summary:
Hitch Bike Racks
Trunk Bike Racks
Spare Tire Bike Racks
Accessories
16 - 31-1/2 Inch

Product Specs:
Bike Adapter Bar

more information
Product Page this Question was Asked From
Thule Gateway 2 Bike Carrier - Adjustable Arms - Trunk Mount





1 reviews
Retail: $149.95
Price: $134.95

Product Summary:
Frame Mount - Anti-Sway
2 Bikes
Hanging Rack
Locks Not Included

Product Specs:
Dual Arm
Folding

more information
More Answers about Trunk Bike Racks