Tow Bar and Accessory Recommendations for a 2012 Jeep Grand Cherokee with Blue Ox Base Plates
Question:
Tow Vehicle is a 2012 Grand Cherokee with the Blue Ox baseplate center to center dimension of 34-3/4. Will this towbar spread to work on this vehicle when the factory spec says the maximum spread is 34. If not what tow bar do you recommend for the Grand Cherokee?
asked by: MIKE Z
Expert Reply:
For a 2012 Jeep Grand Cherokee with Blue Ox base plates # BX1128, you can use the Blue Ox Aventa LX, # BX7445, Aladdin, # BX4325, Alpha, # BX7365, or Allure, # BX7460P, tow bars. The Adventurer, # BX7322, does not have a wide enough spread to work.

With the base plates and tow bar determined, you will also need safety cables. The Aventa LX and Aladdin come with safety cables. For the other 2 tow bars, you would need to add cables # BX88197.

For lighting, you can use bulb and socket kit # RM-155. With this kit you will not need to cut into the vehicle wiring for installation.

Most states now require a supplemental braking system on the vehicle being flat towed. The easiest system to set up and use is the Blue Ox Patriot # BRK2012. This is a proportional system that applies the vehicle brakes in proportion to how much the towing vehicle is braking. Proportional systems are the safest way to stop and they reduce wear and tear on both vehicles.

I have included a link to our series of FAQ articles on flat towing for you. You will want to consult the vehicle owners manual to determine if you can flat tow this vehicle and on the proper procedure for flat towing.
expert reply by: Michael H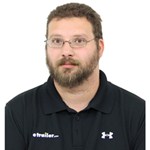 Have a question for the experts? click here.
Products Referenced in This Question
Blue Ox Patriot Radio Frequency, Portable Braking System - Proportional





2 reviews
Retail: $1,395.00
Price: $999.99

Product Summary:
Brake Systems
Proportional System

Product Specs:
Power Assist Brake Compatible
Portable System

more information
Blue Ox Aladdin Tow Bar - Motor Home Mount - 7,500 lbs





1 reviews
Retail: $945.00
Price: $749.99

Product Summary:
Hitch Mount Style
Telescoping
Non-Binding
Aluminum
7500 lbs

Product Specs:
Blue Ox
Stores on RV

more information
Blue Ox Alpha Tow Bar - Motor Home Mount - 6,500 lbs





8 reviews
Retail: $695.00
Price: $549.99

Product Summary:
Hitch Mount Style
Telescoping
Non-Binding
Steel
6500 lbs

Product Specs:
Blue Ox
Stores on RV

more information
Blue Ox Aventa LX Tow Bar - Motor Home Mount - 10,000 lbs





7 reviews
Retail: $845.00
Price: $699.99

Product Summary:
Hitch Mount Style
Telescoping
Non-Binding
Steel
10000 lbs

Product Specs:
Blue Ox
Stores on RV

more information
Blue Ox Allure Tow Bar - Pintle Style - A-Frame - Car Mount - 10,000 lbs
Retail: $1,095.00
Price: $999.95

Product Summary:
Coupler Style
Telescoping
Non-Binding
Steel
10000 lbs

Product Specs:
Blue Ox
Stores on Car

more information
Blue Ox 7' Safety Cables - 10,000 lbs - Qty 2





3 reviews
Retail: $100.00
Price: $89.95

Product Summary:
Tow Bars
Accessories
84 Inch Long
10000 lbs

Product Specs:
Straight Cable
Safety Cables
Cables

more information
Roadmaster Tail Light Wiring Kit with Bulbs




17 reviews
Retail: $55.95
Price: $49.95

Product Summary:
Bypasses Vehicle Wiring
Bulb and Socket Kit

Product Specs:
Universal
Tail Light Mount

more information
Product Page this Question was Asked From
Blue Ox Adventurer Tow Bar with Adjustable-Width Arms - A-Frame - Car Mount - 5,000 lbs





2 reviews
Retail: $295.00
Price: $274.95

Product Summary:
Coupler Style
Fixed
Standard
Steel
5000 lbs

Product Specs:
Blue Ox
Stores Separately

more information
More Answers about Tow Bars