Options to Help Sway and Bounce of a 6 x 10 Trailer Towed By a Chevrolet Tahoe With 3 Inch Lift
Question:
Want to know best system or add ins for helpin weight distribution and sway on my single axle 6 x10 trailer loaded up pretty much all the way due construction being bulled with a Tahoe on 33 with 3 in of lift already installed Firestone helper bags in coils and eibach sway bars but still get that push pull and bounce, also trailer is probably still 2 in up in front and I Run a 6inch Reese on truck. Just not tryin to waste money and this thing needs to be quick and easy to get on off due it everyday cause or atleast 4 times or so a week mounting and dismounting trailer from truck,and my Lil open trailer I cant even really use cause it just bounces and sways everywhere unless a ton of weight is on it any ideas on that would help to thanks again
asked by: Josh
Expert Reply:
There are a few things that you can do that will help with the sway and bounce on your 6 x 10 trailer when you are pulling it with your Chevrolet Tahoe. The first thing you can try to do is tow the trailer level. If the tongue on the trailer is high, then the trailer will not have as much stability if it were level. You may want to consider the Convert-A-Ball Cushioned Ball Mount with 8 inch drop, # AMSC8. This would lower the tongue of your trailer 2 inches from the 6 inch ball mount you are currently using.

Another thing to check that helps prevent trailer sway is to check that your trailer is loaded properly and your tongue weight is not too heavy or too light. You will want heavier items towards the front of the trailer and over the axle. If heavier items are loaded toward the rear of the trailer, then that can cause trailer sway.

The most important factor when choosing a weight distribution system is the loaded tongue weight of your setup. The Reese 350 Mini-Lite Weight Distribution System, # RP66024, that you referenced is rated for trailers that have a tongue weight up to 350 lbs and a gross trailer weight of up to 3,500 lbs.

If your overall trailer weight will be higher, then I would recommend a weight distribution system like the Strait-Line Weight Distribution System With Dual Cam Sway Control, # RP66130, with Reese Shank, # RP3344, which will give you a 7-5/8 inch drop to accommodate for the 33 inch tires and 3 inch lift. This is one of our most popular styles of weight distribution systems, however, the dual cam sway controls must be drilled into the frame.

If you wanted a weight distribution system that did not require you to drill into your trailer frame, then you may be interested in the Equal-i-zer Weight Distribution System With Sway Control, # EQ90-00-1000, and Equal-i-zer Shank, # EQ90-02-4400, which will give you 9 inches of drop to tow your trailer more level.

I have attached a link to all of our weight distribution systems with dual cam sway control like the Strait-Line and a link to our weight distribution systems with 4 point sway control like the Equal-i-zer for you to check out. Again be sure you choose a system that is properly rated for the weight of your trailer.

I have also attached two helpful articles on weight distribution systems and how to choose the correct ball mount for you to review.

If you want to let me know the gross trailer weight and tongue weight of your trailer, then I can recommend specific weight distribution systems for you.
expert reply by: John H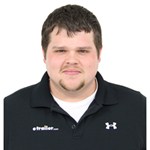 Have a question for the experts? click here.
Products Referenced in This Question
Cushioned Ball Mount for 2" Hitches - 6-3/4" Rise - 8" Drop - 10,000 lbs





10 reviews
Retail: $77.40
Price: $68.95

Product Summary:
Fixed Ball Mount
Standard Ball Mount
Cushioned Shank
Long
Steel

Product Specs:
Fits 2 Inch Hitch
Rise - 6-3/4 Inch
Drop - 8 Inch
Class IV
10000 lbs GTW

more information
Equal-i-zer Weight Distribution System w/ 4-Point Sway Control - 10,000 lbs GTW, 1,000 lbs TW





2 reviews
Retail: $750.00
Price: $584.95

Product Summary:
WD With Sway Control
Electric Brake Compatible
Surge Brake Compatible
700 lbs
800 lbs
900 lbs
4-Point Friction
Trunnion-Style Bars

Product Specs:
Fits 2 Inch Hitch
Includes Shank
Up to 10000 lbs GTW

more information
Equal-i-zer Weight Dist Shank - 12" Long - 13" Rise, 9" Drop - 600 to 1,400 lbs TW




3 reviews
Price: $144.95

Product Summary:
Weight Distribution
Accessories
Replacement Parts
Square - 13 In Rise
1400 lbs TW

Product Specs:
Square - 9 In Drop
Shanks
Fits 2 Inch Hitch

more information
Reese Weight Dist Shank - Drop Only - 11" Long - 7-5/8", 8-5/8" Drop - 1,400 lbs TW





8 reviews
Retail: $252.29
Price: $151.95

Product Summary:
Weight Distribution
Accessories
Replacement Parts
1400 lbs TW
14000 lbs GTW

Product Specs:
Trunnion - 7-5/8 In Drop
Round - 8-5/8 In Drop
Shanks
Fits 2 Inch Hitch

more information
Strait-Line Weight Distribution w Sway Control - Trunnion Bar - 15,000 lbs GTW, 1,500 lbs TW





3 reviews
Retail: $939.70
Price: $535.96

Product Summary:
WD With Sway Control
Electric Brake Compatible
900 lbs
1000 lbs
1100 lbs
1200 lbs
1300 lbs
1400 lbs
Dual Cam
Trunnion-Style Bars

Product Specs:
Fits 2 Inch Hitch
Shank Not Included
Up to 15000 lbs GTW

more information
Product Page this Question was Asked From
Reese 350 Mini-Lite Weight Distribution System w Sway Control for Light-Duty, A-Frame Trailers





1 reviews
Retail: $540.59
Price: $386.95

Product Summary:
WD With Sway Control
Electric Brake Compatible
Surge Brake Compatible
200 lbs
300 lbs
2-Point Friction
Trunnion-Style Bars

Product Specs:
Fits 2 Inch Hitch
Includes Shank
Up to 3500 lbs GTW

more information
More Answers about Weight Distribution