Adding an Engine Oil Cooler and a Power Steering Cooler to a 2007 Toyota 4Runner SR5 4.0L V6
Question:
I have a 2007 V6 SR5 4runner and I want to add an engine oil cooler and power steering cooler. I already added a transmission cooler from you last year. What are your recommendations for these items and when should I be concerned about these impacting engine cooling if they are all mounted in front of the radiator.
asked by: Steve
Expert Reply:
Thanks for asking about a Power Steering Cooler and Engine Oil cooler for your 2007 Toyota 4Runner SR5 V6.

Adding two more coolers is not going to present a cooling issue for your engine/radiator. The coolers allow air to flow through them and will not transfer enough heat to the air going through them to effect the cooling performance of the vehicle's radiator.

Your engine oil filter has 3/4-16 threads. So you can determine the correct threads to use from the recommended kits below, rather than using trial and error. I would also recommend a thermostatic adapter so that the vehicles engine oil can get up to temperature before the oil is routed to the cooler. This feature is not really needed for transmission or power steering coolers.

For the oil cooler you will need to use 1/2 inch hose barbs and a cooler that accepts 1/2 inch hose, because the fittings with the engine adapters use 1/2 inch barbed fittings. A good choice would be part # D15505.

You will need to make sure that there is room to install and remove the oil filter after adding two inches between the oil filter and engine block. If there is not enough room you will need a kit with a spin on adapter and an oil filter relocation bracket. A Fluid Control Thermostat would be recommended also. A good choice in this situation would be part # D15551 along with part # D25719.

You will be able to continue to use your vehicle stock oil filter size in either of these situations since your filter has 3/4-16 filter threads, like the Fram PH3614.

We have a video install of a remote filter location and engine oil cooler for you to check out.

For the power steering I would recommend # D13212, but any of the power steering coolers we have will work, see link. You will need to make sure there is room to mount it with the other two coolers.

One thing you will need to check before ordering a power steering cooler kit is the power steering return line. If it has a rubber section, you could cut it and determine the correct size fittings needed to add the power steering cooler inline. If the rubber hose will accept 3/8 inch fittings, you can use 2 of the # D98028 fittings along with the # D13008 hose clamps.

If the power steering return line is metal (steel or aluminum) or has a metal section you could use two compression fittings, like part # D13032. You will need to measure the outside diameter of the metal line to determine the correct size fitting and would need to have a 3/8 inch hose barb on one end of the fittings to accommodate the hose included with part # D13212.
expert reply by: John H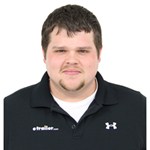 Have a question for the experts? click here.
Products Referenced in This Question
Derale Stainless Steel Hose Clamps (4 Piece)





3 reviews
Retail: $5.27
Price: $2.99
Product Summary:
Transmission Coolers
Replacement Parts

Product Specs:
Hose Clamps

more information
Derale Transmission Line Compression Fitting Kit - 3/8" Line to 3/8" NPT Barb





1 reviews
Retail: $19.77
Price: $11.99
Product Summary:
Transmission Coolers
Accessories
3/8 Inch Line

Product Specs:
3/8 Inch NPT Hose Barb
Flared Fittings

more information
Derale 4-Pass Tube-Fin Power Steering Cooler - 8-1/8" Wide





3 reviews
Retail: $50.30
Price: $29.95
Product Summary:
Cooler and Install Kit
With 11/32 Hose Barb Inlets

Product Specs:
8-1/8W x 5T x 3/4D Inch
Quad-Pass

more information
Derale Tube-Fin Engine Oil Cooler Kit w/ Spin-On Adapter (Multiple Threads) - Class III





2 reviews
Retail: $185.40
Price: $104.95
Product Summary:
Tube-Fin Cooler
With 1/2 Inch NPT
W/ Spin-On Adapter
Class III

more information
Derale 3/8" Hose Barb to 3/8" Hose Barb Fitting





1 reviews
Retail: $7.05
Price: $5.09
Product Summary:
Transmission Coolers
Accessories

Product Specs:
Flared Fittings

more information
Product Page this Question was Asked From
Derale Tube-Fin Engine Oil Cooler Kit w/ Adjustable Sandwich Adapter (Multiple Threads) - Class III





1 reviews
Retail: $185.40
Price: $104.95
Product Summary:
Tube-Fin Cooler
With 3/8 Inch NPT
W/ Sandwich Adapter
Class III

more information
More Answers about Engine Oil Coolers